[rwp-review-recap id="0"]
Today is the wedding of Rogue and Gambit of the X-Men. In the shadow of Kitty Pryde and Colossus' failed wedding, Anna Marie and Remy LeBeau are tying the knot, and the rest of the X-Men are doing their part to help. After the ceremony, the two go off for their honeymoon. However, they are X-Men; nothing ever goes smoothly or according to plan.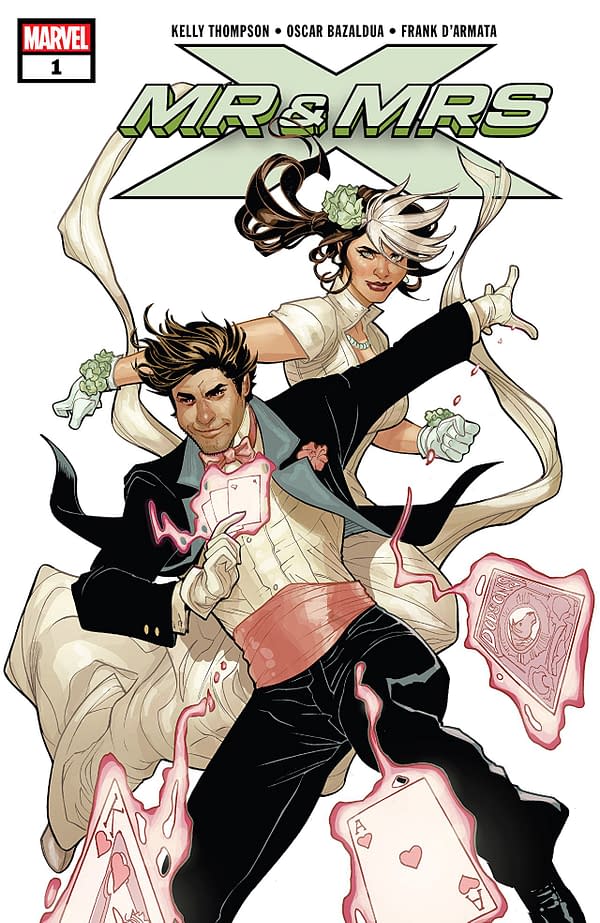 Dammit, this is the wedding issue I wanted out of X-Men: Gold #30 and Batman #50! At least Gold #30 gave me some of this. Mr. and Mrs. X has given me the full course, and I dug it.
Gambit and Rogue are frigging adorable in this and seeing the excited assistance from the likes of Storm, Jubilee, Bishop, and a mystery guest I won't spoil makes this comic click so well.
The dialogue is great too. When it needs to be heartfelt, it gets heartfelt. When the situation calls for comedy and snark, it's delivered with skill and precision.
The only thing that didn't quite work for me is the surprise guest star at the end who's already been spoiled for next issue. I'll admit that's highly subjective here, so your mileage may vary.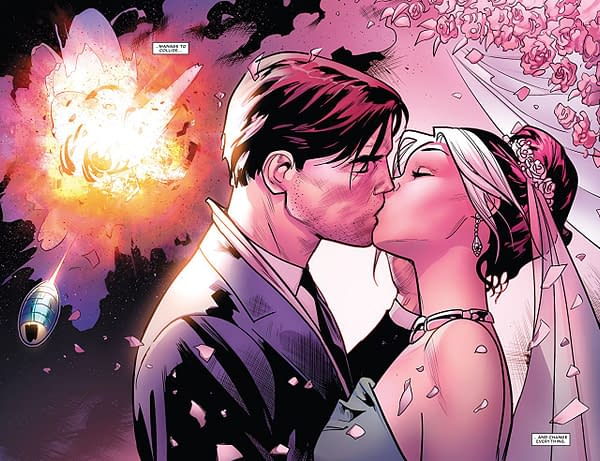 Oscar Bazaldua's does some excellent work in this issue, improving even upon his already-excellent work from Spider-Man months ago. There is a playful airiness to the figures and expressions that suits the main characters and personality of the narrative so well. Frank D'Armata provides bright and eye-catching colors throughout the book to keep the energy and mood high and energetic. I mean, look at that kissing scene!
Mr. and Mrs. X (not crazy about that name, though) #1 is a delightfully upbeat comic that brings an endearing and dare-I-say heartwarming wedding issue (that Batman #50 cheated me on and dammit I'm still so mad) between two classic and charming X-Men characters. The dialogue is great, the story is fun, and the artwork is great. This one earns a recommendation. Give it a read.
[rwp-review-ratings id="0"]
[rwp-review-form id="0"]
Enjoyed this article? Share it!