Ninja-K #7 Advance Review: Some Pre-Harbinger Wars 2 Team-Up Action
[rwp-review-recap id="0"]
Ninja-K awakens back at MI-6 with Livewire and Neville. Neville tells Colin King that he needs to gather some allies before going back to Mexico and facing the Jonin and his allies. To this end, Ninja-K and Livewire are sent to meet Dr. Mirage and Punk Mambo.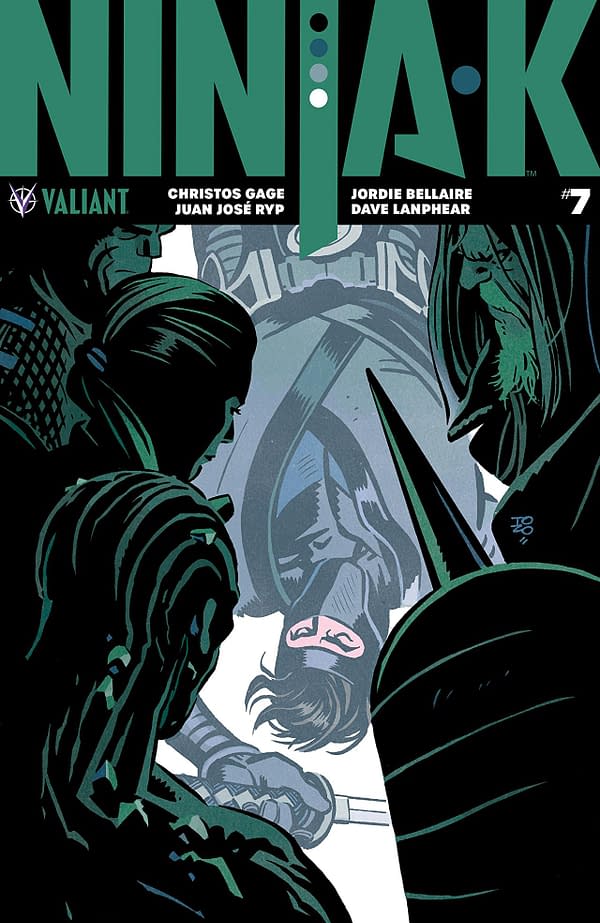 Ninja-K #7 still has its weird villainization of Mexico going on, but it is to a lesser degree, more focusing on the rogues allied with the Jonin than Mexico itself.
This issue is mainly about bringing together the team to go to Mexico, and it is fairly entertaining. Dr. Mirage has her ghost husband with which to weird out Colin. Colin also hates Punk Mambo, so that makes for some entertaining interactions.
Livewire does at least point out the bad position this comic put Mexico in, but the comic finishes off with a fairly scummy move on the part of Ninja-K and his allies.
I know I keep harping on this angle, but, to clarify my point, there are more than a few moments where our heroes should ponder the moral ambiguity of what they're doing. The book seems unwilling to do that.
However, like I said, there are more good moments here to drown out the sticking points I list here, even if the action doesn't kick off until the very end.
Juan Jose Ryp's is textured well and has a definitive personality to it. It can seem grounded while still having an appealing comic book air to it. Ninja-K and Livewire look especially good with their imposing figures and well-designed costumes. The facial details look especially good too. Jordie Bellaire's color art is heavy and darker in this issue, and it looks quite good too.
Ninja-K #7 is a very flawed comic, but it does have its positives and isn't a complete wash. There is fun to be had in the character interactions, and the artwork of Juan Jose Ryp and Jordie Bellaire looks great. This one gets a recommendation, but it's not required reading for this week.
[rwp-review-ratings id="0"]
[rwp-review-form id="0"]