Northwest Press Celebrates Ten Years of Publishing with DASH
If you find yourself in the overlap of people who read comics and have been on social media, ever, you have learned at least two things. The first being, Comics Twitter™, which is often not a fun place. The second being that it is a truth universally acknowledged that if a comics creator has a Twitter account, they will, at some point, have tweeted the Jack Kirby quote, "Comics will break your heart, kid." This quote may be overused, largely by bearded men who cry to episodes of CW's The Flash, but it holds true that the industry can wear artists, writers, and publishers down. Getting a comic published at all is a huge feat, much less being able to maintain a presence in the industry for years. Northwest Press, known for its comics celebrating the LGBT community, is now among the mighty few indie publishers who have stayed the test of time, as they are now celebrating a decade of publishing. In honor of ten years of doing the impossible, this journeyman publisher has launched a Kickstarter to fund DASH, a graphic novel collection of their gay noir detective series created by writer Dave Ebersole and artist Delia Gable.
The campaign, which is as of this writing is $672 away from achieving their goal of $15,000, describes the series:
Los Angeles, 1940. It all starts with Zita Makara's plea for help recovering an ancient artifact. Even though private eye Dashell Malone knows something's fishy, he takes the case anyway, for the promise of a big payday. He'd be more game for the case if he didn't suspect the man he's sweet on—Johnny "Plink" Plinketts—has been keeping secrets from him and might be mixed up in all this somehow.

When Zita is tied to the scene of a shocking murder, Dash begins to see that the seemingly unrelated parts of his life are connected in ways he never anticipated. The pieces to a much larger puzzle come into focus that could spell the end for Dash and everyone involved! Aided by his wise-cracking secretary, Cindy Crenshaw, and his pal on the police force, Sal McGillicutty, Dash must confront the monsters of the past and find the only thing capable of stopping a terrifying future!
This graphic novel collection will reprint the six-issue series and will feature a new cover from Tana Ford of Dark Horse's Laguardia and Marvel's Silk. Dave Ebersole took to Twitter to preview some unseen art from the sixth issue, which will close out this first volume with what looks like a dramatic climax with artwork from Vicente Rico.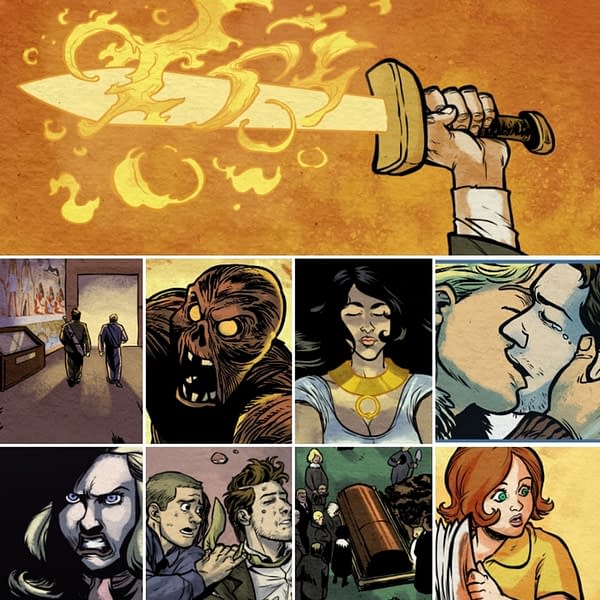 DASH is currently live on Kickstarter with fourteen days to go, and it seems fated to hit its goal well before the campaign ends.