Oh S#!T It's Kim & Kim #1 Review: A Masterclass in Action-Comedy
Kim Quatro and Kim Dantzler are bounty hunters, and they have gone corporate. They are now contracted out by a massive company, and their handler is tired of the recklessness of the Fighting Kims. Despite that, the company has a mission for Kim and Kim. They are to recover a painting from a legendary art thief named Xue Peng. To do so, they track down Peng at a casino and try to earn the art thief's trust.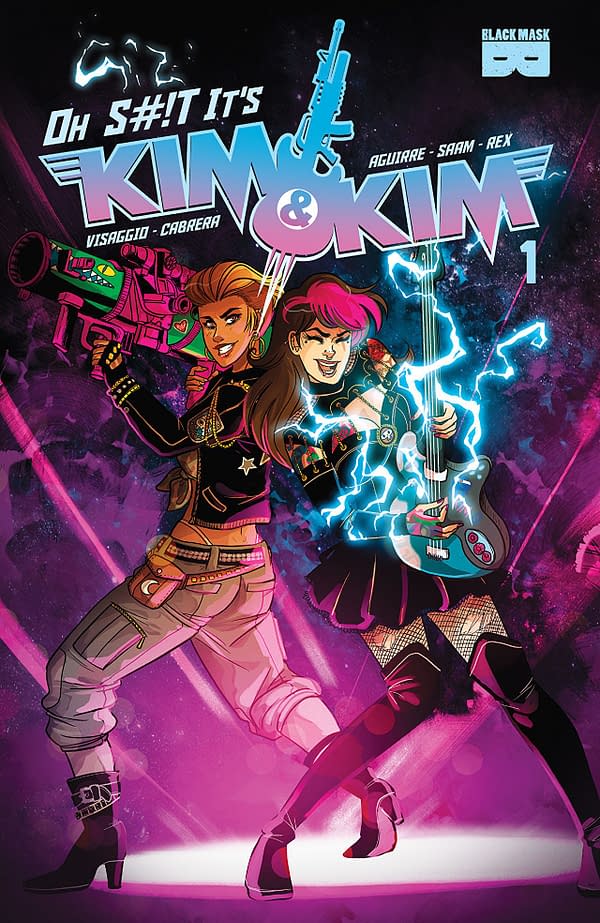 Holy crap, why have I never read Kim & Kim before? These two leads are a phenomenal team, and the dialogue is top-notch.
Kim and Kim are devil-may-care, fast-talking, fast-moving bounty hunters with a fantastic sense of humor and a genuinely endearing friendship. It would be hard not to love these two characters. Quatro is the more reckless and impulsive hunter, while Dantzler is more responsible and pensive.
Xue Peng makes a remarkably good third to this team when she shows up. She is impulsive and excitable like Quatro, but she knows when to be careful like Dantzler.
The pacing matches the Kim's, running quickly and freely once the setup has been established. This book is a hell of a lot of fun.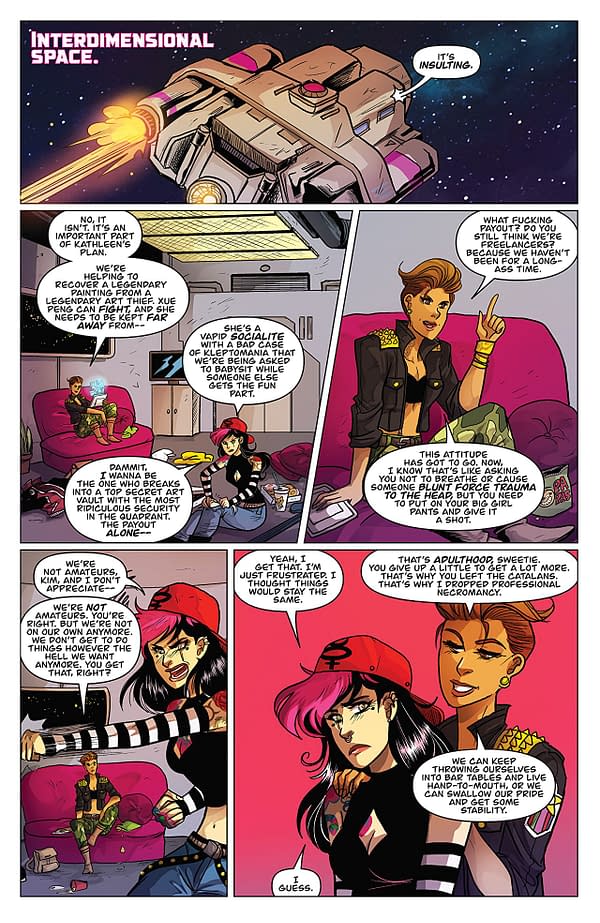 Eva Cabrera gives the book a similarly energetic and cartoonish visual style in the art. The Kim's sense of fashion is great too, and each dress well to fit their personality. The action beats are kinetic and fun to boot. Claudia Aguirre brings a psychedelic and bright color palette to compliment the wild personality of our heroes and their world.
Oh S#!t It's Kim & Kim #1 is a wall-to-wall joyride with two fantastic leads, a wicked sense of humor, and high-energy storytelling style. Magdalene Visaggio never ceases to impress me with her storytelling acumen, and Cabrera and Aguirre do excellent work on the art. This one earns a strong recommendation. Give it a read.