Oh, the Indie Horror: Diary of a Mad, Black Werewolf
Halloween is my favorite time of the year. The darkness, the spookiness, and oh, the horror! I've always been fascinated by themes of the unknown creeping in and terrifying us, or the repressed finally erupting into chaos. One thing growing up that I always wanted, though, was to see more characters of color as the main characters and not as the "other" where our background was the source of horror or we were relegated to the sidekick best friend who most likely died. And I'm sure other marginalized groups feel the same in terms of how we're represented and I'm always down for some subtext and social commentary if provided, horror serving as a great backdrop for such stories. So for this feature in the days counting down to Halloween, I wanted to showcase some independent works featuring leads of color, women, LGBTQ+, disabled, especially if created by creators of the like. So without further ado…
Oh, the Indie Horror! Day 1: Diary of the Mad, Black Werewolf by Micheline Hess
Micheline Hess is an author, illustrator and comic artist from NYC who enjoys telling stories that center black people, particularly children. She also enjoys telling stories that delve into Afro-Caribbean folklore. Her most notable work is the graphic novel Malice in Ovenland. She is always experimenting with new ways of telling stories through visual narrative. Micheline has shown her artwork in galleries across the country.
GREG ANDERSON ELYSÉE: So Mad, Black Werewolf. What is that about?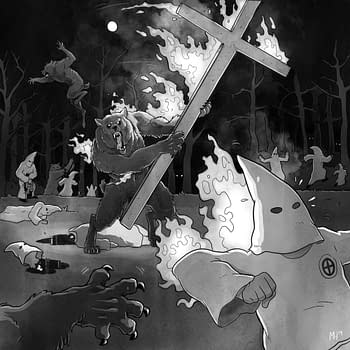 MICHELINE HESS: Diary of a Mad, Black Werewolf is a sociopolitical horror tale that's oozing with dark humor and explores my feelings regarding racial inequality in this country both presently and in the past. The title is a play on the name of the Tyler Perry film, Diary of a Mad, Black Woman. Also, WEREWOLVES!!!
ANDERSON ELYSÉE: Oh my! Can you tell us about the lead Mad, Black Were-wolf? Who is she and where does the story begin here?
HESS: The story begins in the present time, but moves into the past briefly, to demonstrate how long the main character has been functioning as a sort of monster vigilante. Her name is Aura and she is the leader of an ancient clan of werewolves called the Protea Clan. She is also the embodiment of black rage. The characters that she comes into contact with throughout the story are essentially composites of real-life people that have done similar things, but have never faced any justice that is equal to the gravity of their crimes.
Exactly WHO Aura is and WHY she does what she does is something that I plan on possibly exploring later. For Inktober, I had to keep the scope of the story very tight so that I could keep up with the challenge of posting every day so I don't get into those details too much.
ANDERSON ELYSÉE: What types of experiences exactly will she be facing? Any in particular that you feel you've gone through that inspires this?
HESS: The experiences she faces throughout Inktober, are based on things that I've been seeing in the media for many, many years. Some of these things include the killing of innocent black people by police, and white men and women who have the habit of calling the cops on black men, women and children whose only crime is doing the same things that other non-black people do all the time but don't get hassled for. It's apparent to me that this is something that concerns many others as well. When posting my work on Instagram, I couldn't help but notice that hashtags like #livingWhileBlack, #drivingWhileBlack and #stopCallingTheCopsOnInnocentBlackKids already existed for some time.
People who call the cops over things like kids selling bottled water in front of their homes don't seem to understand (or maybe they just don't care) that doing this is escalating the situation to a point where someone can end up being hurt or killed by an overzealous cop. The police officers who shoot and kill black people who pose no threat to them and haven't committed any crime are never made to atone for this. They're put on paid leave, fired from their jobs, or handed sentences that don't fit the gravity of their crimes.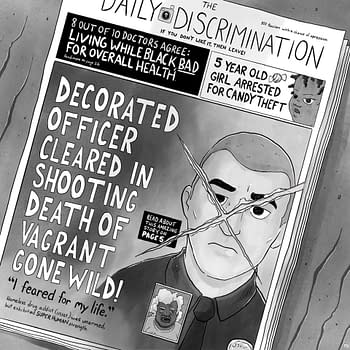 Nothing ever seems to be done to extract any kind of real justice in these cases, and it is maddening to me. I used Inktober to explore those feelings. So it becomes a question of whether the actions of the werewolf are due to the inherent madness of the creature itself or the madness that stems from being shown time and time again that black lives don't matter by the law and the white (or NBPOC) community overall.
ANDERSON ELYSÉE: Can you tell us a bit more about using Inktober as a guide for telling this story?
HESS: I wasn't even sure if I was going to take part in Inktober this year, but after chatting with my dental hygienist about it, I realized I could use that opportunity to try something new!
Always working on kid-friendly stuff, I was really itching to do something completely opposite. I wanted to tell a horror story that was graphic, more adult-oriented, and really, what better horror story is there than being black in America? Seeing the kinds of things I see in the media every day sparks intense fury combined with feelings of powerlessness, so the notion of being powerful, immortal and being able to take revenge rather than forgive are central themes in the story.
October is my favorite time of the year because I love Fall and all things Halloween, so it was a no brainer to incorporate werewolves into the story because they are my favorite movie monster. Using the prompt words released for Inktober 2019, I took a loose concept and focused on the words as the key points in the story. I try to take at least 4 words at a time and weave them together on paper. At the same time, I'm always thinking about the flow and pacing of the story. Because each image and block of text I create, is tied to a single word that must be posted each day, it's important to make sure the scope is as focused as I can get it.
ANDERSON ELYSÉE: Do you plan to collect this?
I'm honestly pleasantly surprised by the overwhelmingly positive response to the work I've done so far, so I'd like to find a way to publish it, or maybe even see about getting some kind of funding so I can ultimately fashion it into something more robust.
ANDERSON ELYSÉE: In time for Halloween season, what other horror series or popular stories/movies can you compare it to or which category of horror fans will feel right at home in checking out this book?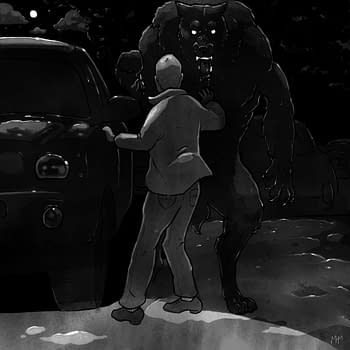 HESS: One of the biggest influences for me movie-wise is The Howling. I LOVE this movie and never get tired of watching it. I'm hoping that I can get close to creating a synergy between a good story AND dark humor, like they had in the movie. American Werewolf in London and Wolfen are two other movies I enjoy. Interestingly, it was Wolfen that inspired me to do more research on the history of the South Bronx and the various factors that led to its' decline from the 60's to the 80's, as so much of that is tied to racism and classism.
Candy Man was also a movie that inspired me. Key parts of the movie take place in the Cabrini Green projects, and the history behind the design and creation of these buildings is no less chilling than the South Bronx's story. I'm a BIG fan of horror from the 60's through the early 80's and mostly prefer practical effects over CGI.
As far as graphic novels go, I can't fail to mention BLACK by Kwanza Osajyefo with art by Jamal Igle, Robin Riggs, Smith III, Tim Smith III, and Derwin Roberson. I love the work of Junji Ito. One of my favorites his graphic novel series, Uzumaki. I also enjoy Eating Vampires, by Regine Sawyer and Harrow County by Cullen Bunn & Tyler Crook.
ANDERSON ELYSÉE: Follow the story of the Mad, Black Werewolf on instagram! : @michMashArts