Spinning out of Portsmouth Comic Con, we get news of a new comic book series that will be published by Bill Jemas and Axel Alonso's new comics publisher based in New York, Artists, Writers & Artisans Inc, known as AWA. Old Haunts is a new comic from Suicide Squad writer Rob Williams, The Kitchen's writer Ollie Masters and Punisher's Laurence Campbell. with colours by Lee Loughridge. Campbell and Williams previously worked together on Breathing Space at 2000AD. While Ollie's star is on the ascendancy after The Kitchen was picked up to be a movie written and directed by Andrea Berloff and starring Melissa McCarthy, Tiffany Haddish, Common and Elisabeth Moss.
Rob gives Old Haunts the strapline "When The Past Seeks Revenge, Dig Three Graves"…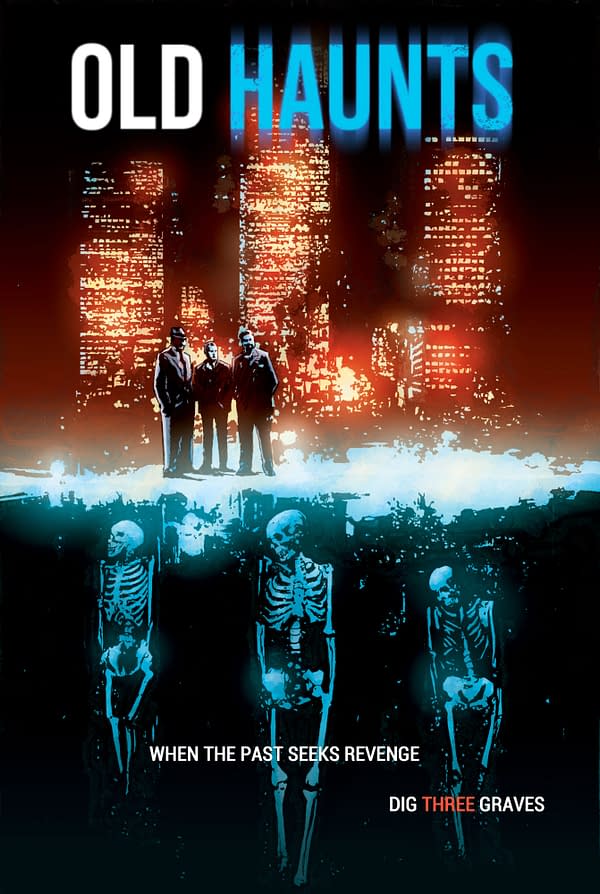 We asked AWA if they could say more, and they provided us with the following art and this synopsis;
Old Haunts

Written by Rob Williams and Ollie Masters

Three Made Men, standing at the brink of retirement, find their unbreakable bond put to the ultimate test when they are suddenly assaulted by the ghosts of their past. Confronted by decades of buried secrets – resentments, affairs, double-crosses, and murders – the three friends have no choice but to unearth the deepest, darkest sin from their past and pray they don't find an empty grave.
And if you want more of a thematic feel to the comic, this might be seen as the comic book's score. Rob Williams says he "wanted to write a piece that Elliott Smith's Angeles was the theme/score for years. This is it. 'Sign up for evil, Angeles.'"
Bleeding Cool first ran the story on Bill Jemas returning to comic book publishing after being publisher of Marvel, starting 360EP and heading up Take 2 Interactive's Double Take Comics line. As well as him hiring former Marvel EIC Axel Alonso to talent hunt for the line, who those creators would be, what the publisher would be called and where the money was coming from. All before anyone even thought to announce the publisher's existence, or what they would be putting out. More from AWA when we hear about it…
Enjoyed this article? Share it!