Once & Future Does Coronavirus and Boris Johnson At The Same Time
Last week saw the long-awaited return of Once & Future, the Boom comic book series written by Kieron Gillen and somehow still drawn by Dan Mora, even though he's drawing Detective Comics and Power Rangers. When last we left them in April, Boris Johnson, Prime Minister of Great Britain had been beheaded by the revived King Arthur, just as he had announced the very existence of magic to the British population. But since then, Once & Future has caught up with the world in more ways than one. But mostly one.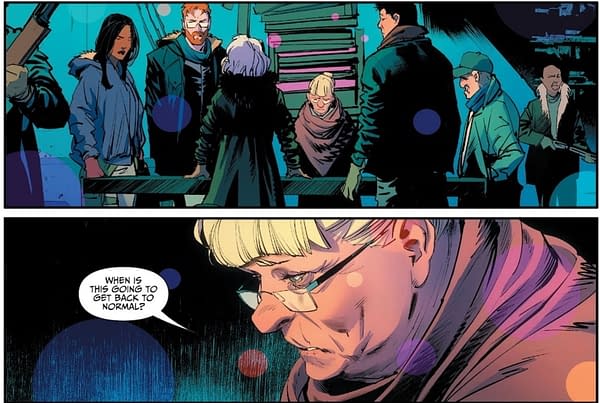 Indeed, when are things going to get back to normal?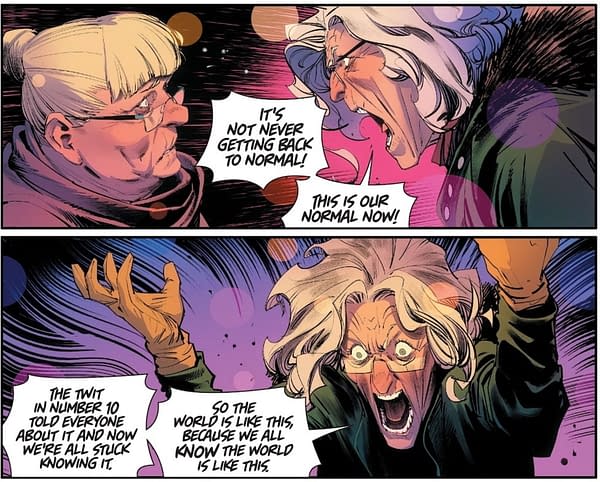 Although because this is now the world of fantasy, and there are cycles involved, and Boris Johnson is seen as the knight Sir Bors in the tales of Camelot, there is always the possibility of a return…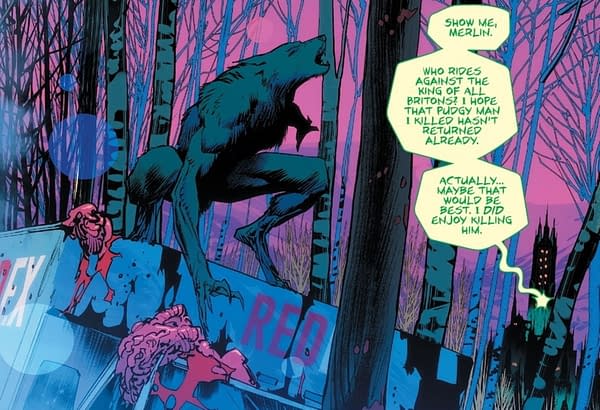 Could Boris be set to play the role of Kenny in South Park?
ONCE & FUTURE #19 CVR A MORA
BOOM! STUDIOS
JUN211077
(W) Kieron Gillen (A/CA) Dan Mora
Is it possible that King Arthur and Merlin can save England from…King Arthur(s) and Merlin(s)?!?! A very strange war is a brewin' indeed. The Otherworld and our world have collided and England is ground zero for the chaos! Bridgette has spent her whole life fighting to prevent this future from happening, but now that it's arrived she's at a loss. Fortunately, she has Duncan by her side, and he's not about to let Gran give up. In Shops: Aug 25, 2021 SRP: $3.99

ONCE & FUTURE #20 CVR A MORA
BOOM! STUDIOS
JUL211128
(W) Kieron Gillen (A/CA) Dan Mora
ARTHUR VS. ARTHUR! Knowing that Grail Castle may be their best chance at survival, Bridgette, Duncan, and Rose hunker down and prepare for the worst, Elsewhere, the resurrected King Arthur challenges an arriving usurper to his rightful throne, another King Arthur, and raises an army of the undead to do it. But the new Arthur has the greatest knight of all on his side – Lancelot!In Shops: Sep 22, 2021 SRP: $3.99

ONCE & FUTURE #21 CVR A MORA
BOOM! STUDIOS
AUG211010
(W) Kieron Gillen (A/CA) Dan Mora
What ancient and mythical danger awaits Bridgette, Duncan, and Rose as they seek Rose's parents in the city of Bath? To complicate matters, an Arthurian knight pursues them with an offer for Rose and Duncan – join the Round Table or face death. If they survive the encounter, they'll be pulled into the next phase of Bridgette's plan… finding the "lair of the greatest hunter the accord has ever seen."In Shops: Oct 27, 2021 SRP: $3.99

ONCE & FUTURE #22 CVR A MORA
BOOM! STUDIOS
SEP210792
(W) Kieron Gillen (A/CA) Dan Mora
Will a shocking turn of events be enough to turn the tide of the entire world? The war continues to rage across Britain as both Arthurs prepare to face one another for ultimate rule of the land. As Duncan, Bridgette, and Rose arm themselves for what's to come, a surprising betrayal threatens even the most carefully laid plans!In Shops: Nov 24, 2021 SRP: $3.99