Beware the totally radical Pizzasaurus Rex from creator Justin Wagner. Re-enter Letter 44 with a deluxe edition release. Look out for Made Men Vol. 1. All of this and more can be found in the Oni Press May 2018 solicits. Details below.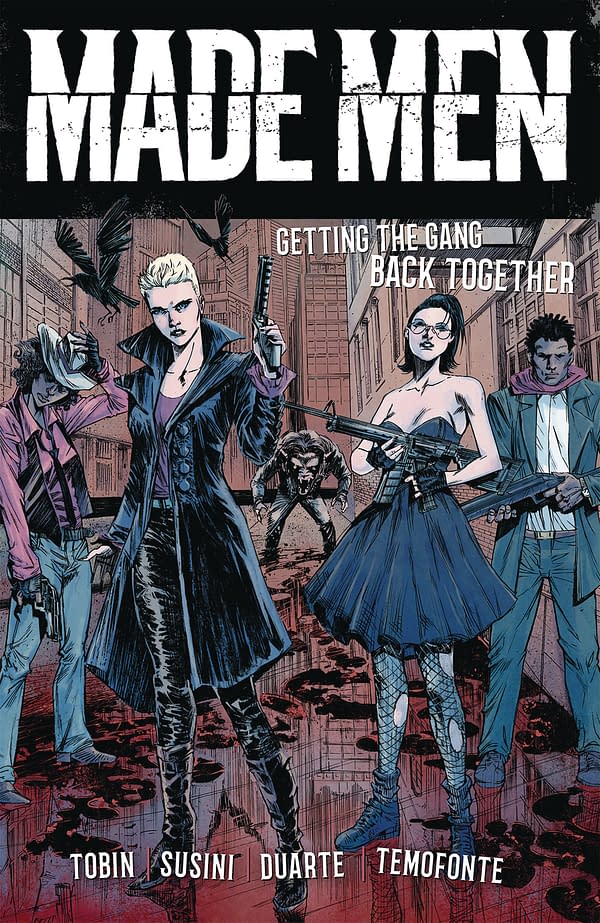 MAR181793
MADE MEN TP VOL 01 GETTING GANG BACK TOGETHER
(W) Paul Tobin (A/CA) Arjuna Susini
When Jutte Shelley and her squad get gunned down in an alley, the chances for survival don't look good. And Jutte does join the rest of her squad in death—for a little while. But as a descendent of the Frankenstein family, it takes a lot more to kill Jutte than a couple rounds of bullets. Deciding to go back into the family business, Jutte takes a crack at resurrecting her crew, and if you don't look too closely, you'd probably never know they used to be dead. Which, incidentally, is the perfect cover for trying to find the lowlifes who did them in. (STL077937)
SC, 136pgs, FC SRP: $19.99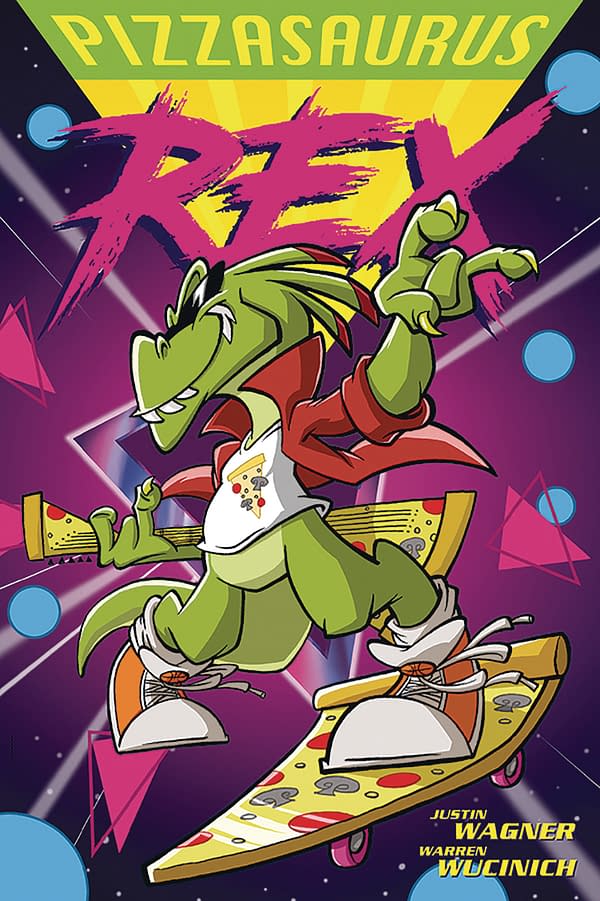 MAR181794
PIZZASAURUS REX TP
(W/A/CA) Justin Wagner
Meet Jeremy Duderman, the most extremely awesome scientific mind of his generation. Too bad everyone's too busy bullying him or just generally disliking him to realize it. But that all ends today. Jeremy has invented the Reality Alternative Dimensionator (R.A.D. for short), a device that allows Rex Raditude, the Pizzasaurus, to enter our dimension. He's a guitar-shredding, pizza-loving party animal with only one thing on his mind: BEING TOTALLY RAD, DUDE. But is that enough to stop Emperor Buzzkill and his horde of hapless minions who are bent on ending pizza parties, skateboarding, and all things rad? And can poor, pitiful Jeremy Duderman, quite possibly the dorkiest dude in the universe, help Rex in defeating them? (STL077939)
SC, 168pgs, FC SRP: $14.99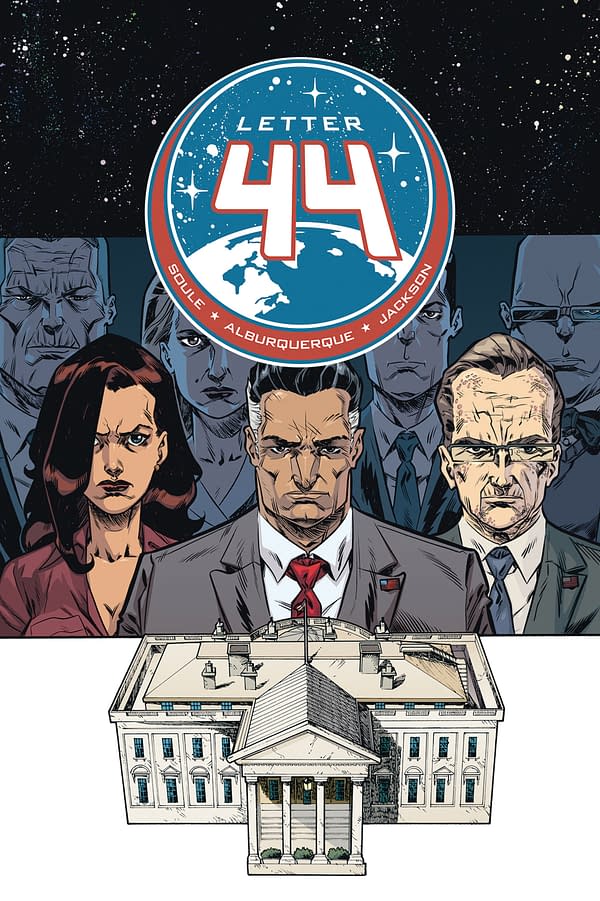 MAR181795
LETTER 44 DLX HC VOL 01 (MR)
(W) Charles Soule (A/CA) Alberto Jimenez Alburquerque
Newly-elected president Stephen Blades hoped to tackle the most critical issues facing the nation: war, the economy, and health care. But in a letter penned by the outgoing president, Blades learns the truth that redefines "critical": seven years ago, NASA discovered alien presence in the asteroid belt, and kept it a secret from the world. A stealth mission crewed by nine astronauts was sent to make contact, and they're getting close—assuming they survive the long journey to reach their destination.
This deluxe edition collects the first 2 arcs of the critically-acclaimed and award-winning series in a new oversized format. Packed with extras, behind the scenes bonus material, sketches, concept art and more, this is one collection not to be missed. (STL077936)
MATURE THEMES
HC, 9×13, 368pgs, FC SRP: $59.99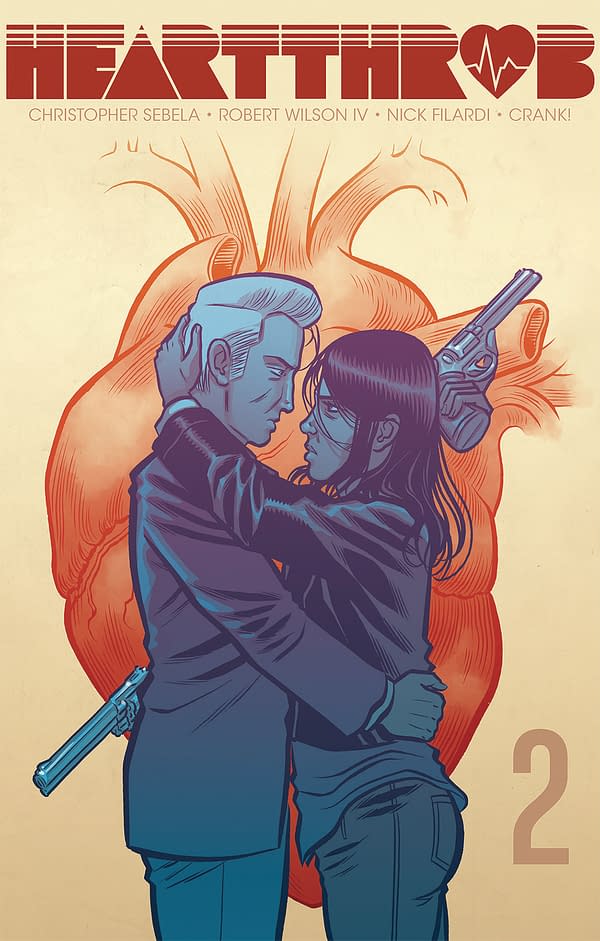 MAR181796
HEARTTHROB TP VOL 02 WALK A THIN LINE
(W) Christopher Sebela (A/CA) Robert Wilson Iv
Callie tried to go straight. She escaped both Mercer and the FBI to Canada. She got a new beau, a new job, and with the few years remaining on her borrowed heart, everything should be perfect. But Callie's old life isn't entirely done with her. As her old crew keeps robbing and sucks her back into the one thing she's great at, Callie sets out to create a criminal empire of her own. (STL077932)
SC, 128pgs, FC SRP: $19.99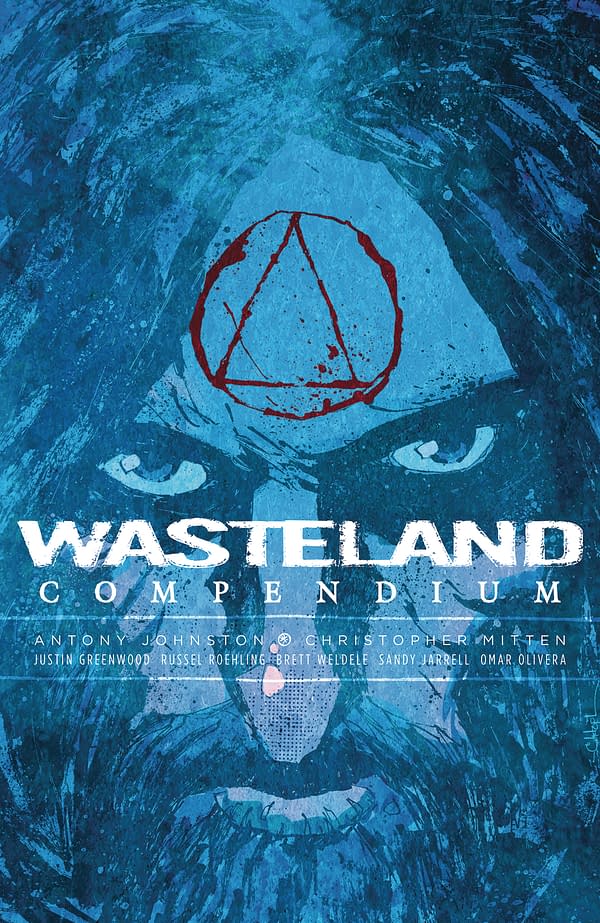 MAR181798
WASTELAND COMPENDIUM TP VOL 02 (OF 2)
(W) Antony Johnston (A/CA) Christopher Mitten
The conclusion to the sprawling tale, collecting issues #32-60! After leaving the Dog Tribes and Newbegin behind, Michael and Abi continue across the desert in search of A-Ree-Yass-I. Joined by another who shares their strange gifts, the tensions between them nearly jeopardize their quest while Newbegin prepares for war. When they finally uncover the fabled land, it will take everything they have to unearth the truth… and then the story of The Big Wet can be told! (STL077941)
SC, 619pgs, B&W (2 of 2) SRP: $39.99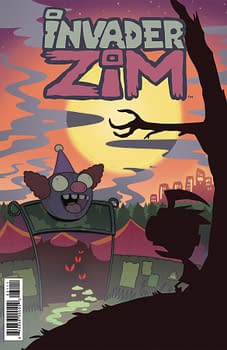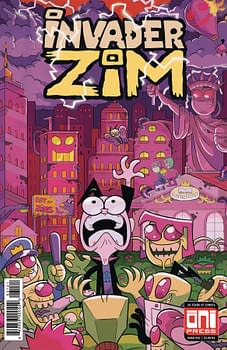 MAR181800
INVADER ZIM #31
(W) K.C. Green (A) K.C. Green, Anthony Clark (CA) K.C. Green
Hey, have you missed Dib? He's back! In Dib form! And he's tearing up the world of cryptids by doing an extreme exposé of a local abandoned amusement park, which is TEEMING with supernatural creatures. Hopefully it'll raise his rank with the Truthshrieker posters… but Dib doesn't expect to bust open the biggest conspiracy since HAMGATE (when President Man lied about EATING HAM). Special one-shot issue from KC Green (Gunshow, Back, Graveyard Quest) and Anthony Clark (Nedroid, Back)! (STL079449)
32pgs, FC SRP: $3.99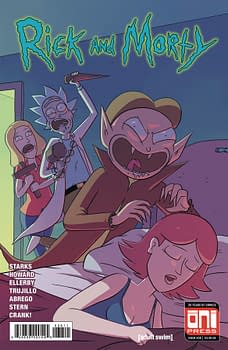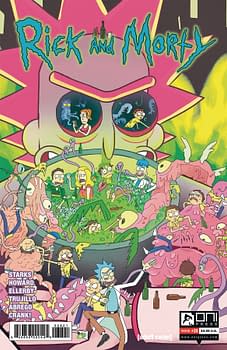 MAR181802
RICK & MORTY #38
(W) Kyle Starks & Various (A) Sarah Stern & Various (CA) Marc Ellerby, Sarah Stern
Here we go vampire-ing again! Summer's still being held captive by the Draculas (who are actually sort of smitten with her) and our hallowed heroes are storming the castle—literally! It's a drag-out, fang-out, stake-out, blood-soaked rescue story. So many Draculas! So many scary windows! So many vampire fights! Rick's drunk! Morty's useless! Beth is trying! Jerry is a you know what! It's the second part of the dynamic LET THE RICK ONE IN vampire-y two parter, co-written by TINI HOWARD (Rick and Morty: Pocket Like You Stole It)! It's awesome! (STL079451)
32pgs, FC SRP: $3.99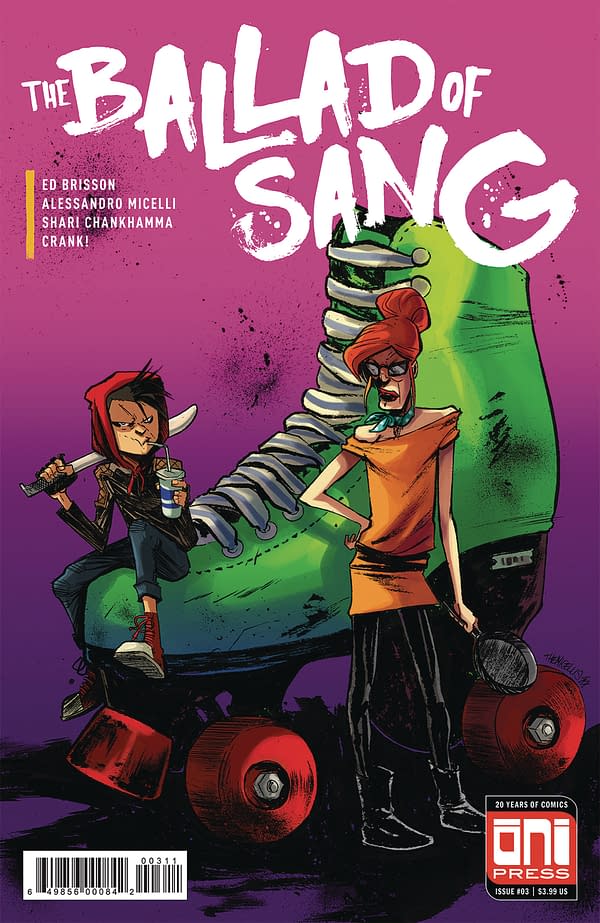 MAR181804
BALLAD OF SANG #3 (OF 5) (MR)
(W) Ed Brisson (A/CA) Alessandro Micelli, Shari Chankhamma
T'S TIME TO JAM! After Sang and Lucy manage to dispatch and escape THE VEXXED, the bounty on Sang's head doubles. It's the perfect incentive for the BLACK EYED BETTIES, a roller derby team who Lucy already has a history with. When Lucy and Sang make a stop at a familiar diner for sanctuary, the Betties spring on the opportunity… but everything doesn't go entirely to plan. (STL079448)
MATURE THEMES
32pgs, FC (3 of 5) SRP: $3.99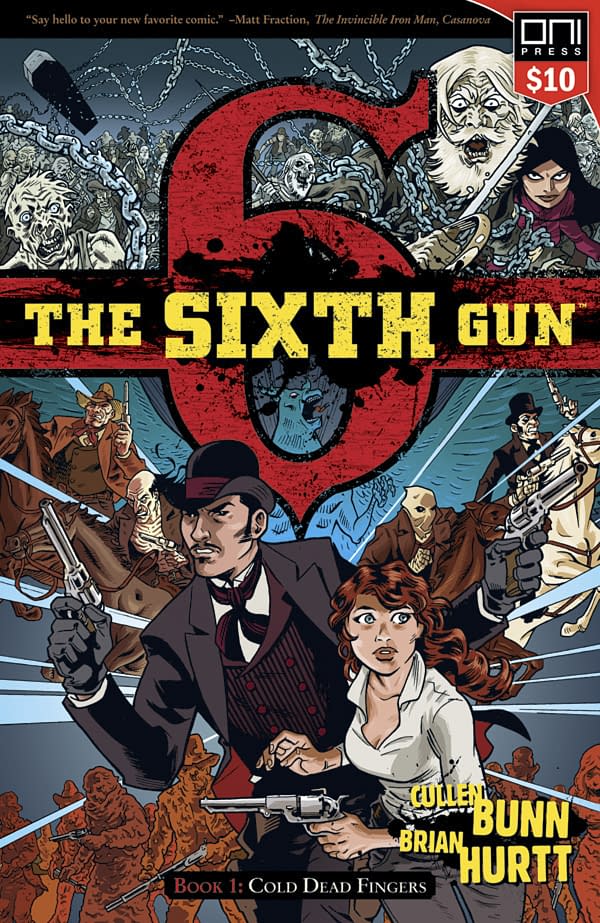 MAR181810
O/A SIXTH GUN TP VOL 01 COLD DEAD FINGERS (SQ1)
(W) Cullen Bunn (A/CA) Brian Hurtt
During the darkest days of the Civil War, wicked cutthroats came into possession of six pistols of otherworldly power. In time the Sixth Gun, the most dangerous of the weapons, vanished. When the gun surfaces in the hands of an innocent girl, dark forces reawaken. Vile men thought long dead set their sights on retrieving the gun and killing the girl. Only Drake Sinclair, a gunfighter with a shadowy past, stands in their way. Get the first volume of this critically acclaimed series for only $10 as part of Oni's Square One program! (STL037223)
SC, 176pgs, FC SRP: $10.00
Enjoyed this article? Share it!