Original Art From Batman Villain The Penguin's First Cover In 1942 Up For Grabs In November
DC's release this morning of January's Detective Comics cover and solicits — which happens to feature the Penguin — reminded me that I wanted to do a post about this. We've talked about Jerry Robinson's stunning collection of vintage comic book art here in the past, notably when he put the iconic cover of Superman #14 and the cover of Detective Comics #69 up for auction last year. Those covers didn't meet reserves, but Robinson is putting other covers on the block in November at Heritage Auctions.
An icon of the formative days of the American comics business himself and one of the key contributors to the Batman mythos, Robinson's collection is a legend among original art collectors, and although he has lent parts of it out for exhibits in recent years, not too many high quality scans have shown up online — but here's a doozy. The original cover of Detective Comics #67 by Jerry Robinson in all its hi-res glory: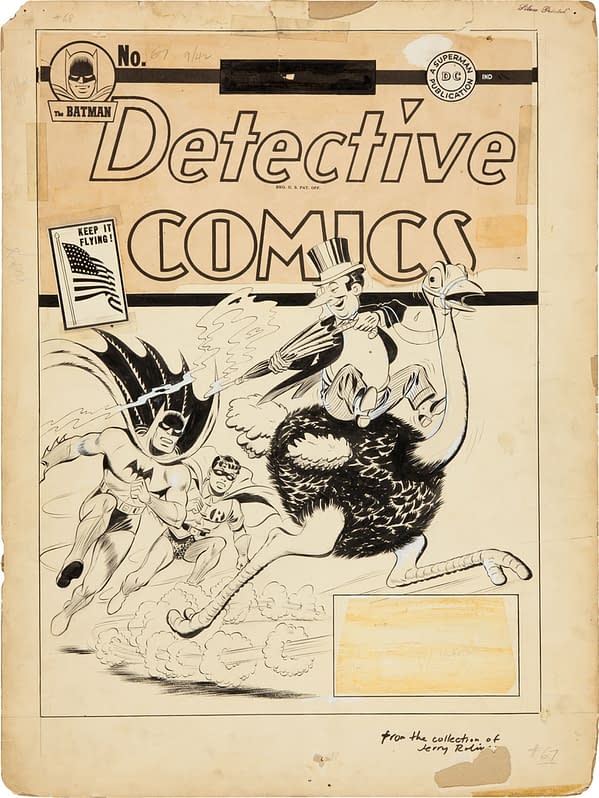 Few golden age Batman covers of this caliber have been offered in recent years. You've got Robinson's Detective #69 cover which did not meet reserve after reaching $213,000 last year, and the cover of Batman #11 by Fred Ray and Robinson which sold for $195,500 at Heritage in 2005.
As for the upcoming Heritage auction, this rather wonderful cover isn't even my favorite piece of the auction. What could possibly top it? Always bet on Jack. More on that tomorrow.
Jerry Robinson Detective Comics #67 First Penguin Cover Original Art (DC, 1942). Batman and Robin have an ostrich-riding Penguin on the run in this incredible WWII-era cover. Jerry Robinson penciled and inked this cover art, which retains its original paper Detective Comicsmasthead and "Keep It Flying" photostat, but is missing the "Crime's Early Bird" type blurb. The detail of Robinson's art is amazing when observed close-up, particularly his shading lines on the Dynamic Duo, and the feathery details of the ostrich being straddled by that bird-of-prey, the Penguin. A very remarkable piece of art that has been tucked away all these years in Mr. Robinson's private collection, and now offered to the lovers of comic art (that's you, dear bidders) for the first time ever. The art is in ink, graphite, and white-out on illustration board, with an image area of 12.5" x 17", and there is a penciled figure with a cape doodled on the backside. The board has considerable wear along the corners and outside border edges, and there are a few pieces of old tape holding down the pasted-on stats, with a tear running through the masthead, near the Penguin's top hat. The art itself remains in Very Good condition, with a small tear on the drawing surface running from the base of the ostrich's right leg to the edge (but does not go through the board), and a minor amount of soiling and paper taming is present. Still, it's one of the most impressive early images of Batman and Robin we've seen here at Heritage — and we've seen quite a few real gems in the past few years! This Golden Age masterpiece ranks right up there with the best of them! From the Robinson Collection.

Robinson, Jerry:Jerry Robinson is one of the most influential figures in the cartoon arts in America and around the world. As a member of the original Batman team, he was responsible for the first and most iconic of all supervillains, the Joker, and co-created Robin, the archetypal sidekick. From the earliest days of the Golden Age of comic books, Robinson created characters such as London, Atoman and Jet Scott, and worked in many genres, notably editorial cartooning, newspaper strips and illustration. In his other influential careers Robinson has been a features syndicate founder, teacher, curator and champion of artists rights. Among Robinson's thirty published works is The Comics: An Illustrated History of Comic Strip Art (Dark Horse), a definitive study of the genre. His other books include the biography Skippy and Percy Crosby (Holt), The 1970s: Best Political Cartoons of the Decade (McGraw Hill), and most recently a two-volume set of his 1950s sci-fi strip, Jet Scott (Dark Horse). The biography Jerry Robinson: Ambassador to the Comics (Abrams) was published last year. Robinson's numerous honors include the National Cartoonists Society Milton Caniff Lifetime Achievement Award and the San Diego Comic-Con Eisner Hall of Fame. .