Own a Schomburg Finest in Thrilling Comics #60 from ComicConnect Alex Schomburg is one of the most prolific and celebrated artists from the Golden Age of comics. The Puerto Rican born artist had one of the most significant impacts on comic art during his lifetime, creating some of the most memorable and beautiful covers from that era. Some of his most prolific covers include Startling Comics #49, Exciting Comics #17, and All Select Comics #1. Fans looking to get into collecting Schomburg covers should absolutely check out this ComicConnect auction for Thrilling Comics #60, which ends on May 22nd.
This stunning airbrushed cover features one of the more popular jungle girls of the Golden Age, Princess Pantha. Inspired by Sheena, Queen of the Jungle, Pantha would be brought back after the Golden Age was over during the 1990s in the Jungle Girls: Wild Side series. She also appeared in the early 2000s in both Tom Strong and Terra Obscura comics. Pantha has done a successful job of being reborn again and again for new audiences, proving that she can be adapted into a new era.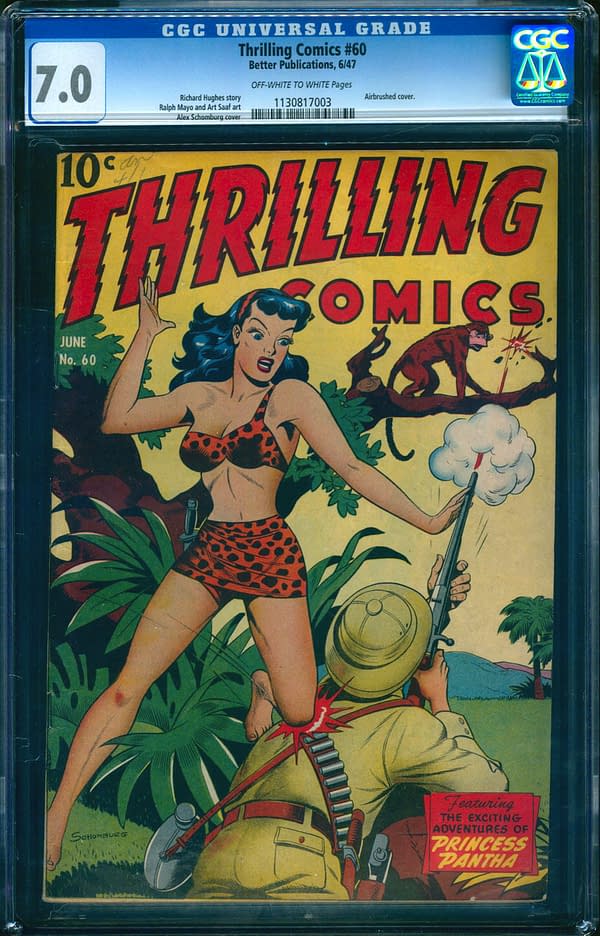 This CGC universal blue label 7.0 has off-white to white pages, and one hell of a cover. The dynamic Pantha attacks a poacher from behind, thus saving a monkey on a tree branch. This specific book sold for $357 in September of 2018, and before that, it had sold for $306 in August of 2016. It's safe to say this book will keep climbing. The highest graded Thrilling Comics #60, according to GPA, is a 9.6, so you're getting a pretty good grade all things considered. If you're looking to get started in collecting jungle girls, Golden Age Books, or Schomburg covers, this is an exceptional and affordable piece — one that could yield a slight return if you're looking at it as an investment.
The auction for this classic book ends on May 22nd and is part of Session 5 of Event Auction #42. Are you looking to add this excellent book to your collection? You will need a ComicConnect account to bid, but don't worry. Accounts are free! Plus, you never know what other comic goodies you'll find there. Good luck, and happy bidding!