Pakistan Closes Social Media After Muhammad Cartoons Protests
Pakistan has temporarily shut down all access from its citizens to Facebook, Twitter, and other social media sites, on orders from the country's interior ministry, after days of violent anti-French protests by radical Islamists over cartoons of the Prophet Muhammad resurfacing online.
The protests began after Saad Rizvi, leader of the outlawed Islamist political party Tehreek-e-Labiak, was arrested for threatening protests if the Pakistan government did not expel the French ambassador. He has since urged his supporters to stand down. So far, two police officers have been killed, 580 injured, and three protesters have died.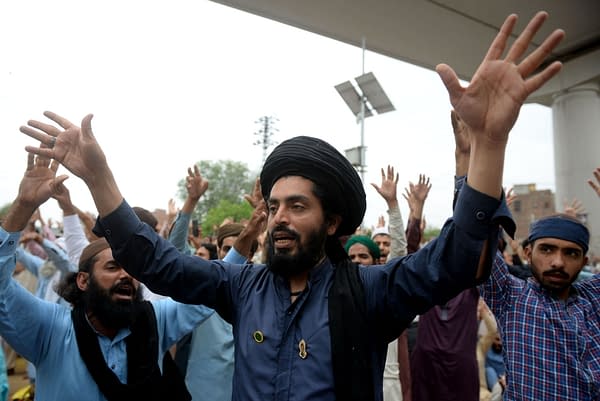 On Thursday, the French embassy in Pakistan advised all of its nationals and companies to temporarily leave the Islamic country after violence erupted over Rizvi's arrest.
Since October last year, Rizvi's outlawed party has denounced French President Emmanuel Macron, saying he tried to defend blasphemous caricatures of the Prophet Muhammad as freedom of expression. Macron had spoken after a young Muslim beheaded a French school teacher who had shown caricatures of the Prophet Muhammad in class. The images had been republished by the satirical magazine Charlie Hebdo to mark the trial's opening over the deadly 2015 attack against the publication for the original caricatures.
Islam has a strong tradition of aniconism, the avoidance of images of sentient beings, and is considered blasphemous in many Islamic traditions to visually depict Muhammad. Especially with cartoons that are considered insulting, and this has led to murderous acts of protest around the world.
In the statement, Rizvi asked his supporters to peacefully disperse for the good of the country and end their main sit-in. Some of his followers insisted that they have to hear or see the words come from Rizvi himself to believe it before stopping and the protests in Pakistan have continued.