Peacemaker Joins The Cast Of Green Arrow
Infinite Frontier and Dark Crisis On Infinite Earths writer Joshua Williamson has teased the cover to the new Green Arrow #1 launching in April, to follow the events of Dark Crisis. You know, in which Green Arrow is dead. So that's won't last for long, then. The new series by Joshua Williamson and Sean Izaakse, will be in DC's April 2023 solicits, but he gave us a look on Twitter, stating "GREEN ARROW #1 cover! Art by the awesome @SeanIzaakse with colors by @rfajardoj! It was hard keeping this cover secret since we announced #DawnOfDC!" Joshua Williamson wrote on Twitter. "And just like the Superman #1 cover, this is full of clues as to what happens in the Green Arrow series! Launching in April!"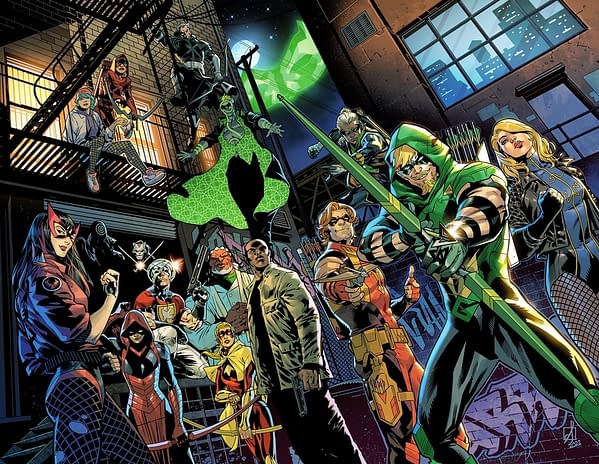 And yes that includes Peacemaker, last seen as part of a new Suicide Squad preparing to kill all superheroes under Amanda Waller's instructions.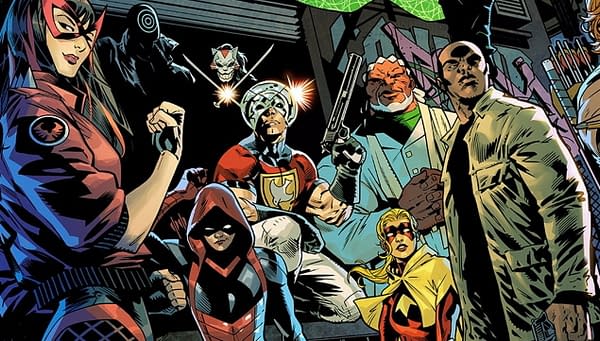 As well as Black Canary, Arsenal, Connor Hawke, John Diggle, Red Canary, Red Arrow, Cheshire, Brick, Onomatopoeia, Count Vertigo, Mia Dearden's Speedy, Arrowette, Lian Harper, and Malcolm Merlyn. This will be the return and maybe reboot of Mia Dearden, last seen as a billionaire's daughter but not for a decade.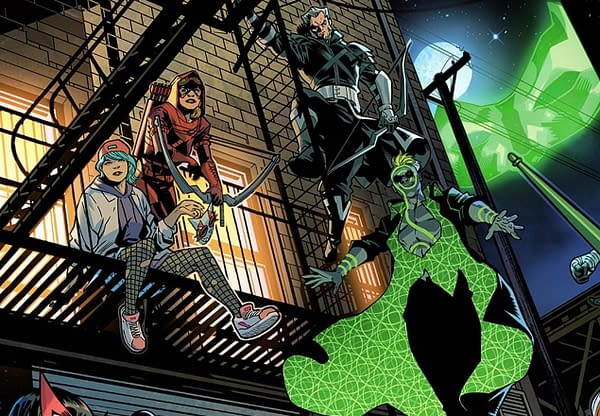 Hee's how it was listed as part of the Dawn Of DC promotions: "Green Arrow by Joshua Williamson and Sean Izaakse. Oliver Queen has been lost since Dark Crisis on Infinite Earths, and his family is determined to find him—but there are dangerous forces just as determined to keep them apart at any cost. An action-packed adventure across the DC Universe that sets the stage for major stories in 2023."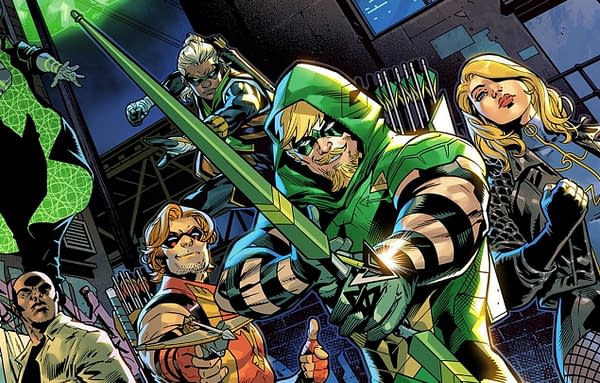 Also coming in April 2023:
Superboy: The Man of Tomorrow by Kenny Porter and Jahnoy Lindsay, the 2022 DC Round Robin-winner. Determined to find his place in a strange universe, Conner Kent/Superboy leaves Earth behind. But his journey of self-discovery brings him face-to-face with a group of freedom fighters who challenge not just everything Conner stands for but what it means to bear the Superman crest.
Green Lantern: Hal Jordan by Mariko Tamaki and a TBA artist yet to be announced will be available in April. Fan favorite Hal Jordan returns to Earth and to his blockbuster superhero action storytelling roots.