Peter Parker Gets a Major Life Change in Amazing Spider-Man #43
The last Spider-Man comic from Marvel before the shutdown, Amazing Spider-Man #42 by Nick Spencer and Ryan Ottley, was a rather wonderful one. A 'very special issue of The Amazing Spider-Man', it looked at the character of Gog, one of Spider-Man's rogue galleries and a character poorly served by those who exploited him, from the Sinister Six to Mister Fantastic himself. Looking at the tragedies and loss of its life, the ways it was used and all leading to a giant-sized Gog attack on Manhattan.
Yesterday's Amazing Spider-Man #43 also by Nick Spencer and Ryan Ottley, not only had Peter Parker take down the giant Gog but also find a new home for him. Peter Parker's own. As a pet, a live-in companion, a new member of the hours.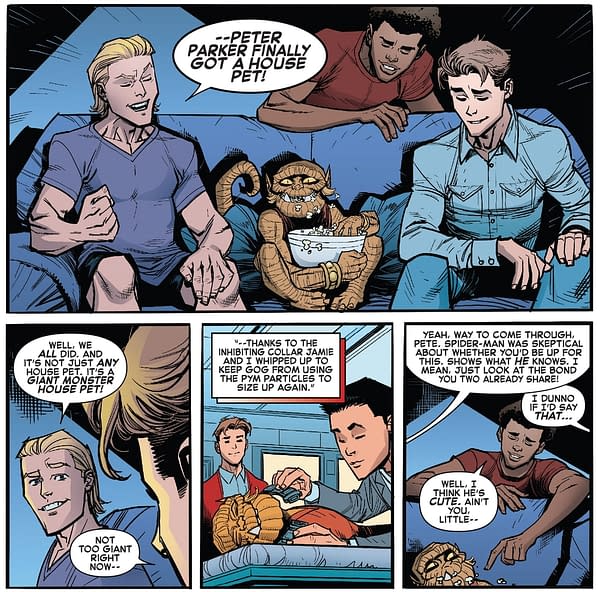 Although, given what we learned last issue it may be a matter of perspective. Is Gog Peter's pet? Or is Peter – and the rest of the houseshare – Gog's collection of pets? Maybe it doesn't matter? Naturally, there's no way Gog won't be involved with Spider-Man when the threats come to his own home, as well as the rest of the house. Also, Gog has his own valuable power item to protect as well, like it's a life mission.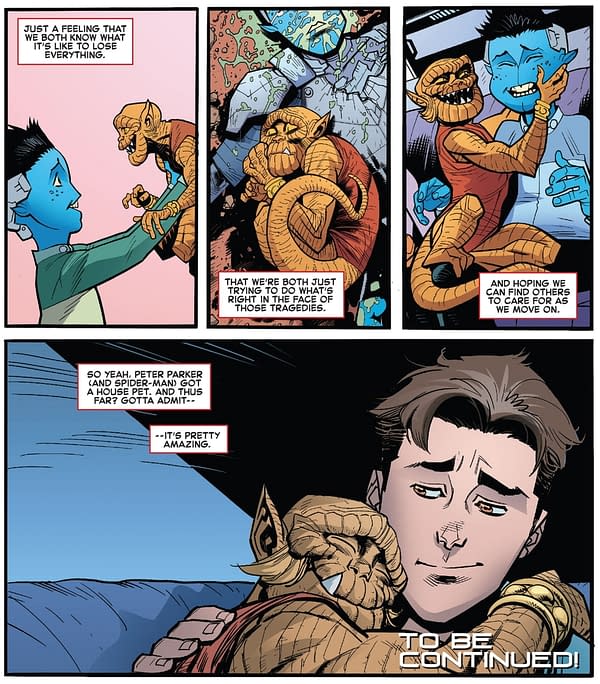 Plenty of priorities for each that may strain the relationship. Remember Peter, a Gog is for life, not just for Christmas. Same goes for you, Gog. You can't just let another pet die and expect to just be able to pick up a new one.
AMAZING SPIDER-MAN #42
(W) Nick Spencer (A/CA) Ryan Ottley
• Well, knowing what Boomerang is doing sure didn't help.
• Spidey and Boomerang are in trouble in a VERY BIG WAY. Rated T In Shops: Mar 25, 2020 SRP: $3.99

AMAZING SPIDER-MAN #43
(W) Nick Spencer (A/CA) Ryan Ottley
DO NOT MISS THIS ISSUE!
• Peter Parker's life will change… possibly forever. Rated T In Shops: May 27, 2020 SRP: $3.99