Bleeding Cool does enjoy seeing how superhero comics deal with swearing. See, as everyone knows, superhero comics are just for kids. Or at least big kids. But mores change and the acceptability of certain words change over time.
And this week's Plastic Man #2 is such an example. It is labelled Teen Plus by DC Comics which means if you go to the trouble of checking their website:
T+ – TEEN PLUS
Appropriate for readers age 15 and older. May contain moderate violence, mild profanity, graphic imagery and/or suggestive themes.
Which is a step below:
M – MATURE
Appropriate for readers age 17 and older. May contain intense violence, extensive profanity, nudity, sexual themes and other content suitable only for older readers.
But what counts as mild profanity? Religious swearing usually… but not the F-word. That will get censored…
As normally would everything in George Carlin's 7 Words You Can't Say On Television. But in Plastic Man #2, DC Comics now decreed another word suitable for the Teen Plus line…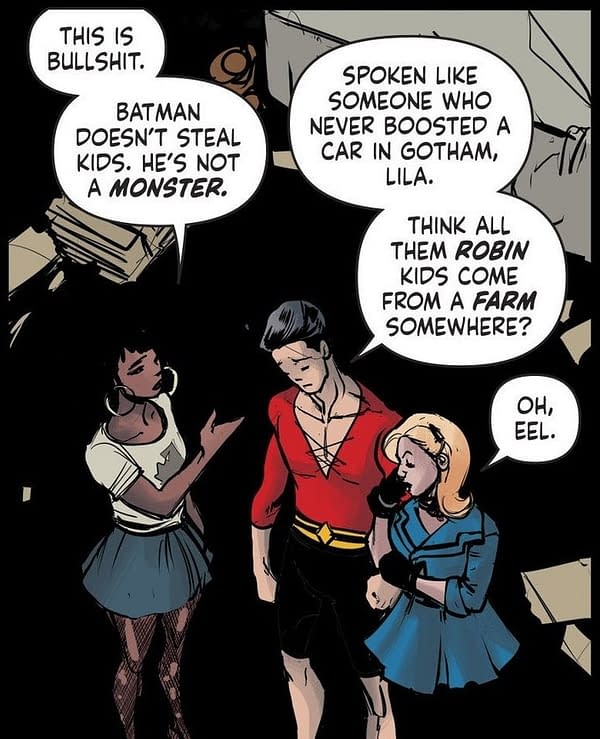 And no black bars necessary…
PLASTIC MAN #2
(W) Gail Simone (A) Adriana Melo (CA) Bilquis Evely
Eel didn't like it when a spy blackmailed him over his secret identity, and then a kid found out, and now the dancers at his club know and the concept of a secret identity has gotten stretched way the heck out of whack. But the dancers are helping him find the kid, who was nabbed by some bad guys who don't know his secret identity, just his costumed persona, which is still a terrible day, even in his pretty rotten life. In Shops: Jul 11, 2018
SRP: $3.99
Enjoyed this article? Share it!