One of the most star-studded comic books of all time is coming to Dark Horse next May, thanks to editor Hope Nicholson and the Pros and (Comic) Cons anthology. Pros and (Comic) Cons tells the real-life stories of working comic book professionals at conventions, and features stories by "The Great One" Brian Bendis, Greg Pak, Jenn St-Onge, Tim Seeley, Kieron Gillen, Sina Gracy, Amy Chu, and more. Check out the press release for more details:
Editor Hope Nicholson is no stranger to bringing together diverse and talented creators from every corner of the comics industry for humorous and emotional anthologies. Following the success of The Secret Loves of Geek Girls and The Secret Loves of Geeks comes a brand-new anthology of personal stories by writers, artists, cartoonists, and professional geeks around the globe.

Pros and (Comic) Cons explores the mad world of comic conventions and the funny, sad, sweet, embarrassing, and heartfelt stories that go along with them. These true-to-life stories showcase surprise celebrity run-ins, fan encounters that changed creator's lives, costume malfunctions, and practical advice for both new and experienced convention attendees. Featuring comics and essays by Brian Michael Bendis (The Man of Steel), Greg Pak (The Incredible Hercules), Jenn St-Onge (Nancy Drew), Tim Seeley (Hack + Slash), Kieron Gillen (The Wicked and the Divine), Sina Grace (Iceman), Amy Chu (Green Hornet) and many more, Pros and (Comic) Cons paints a picture of the geek culture life that shapes us, encourages us, and exhausts us every summer.
Colleen Coover is responsible for the cover below, and the book goes on sale May 29, 2019.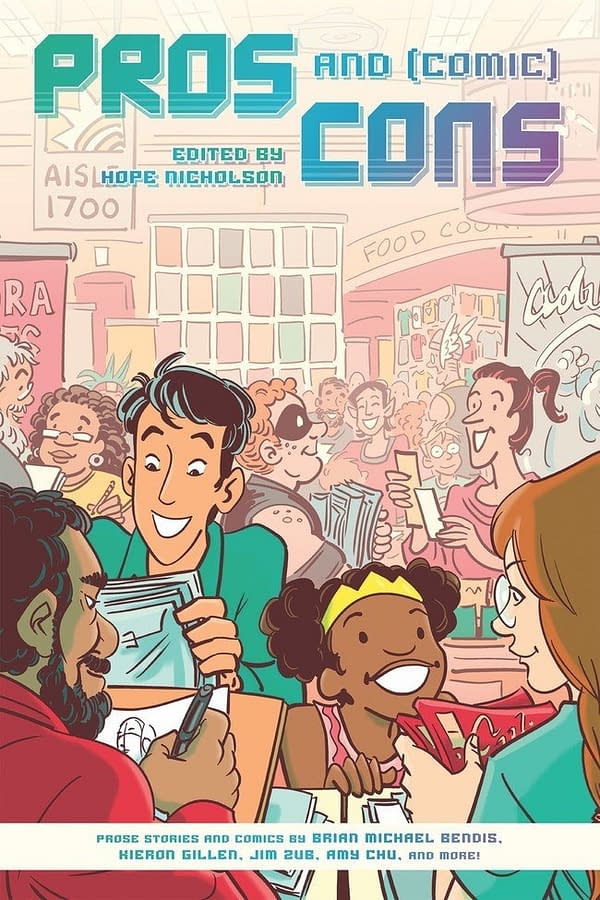 Enjoyed this article? Share it!