Just when he thinks he's out, they pull him back in!
Last year, Marvel published a new story by retired Marvel Editor and Karate Kid Ralph Macchio and artist Andrea Di Vito, cashing in on the name of Avengers: Infinity War, though having nothing to actually do with the movie or the Infinity Gems. Another Avengers movie is hitting stores in April, so it's time for Macchio to strike again with Avengers: Edge of Infinity, another (presumably) one-shot carrying on the story from Avengers: Infinity Shards.
This time, it seems that M.O.D.O.K. will team-up with L.U.N.A.R. for a nefarious plan that will force the Avengers to put all of their acronym-fighting skills to the test. Sure, this story won't really have any impact on Marvel's regular ongoing continuity, but how often can you read a story with a beginning, middle, and end in a single comic book? Decompression be damned, pick up Avengers: Edge of Infinity in April!
AVENGERS – EDGE OF INFINITY #1
RALPH MACCHIO (W)
ANDREA DI VITO (A)
Cover by TODD NAUCK
Variant Cover by RON LIM
M.O.D.O.K.'S SCHEME
REACHES ITS ENDGAME!
• From the wreckage of their moon base, the villainous LUNAR rises again — with a deadly plan for the shards of the COSMIC CUBE! Join CAPTAIN AMERICA, BLACK WIDOW, IRON MAN and CAPTAIN MARVEL in a race against time that will determine the fate of the solar system!
• But what is M.O.D.O.K.'s plan, and how does he figure into LUNAR's ambitions? All will be revealed as the Avengers fight to save the Earth from the EDGE OF INFINITY!
32 PGS./Rated T …$3.99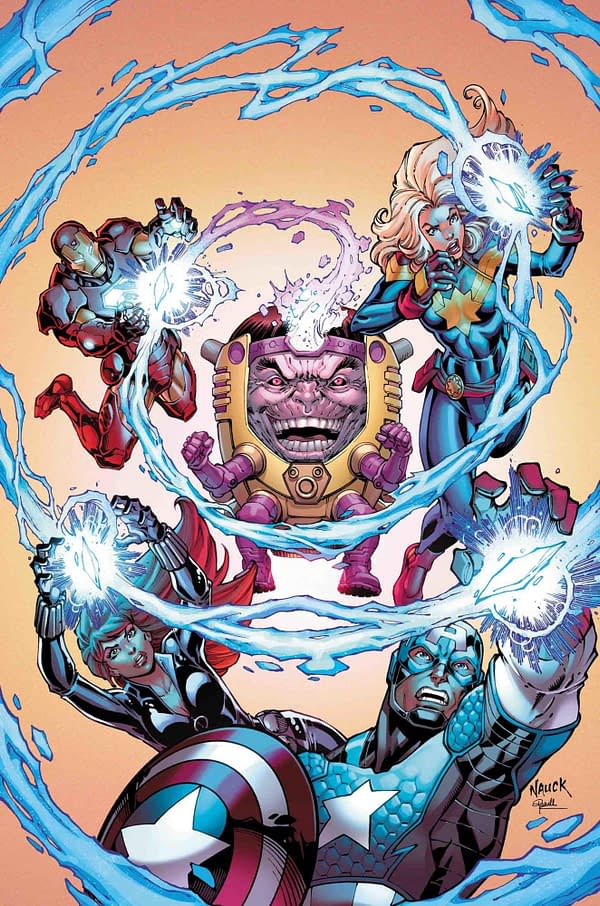 Enjoyed this article? Share it!