Read Justice, Inc. #1 from Michael Uslan and Giovanni Timpano
Dynamite has sent us the first issue of the Justice, Inc. series that was written by Michael Uslan and drawn by Giovanni Timpano. The new series featured the classic pulp hero The Avenger along with other iconic figures from that era, The Shadow and Doc Savage. This goes with the publishers comixology sale going on this weekend that features comics from Justice, Inc: The Avengers, Doc Savage, and The Shadow. It's all the pulp goodness one could hope for.
Justice, Inc. #1 featured a cover by Alex Ross and was the first of a six-part series where an airliner vanishes en route without a trace! It's the crisis that brings together, in a historic team-up for the first time ever, Street & Smith's super-star trinity: The Shadow! Doc Savage! The Avenger! This historic cross-over is 75 years in the making, JUSTICE, INC. begins here, spawned by a horrific tragedy of death and destruction secretly orchestrated by some of the most powerful and unexpected villains in the history of the pulps! Chapter 1 (of 6): "The Time Machine!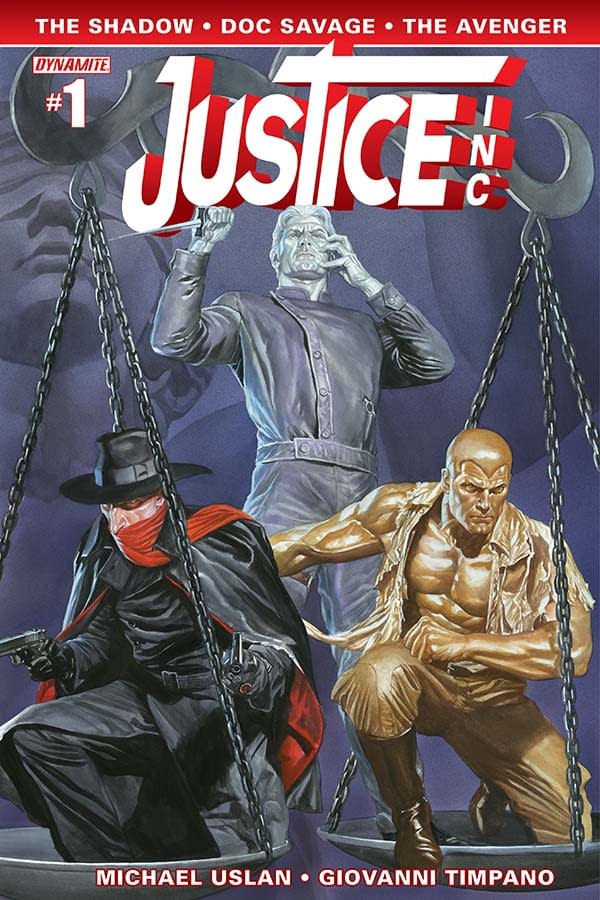 You can read the first issue here, and pick up the rest of the series digitally at the sale or in print at you local comic shop.