Five Reasons You Should Be Reading Liberator
Alasdair Stuart writes;
Black Mask's entire raft of launch titles have been impressive, but for me, the stand out is Liberator. Written by Matt Miner and illustrated by Javier Sanchez Aranda, Joaquin Pereyra, Vito Delsante with excellent extras art by Yasmin Liang and Kathryn Mann , it's the point where superheroics and Black Mask's interest in contemporary social commentary collide. The fourth issue is out shortly and here are five good reasons to catch up on what you've missed.
1. Thinking On Their Feet

Damon and Jeanette, the series leads, are very good at what they do. Sometimes though, luck isn't enough. Miner's script never once lets his characters off easy and uses the constant pressure they're under to show just how well adapted they are to the lifestyle. Interestingly, Jeanette seems more at home with it than Damon…
2.Street Warfare

That being said, Damon is far better at the 'hands on' stuff than Jeanette. The third issue in particular spends a lot of time looking at their different methodologies and, where Jeanette is a lock pick, Damon is definitely a crowbar. One of the best sequences so far begins here, as we see Damon systematically dismantle a target's weaknesses and ruthlessly exploit every single one of them.
3.Consequences

There is very little more tedious in any form of drama than forced conflict. Here though, the conflict is multifaceted and completely natural. Not only do we have Damon and Jeanette at war with their chosen targets, but the pair of them clashing over their very different approaches to the work. This is where Miner's script is strongest, as Damon is revealed to be talented but undisciplined whilst Jeanette is a fiercely intelligent, perceptive operator. If the two can successfully work together they'll clearly be all but unstoppable. Based on this issue, they have a ways to go yet.
4.Hard Luck Heroes

Also, they just can't catch a break. Miner's script is beautifully paced and timed, opening out the world from Damon's initial perspective, to Jeanette's, to the consequences of their actions and then shutting it all back down. This isn't a game, this sort of citizen justice is extremely dangerous and has precisely no safety net. By the third issue, the stakes the pair are playing with are painfully obvious and they're clearly in a lot of trouble.
5. The Art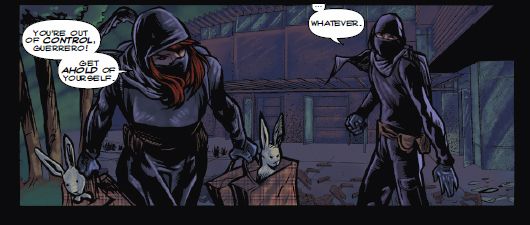 I love this panel. Firstly because of the absurdity of the rabbits in shopping bags. Secondly because that shows you the level of planning and resources the two have at their disposal and thirdly because of the art. Aranda's pencils and inks are especially great, picking out the character, and the fragility, beneath the masks. Likewise, Delsante's lettering throughout really works, especially in the thought boxes, but for me this is work absolutely made by the colours. This is a book set almost entirely at night and Pereyra's colors manage to show you that whilst never once obscuring the action. It's a perfect match with Miner's script and raises the quality, and tone, of the book hugely.
Liberator is a really smart, different take on superhero tropes that manages to have a message without once sounding like a pulpit. It's one of the best books on the market right now and is available from your LCS . Seek it out, it's worth it.