I'm a little worried about this "pre-college fieldtrip gone wrong" in No Mercy being released by Image Comics on April 1st. Maybe it's because I know a little about what writer Alex de Campi is doing with Archie Vs. Predator and how artist Carla Speed McNeil can lull you into a false sense of security with a kind of mesmerizing calm. Jenn Manley Lee on colors is also bringing in a kind of vivid palette that is almost a warning that things aren't quite safe.
I think we know from the start that this is going to be a very tense and unrepentantly unpredictable series. De Campi has called the series a "teen drama" with dashes of Peckinpah and that's well….very disturbing. Also get set for a lot of use of social media and tech devices in simple ways in the first issue, which will make us all feel that what we do in this vein is fairly brainless and laughable, only we don't realize it fully until we see it in a comic.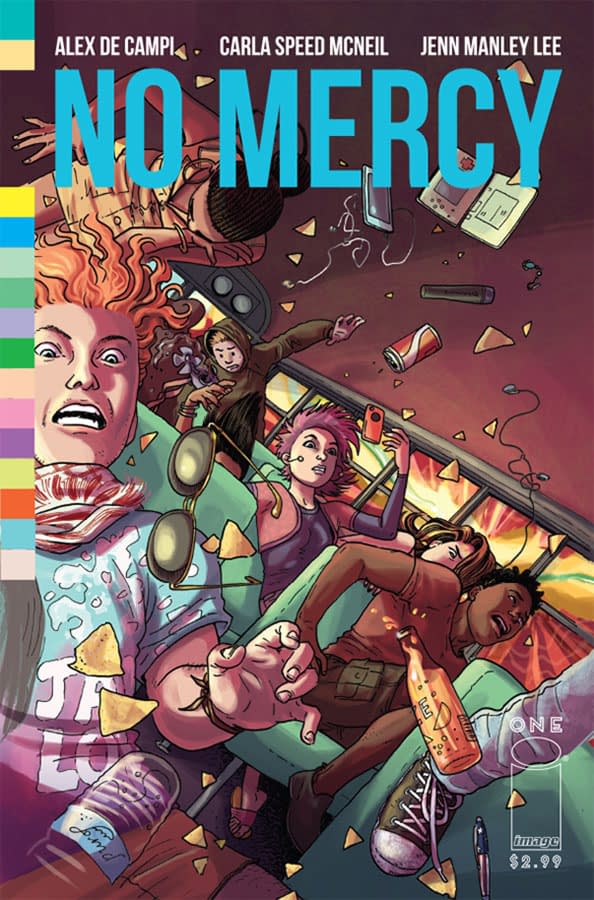 While we're on the subject of discomfort, how about observing in No Mercy, the way that American youths (or Americans more widely, though not true of all Americans of course I say as a 15 year expat), behave when in foreign countries? I think I want to stab my eyes out just observing things that are so true and recognizable in the first issue as a group of young people tour Central America. And this isn't part of the creepy tension, necessarily–this is just de Campi observing life and cramming it into the narrative for us. But of course it becomes highly relevant because this is quite a jumping off point into drama based to a large degree in realism.
It's unnerving how quickly the first issue takes you inside the lives of the characters (even if you're judging them and you totally are), and you begin to feel you are just "watching" an unscripted reality TV show. As in such cases, it's the things people say when they don't really think about the fact that they are being observed that speak volumes about their expectations, lives, foibles, and immense vulnerabilities. Here, in No Mercy, the reader is in the privileged position of constantly viewing the characters through that lens. This story promises to be a no-holds-barred observation of a group of isolated, fairly spoiled young Americans in an extremely hostile environment and no doubt we'll come to some surprising conclusions about what these characters are capable of or how they might grow or change due to the experience. That is–if they make it out alive.
The first issue will set you up and knock you down pretty firmly, establishing the tone and pattern of a series that promises to have twists and turns in every issue, according to the creative team. That adrenaline and uncertainty is likely to be highly addictive for readers and this is one of the few comics in recent months that's made me want to sit back with some popcorn to watch the reaction of readers as they get a hold of the comic as much as to read it myself. It's going to be quite a show.
Oh, and people are saying pretty crazy and cool things about this comic already such as:
Alex de Campi's scarily believable premise combines with Carla Speed McNeil's unbelievably beautiful art for a thriller with its brake line cut. – Brian K. Vaughan

Two of my favourite creators teamed up and, once more, showing me why they're two of my favourite creators. NO MERCY manages to push a good chunk of 21st century life inside a single bus, and then throws it off the cliff. This is what drama is all about. – Kieron Gillen
 And here's our preview of No Mercy #1: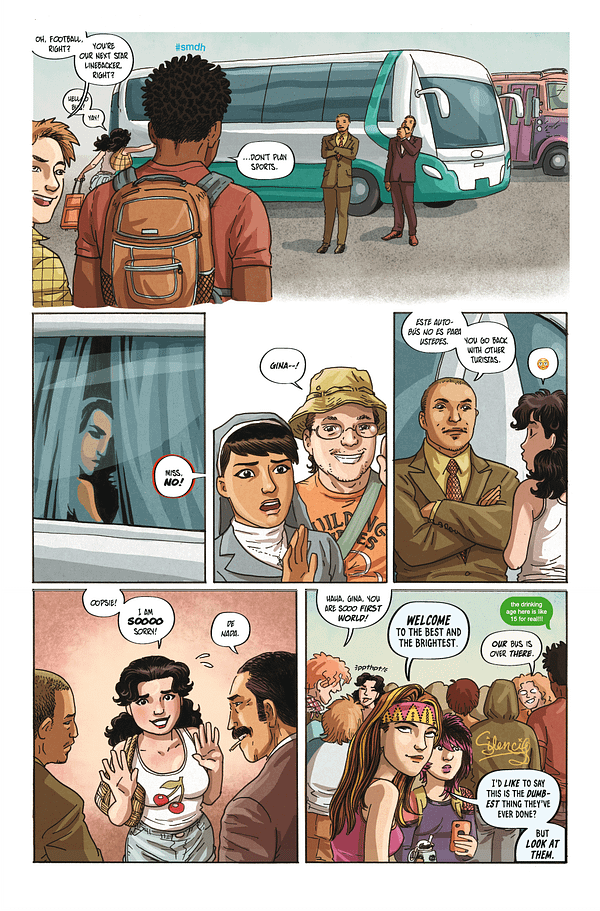 No Mercy #1 arrives April 1st, reaches FOC today, March 9th, and is currently listed in Previews World with item code: FEB150483
Enjoyed this article? Share it!