American Horror Story Season 8: FX Announces 'Apocalypse' Crossover Theme, Releases Key Art [SDCC]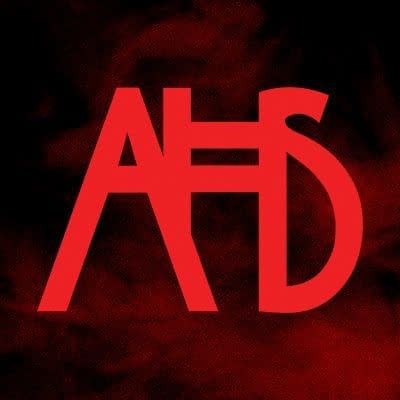 It's the end of the world as we know it — and American Horror Story mastermind Ryan Murphy seems to be feeling pretty fine about it. Fans of FX's horror anthology series have learned that San Diego Comic-Con (SDCC) time is usually the time when the curtains get pulled away and the upcoming season's theme revealed, and this year was no different. American Horror Story: Apocalypse is the official title/theme for the eighth season Murder House/Coven mashup, returning to the cable network on Wednesday, September 12th at 10 p.m. ET/9 p.m. CT.
— AmericanHorrorStory (@AHSFX) July 20, 2018
https://www.instagram.com/p/BlceA_An5T4/
"It's a season unlike anything we've done because there's a big hook to it. There's a huge thing that happens in episode 5." – Ryan Murphy
From the key art released above, it's clear that Tate Langdon/"The Rubber Man" (Evan Peters) and Vivien Harmon's (Connie Britton) Antichrist baby from Murder House will play a major role this season — which raises the obvious (and still unanswered) question about Jessica Lange's return to the series. The child was left in Constance Langdon's (Lange) care at the end of the season, where she witnessed the literal "little devil" murder his nanny.
So far, Sarah Paulson, Evan Peters, Kathy Bates, Emma Roberts, Cheyenne Jackson, Billie Lourd, Billy Eichner, Adina Porter, and Leslie Grossman are returning to Murphy's horrific universe; with Joan Collins (Dynasty) joining the cast as Peters's grandmother, and Jeffrey Bowyer-Chapman (UnReal) and Kyle Allen (The Path) also set for guest appearances. Murphy also confirmed that Coven's Taissa Farmiga and Gabourey Sidibe have been invited to return; and suggested that Lady Gaga's "original supreme" would also be playing a part in the crossover.
Paulson's Billie Dean Howard appeared in Murder House, and her Cordelia Foxx appeared in Coven. Peters played ghostly teen Tate Langdon in Murder House and fraternity president Kyle Spencer in Coven. Bates and Roberts joined the franchise during Coven as Madame Delphine LaLaurie and Madison Montgomery, respectively.