Alan Moore's Big New Multi-Media Thing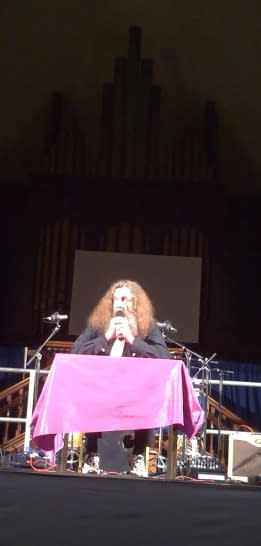 "Blah blah blah, I hate films, blah blah, you know, it's tiresome" – Alan Moore.
At the Dodgem Logic show last night, Alan was asked if he had any interest in writing a computer game – and if so could the questioner's company make it.
Alan gave a very guarded answer that outlined what seemed to be future plans in that area. Initially giving his experience writing comics and seeing them turned into spinoff projects that the idea was never created for.
So it seems he's creating something new, intended to do just that.
What I thought was wouldn't it be funny if I came up with an idea that was like brilliant – and had all these other ideas, kind of, embedded in it…. Hey this is the 21st century people want to expand everything into multiple platforms, into games and all sorts of things, so what if I embraced that, what if I came up with a concept that could spin out into all sorts of things that I believe, in the way that I wanted to… That would be quite diabolical, couldn't it?

So yeah, I have been along the lines of al sorts ofl the stuff the you were mentioning.

All part of some kind of mega project which you really will have to wait to hear the rest of. But yeah, there's possibly going to be some surprising stuff happening in the next twelve months.

But that's as much as I can say. You didn't hear it from me.
You can hear all this, as well as Alan talking about the spinoffs from Dodgem Logic, including the previously mentioned ten minute film Jimmy's End that Alan has written for Mitch Jenkins filming in August, that may also be spinning off into a feature film/TV project. "It's got completely out of control. I've no idea where its heading but it's somewhere really peculiar. You'll probably hear about it." And the slow development of the Bumper Book Of Magic with Steve Moore, in which they believe they've identified the first Faust.
And that just has to be heard to be believed….
[youtube]http://www.youtube.com/watch?v=osWedGKFAQs[/youtube]