And The Winner Is…The Stan Lee Excelsior Awards Voted On By British Schoolchildren
By Olly MacNamee When first I drank from the Bleeding Cool-Aid fountain back in January as a roving reporter covering conventions in the Midlands area of the UK, the first article I submitted was not con coverage but rather one spotlighting The Stan Lee Excelsior Awards, an award my school and many others across the UK were involved with that encouraged pupils 11-16 to read and vote on their favourite graphic novel/trade paperback from a shortlist of 8. You can read more about it here, and this last Friday saw the awards' ceremony held at Ecclesfield School seated in the rolling countryside of God's County, Yorkshire and home to Paul Register, the awards' founder and school librarian. I counted 16 schools in attendance, with many from the north (c'mon London and the South, where were you?) and my own school travelling from Birmingham for the day. And what a day it was. The school, sitting in splendor high above Ecclesfield comprising of both traditional York stone clad architecture and modern builds, starkly contrasted against the inner-city school my own pupils and myself were from, but added an air of legitimacy to the event even before we entered the school's impressive drama theatre. Paul had done the visiting schools proud, with local comic book shops The Travelling Man and Sheffield's Space Centre SF Bookshop present with copies of all the shortlisted comic books as well as a good selection of other treats for sale before and after the fun-filled ceremony.
If any comic book company wanted to know what 'da yoof' of today like reading, here was its focus group all under one roof with Manga still a firm favourite but with a growing fandom for the more mainstream superhero titles too. The main draw of the day, after the comics themselves of course, was Mister Hope, an illustrator just about to move into illustrations full time after becoming a new father recently. Charging just a pound only for a quick sketch of any character you could think of from Aquaman to Walter White, his table was busy all morning. He may have soon regretted charging a mere quid for his sketches but he gained a lot of fans in the process, me included walking away with two pieces of original art from the day. His quirky comical Tim Burtonesque style and fine line art was an instant hit and after today I am sure he will realize he's made the right decision to follow this career path. I highly recommend you look out for him at comic cons in the future and I look forward to bumping into him again. I had to pull my students away in the end in fear of returning late back to our school. After all, I had The Fun Lovin' Criminals to look forward to that evening and I wasn't going to miss that for anyone.
Paul Register, librarian and MC for the ceremony kept everyone laughing through it all and scratching their heads too with a fiendishly difficult quiz that even I struggled with at times. An entertaining host that kept his audience happy across the whole morning. Try doing that with a theatre full of school kids! Keynote speaker for the day was illustrator Emma Vieceli (Dragon Heir, Vampire Academy) discussing her love of comics and reminding us all that whether we are reading an in-flight manual for safety jackets or an Ikea DIY instruction booklet for a set of shelves, we are surrounded by the sequential arts each and every day. With so many would-be writers of tomorrow in the audience, Vieceli reminded them all that in this digital age creating and distributing a comic have never been cheaper to do.
With a raffle offering prizes donated from the aforementioned local businesses and artists, even before the awards were announced the place was buzzing with genuine excitement; a great event.
And so onto the awards themselves which saw pupils voting on two categories; best cover and best graphic novel, with a third prize going to the school that cast the most votes. Unsurprisingly, that was Paul's very own school, Ecclesfield, but embodying everything good about superheroing, Paul gallantly offered the award to the next largest votes count, Silverdale School from Sheffield.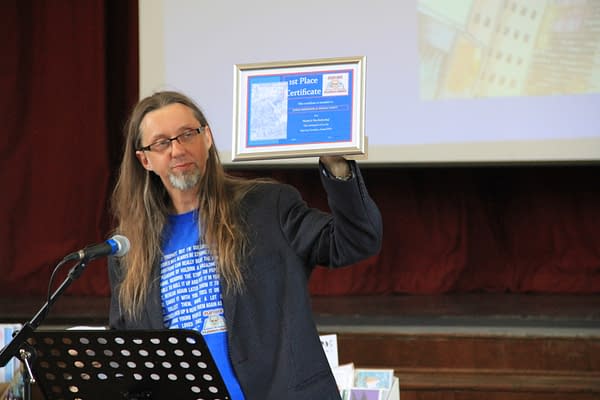 The best cover went to Ivan Reis's beautifully rendered Earth 2 (Vol. 1) cover, itself a reproduction of the first issues very misleading cover. Reis has been a favourite of mine for a number of years so I wasn't surprised that he won, albeit against some tough competition. What did pleasantly surprise me somewhat was the award for favourite graphic novel. In third place – as voted for by the secondary school children of Britain – was Marvel's Captain America: Castaway in Dimension Z, itself only the first half of the storyline that introduces us to the currently controversial figure of Jet Black with Valiant's Quantum and Woody in second.
But, the win went to DC Comics' Earth 2 (Vol.1) a book not set in any DC continuity recognizable for the first-time comic book reader (as many of the pupils were), where the most recognizable characters die by the end of the first issue/chapter and with an openly gay character at its core; a book that has since then lost its writer, James Robinson, and now its artist, Nicola Scott too. If the double win for Earth 2 (Vol.1) tells me anything it seems to be that DC are quite right to look to launch a second Earth 2 title and more importantly, the diversity DCComics has been infusing its titles with since the relaunch of the NewDC is working. For me, what makes the modern Alan Scott a no-brainer, is his representation in this comic. Like other heroes before him, he loses a loved one, which then becomes the catalyst for change and the first steps to heroism. But, Alan is not defined by his sexuality, its just who he is just like Cam and Mitch in Modern Family.
For next year, Register is pushing the boat out even further with the launch of a second award, the Excelsior Junior Award aimed at primary schools with a shortlist of only 4 titles. I thoroughly recommend, teachers and students of the UK, for you to get involved next year. Tell your teachers, tell your librarians, tell your friends and maybe next year I'll see you all there too.
Olly MacNamee teaches English and Media, for his sins, in a school somewhere in Birmingham. Some days, even he doesn't know where it is. Follow him on twitter @ollymacnamee or read about his exploits at olly.macnamee@blogspot.co.uk. Or don't.