Jonathan Ross And Ian Churchill Hit Banbury (Video, Pics And Report)
[youtube]https://www.youtube.com/watch?v=vTn4MwYOU3o[/youtube]
I had a very pleasant afternoon visiting Banbury in Oxfordshire yesterday. My parents have retired here, but that's not why I was up here with the family. Not totally.No, it was because Jonathan Ross and Ian Churchill were signing the first two issues of their Image comic book, Revenge.
It was an unlikely place, the small Oxfordshire town of Banbury, on a rainy Saturday. But it's pleasant enough, and has enough of a market to potter through. No one was letting the damp get them down though. Even the West Cornish Pasty Co had balloons. And just round the corner, just above the Pound Store, is Oxfordshire's only comics shop, celebrating its twentieth anniversary and planning an upcoming website relaunch. And today, home to celebrity! Well, I was definitely in the right place. "Lenendary" What a fine poster that was, by a local artist who I may be trying to snap up for a comic book project…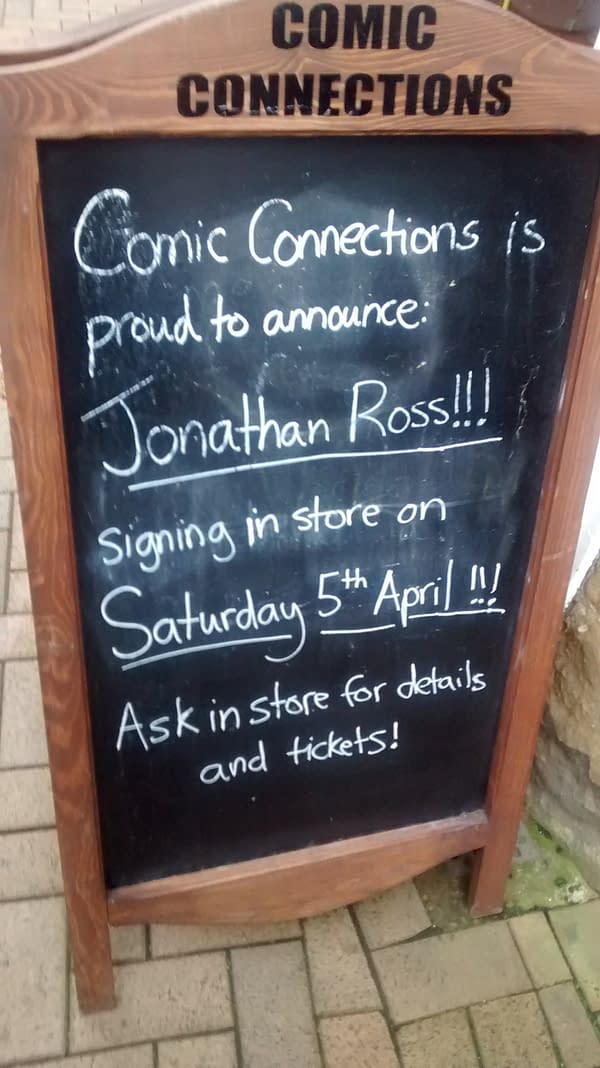 Seriously, you couldn't miss this place. Just in case you wanted to find it as well.
A compact store Comics Connections is pretty much everything you'd want from a small comics store, with, well, comics, lots of graphic novels… …back issues… and a sideline in statues, DVDs and games. I had a wander in, and a bit of a potter about as the shop set up for the signing. It's run by this fellow Glyn who had the bright idea of asking Jonathan Ross and Ian Churchill if they wouldn't mind popping up the road to do a signing. And it turns out they'd be delighted. Jonathan and Ian weren't here yet. But they were close by, in the pub opposite. All comic shops should have a pub opposite and there were three on this short street.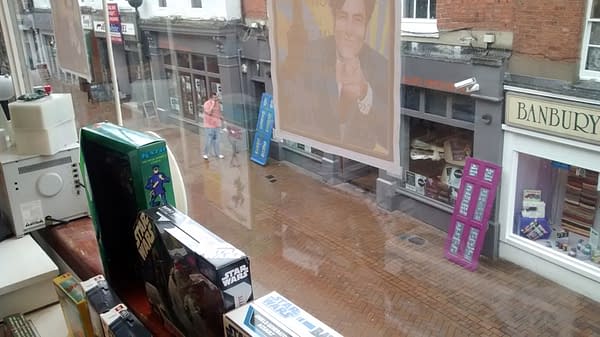 And there was Ian, having a quick half pint and talking about his garden. Soon joined by Jonathan Ross, as we talked about comics, comics creators and plans for more… Soon we all returned to the store as the queues began to grow. Glyn had instigated a ticket system so that people could turn up at a general time, be guaranteed a signature and not have to wait for three hours in the rain. And it worked, a bit like a check in desk.
The biys were on fine form, giving everyone personal time, a proper connection and especially with Jonathan, quite a thrill. So many people wanted their photo taken. One elderly lady said she had to have a photo or no one would ever believe her. What was obvious was that for many people, this was their first time in a comic shop. Or even realising that their town had a comic shop. And all of them picking up and getting signed, copies of Revenge. Though Jonathan was swift to point out that the comics in question weren't suitable for all his fans.
Still the biscuits were handy to placate any disappointed youngsters. And when my family turned up, Jonathan was happy to high five my young daughters and Ian was ever happier to sign and sketch a copy of Marineman for them both.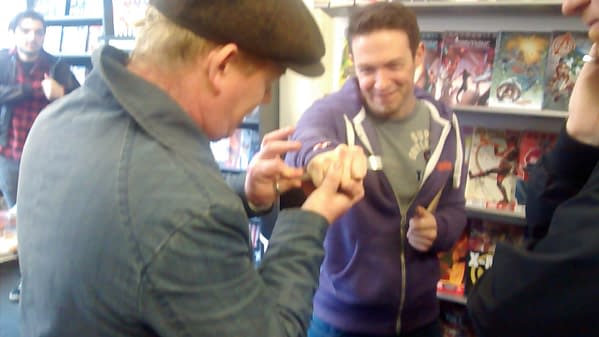 Also in the store entertaining the line, was mesmerist Ian Harvey Stone – more of him later on the site I think. He does a fine line in geek-themed performances, and had a number of folk under his Jedi mind tricks. After the show we retired to the bar, a rather Soho-esque place for somewhere so Banburyish, called Also Known As. But unlike the Groucho Club, Jonathan couldn't escape admirers looking for photos.
That's the thing with Jonathan, constantly giving, never tired, a real people person, and one who realises that he can make people's days just by posing in a photo. If only we could all make people happy so easily.
So… anyone else fancy a trip to Banbury for a signing?