Batman Day: What Will You Be Doing On July 23rd To Celebrate?
By Olly MacNamee
With Batman Day landing right in the middle of the week, this could be enough of a reason not to celebrate the Dark Knight's 75th birthday for some. Heck, I barely celebrate the birthdays of my friends when their birthdays land mid-week, so why go out of my way to celebrate a fictional character, right? After all, it is a 'school night'. But, with a well-executed all-out assault of cosplay, cupcakes and competitions with some pretty spectacular and exclusive prizes planned Nostalgia and Comics are definitely leading the charge here in Birmingham and it will be a tough celebration to beat I reckon, even nationally. For a man is old enough to have had a free bus pass for a decade the Sultan of Shadows ain't looking too shabby.
Throughout the day, night as well as stretching across the rest of the week, the festivities will continue so everyone can have a slice of the cake, figuratively and literally. You have no excuse really.
Speaking to the staff of Nostalgia and Comics, they seem to be doing more in one week than DC did in a whole year of celebrating Superman's 75th only last year, in my opinion. And no, I don't count The Man of Steel as part of that celebration, but more a happy coincidence. Still it's good to see DC Comics getting it right this year, or rather one retailer at least. Luckily for my daughter and me that just happens to be my LCBS.
Events organized by Nostalgia and Comics not only celebrates the Man in Black's big day in style, but also embraces the whole notion of what it is to be a hero – super or not – by helping out a very worthy local cause, Birmingham Children's Hospital, which will benefit from sales of raffle tickets and cakes, with a goal of just £2000 as the aim. Like any good charity campaign it has its own charity page too, which can be found here. You don't have to live in the Midlands to take part. I don't know how, but both Laura Rose (possibly the biggest Batman nut I have ever met and I've met a lot of Batman fans and nuts) and Lady Batman have managed to secure some exclusive booty as prizes from the legendary likes of Francis Buccellato, Greg Capullo and Gail Simone; with top prize in the raffle being a Black Mirror hardcover signed by the dynamic duo of Snyder and Jock.
In teaming up with All The Nomz as well, the store will further support the Children's Hospital with boxes in the shop encouraging comic book fandom to donation appropriate items such as toys, games, books and, dare I say it, comics too. You don't have to be a millionaire to be a philanthropist. I have even heard rumblings of one of the local taverns of the area offering Batman Beer come the evening. All charitable donations will be donated in the name of Bruce Wayne, which I thought was a nice, fun touch.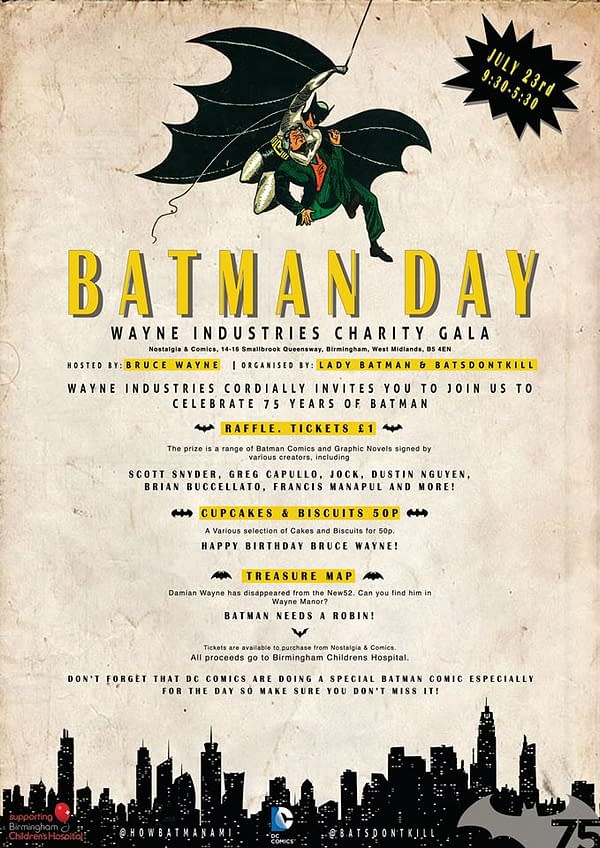 As a longtime comic book fan, I love it when LCBS offer more to their customers and friends than just another shopping experience. Nostalgia and Comics do this quite a bit, with monthly meetings at nearby watering holes that can often see you drinking alongside the likes of Hunt Emerson, Laura Howell and John McCrea. When I first moved to Brum over a decade ago, it was their friendliness that won me over and I know this is an experience many people have at their own LCBS. Long may this be the case, cos this doesn't happen when you buy digitally.
So, what will you be doing July 23rd? More importantly, what will you LCBS be doing? It's never too early to ask and join in on the celebration.
Olly MacNamee teaches English and Media, for his sins, in a school somewhere in Birmingham. Some days, even he doesn't know where it is. Follow him on twitter @ollymacnamee or read about his exploits at olly.macnamee@blogspot.co.uk. Or don't.