What Happens When Best Cellars Is A Best Seller – The Impact Of The Dollar Club
Jaymes Reed is the letter on Crossed. But he has a more diverse past.
As a comic creator, he debuted a character in the anthology comic, Best Cellars #1. Which recently entered the Eighty Dollar Club on Bleeding Cool due to an early appearance from Eric Powell's The Goon. And he's got a boxful. He writes,
The guy who put out the book, Chuck Angell, sent me a case of the book back in the 90s because they didn't sell so well at the time. I had to go pick up my dad two years ago after he was in a car wreck at age 67, and I found said case still unopened among his possessions. Since, I have opened and bagged/boarded the collection, having sold about 30 copies to fund various things, $71 being the top eBay price I've fetched so far. I still have about 50 or so copies in a box, lol. Krystal was my character's name. But The Goon is why this book is famous, of course. But it's nice to be attached to such a famous book, even if it's not because of me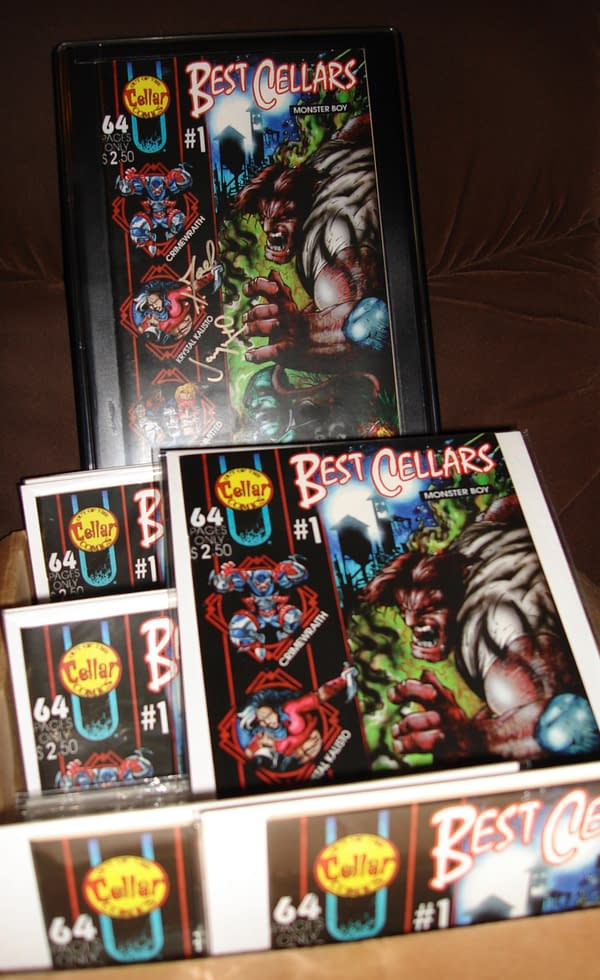 Sorry. That took a few minutes. I had to dig the box out of the closet and figure out how to arrange the contents of the box to show it's full of them… which it is. There are 74 bagged/boarded copies in this box, not including the top one in the frame which was signed by me and Krystal's late co-creator, Joel Youngblood, way back in 1995, and hangs on my office's 'Wall of Fame'. All are in TERRIFIC condition for a book printed nearly 20 years ago and on newsprint paper. If I could afford it, I'd get them graded and all that. I also have a few copies packed up that were sent to my mother and father at the time and signed to them. I wouldn't doubt if I have over 80 copies of it. It was a full case before I sold some of them.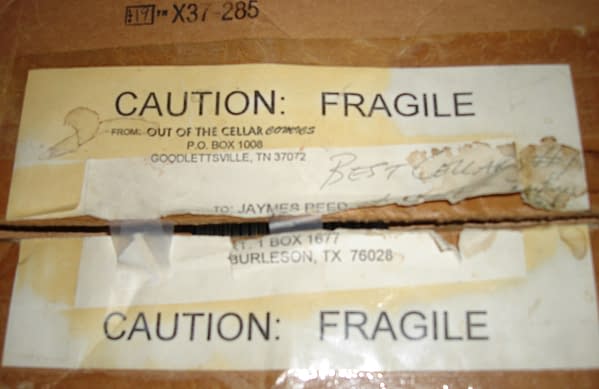 As I said, I'd left them at my Dad's back then when I moved out (again, ha) and after his car wreck two years ago, he had to leave Texas and come live with us in South Carolina (unless he preferred a nursing home). So he's here and so are the books that remained packed up the whole time with virtually no ageing. 1000 copies of this book were printed to begin with, but before Monster Boy became The Goon, we could barely sell these. At the time, publisher Chuck Angell asked if I'd like an extra case of them, so I said 'sure', even though I had no clue how I'd get rid of more of them. All these years later, I still have most of them and The Goon is real popular, so it's a boon I guess because I own such a high population of the entire print run. Still.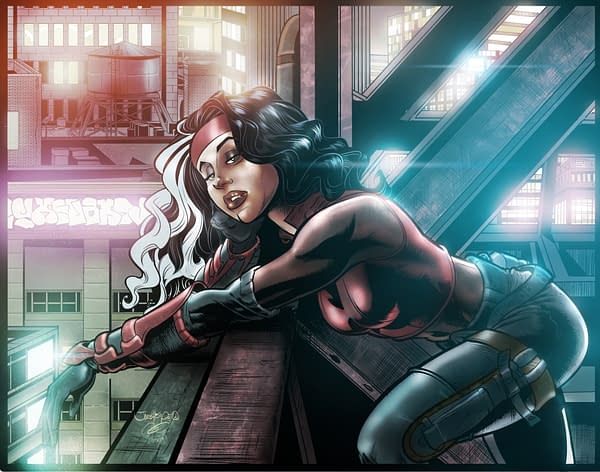 As for Krystal, I printed her own book a couple of years later and left her on a back burner for many years after that. I introduced her as a webcomic in the early 2000s and have since self-published two books featuring her. As of now, she's sort of my website mascot, lol. But let it be known she had this hair style long before Brubaker's Velvet and a few others I've spotted sporting the 'white streak', ha ha.
Thanks, Rich. When I saw it on the $80 list, I had to share this. It is a neat story about collecting on a very personal level.
If anyone wants a copy, you can get in touch here…