Castle Rock: Shameless's Noel Fisher Moves to Hulu Psychological-Horror Series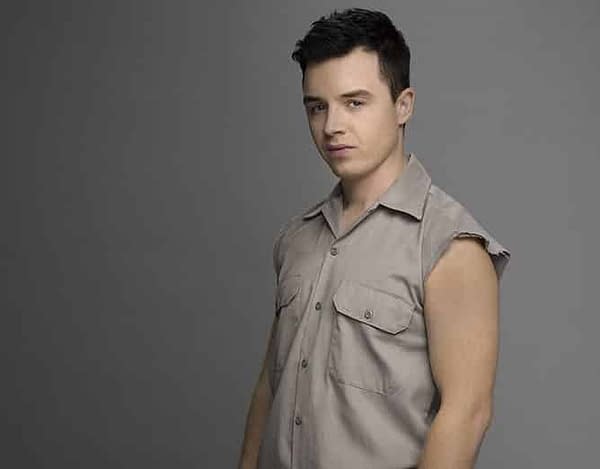 For a town with a reputation like Castle Rock, you'd think people would be fighting to get out — but Shameless's Noel Fisher is joining the cast of Hulu's psychological-horror drama series from J.J. Abrams and Stephen King, as well as and creators/executive producers/writers Sam Shaw and Dustin Thomason.
Combining a number of King's works into a shared universe narrative based around the famed (and infamous) fictional town, Castle Rock's 10-episode first season also stars Andre Holland, Melanie Lynskey, Bill Skarsgård, Sissy Spacek, Jane Levy, Scott Glenn, Terry O'Quinn, Chosen Jacobs, and Allison Tolman.
Fisher's (The Long Road Home, Fonzo) Zalewski is a Shawshank prison guard who finds himself embroiled with the discovery of a dark and mysterious inmate — a discovery that will impact the entire town of Castle Rock.
https://youtu.be/H14tqKZYhgg
A psychological-horror series set in the Stephen King multiverse, Castle Rock is an original story that combines the mythological scale and intimate character storytelling of King's best-loved works, weaving an epic saga of darkness and light, played out on a few square miles of Maine woodland. Castle Rock stars Andre Holland, Melanie Lynskey, Bill Skarsgard, Jane Levy and Sissy Spacek.
Ep. 101 "Severance" (July 25 – W: Sam Shaw & Dustin Thomason / D: Michael Uppendahl)
An anonymous phone call lures death-row attorney Henry Denver back to his home town of Castle Rock, Maine.
Ep. 102 "Habeas Corpus" (July 25 – W: Sam Shaw & Dustin Thomason / D: Michael Uppendahl)
Henry gets a new client at Shawshank Prison.
Ep. 103 "Local Color" (July 25 – W: Gina Welch / D: Dan Attias)
The past catches up with Molly Strand.
Ep. 104 "The Box" (August 1 – W: Scott Brown / D: Michael Uppendahl)
Henry prepares for his day in court; a coffin arrives in Castle Rock.
Glenn stars as King's beloved retired sheriff Alan Pangborn, who may be needed yet again to maintain the peace in Castle Rock. Spacek plays Ruth Deaver, Henry's (Holland) adoptive mother and retired professor whose aging insight into the darker places of Castle Rock's past might hold the key to uncovering the truth. Levy is on-board as Jackie, the death-obsessed self-appointed historian of Castle Rock and (possible) ally for Henry; and O'Quinn has been tapped to play Dale Lacy, described as a "pillar of the community" in Castle Rock.
Castle Rock premieres on Hulu on July 25th, 2018.