Alyssa Milano on Charmed Reboot: "I Wish That They Would Have Come to Us" Well, it's official: all three original Charmed Ones have spoken.
Following co-stars Holly Marie Combs ("I will never understand what is fierce, funny, or feminist in creating a show that basically says the original actresses are too old to do a job they did 12 years ago") and Shannen Doherty's ("Their wording is terrible and a bit offensive. But, everyone makes mistakes. Perhaps with the backlash they will be more thoughtful in future") less-than-enthusiastic "embrace" of The CW and Jane the Virgin creator-showrunner Jennie Snyder Urman's Charmed reboot, Alyssa Milano is sharing her thoughts on the upcoming series.
In an interview with Entertainment Tonight, Milano wishes the reboot well but expressed regret over the way The CW handled the messaging coming out of the initial announcement:
"I wish that they would have come to us and we would have been involved since the beginning. But having said that, I do hope that it reaches the newer generation and impacts that generation the way ours was able to do for its generation."
As for the possibility of a guest appearance or directing one of the new episodes, Milano doesn't appear to be interested — at least for now: "I don't think so. I think that that ship has sailed for me."
Milano's response comes a day after the actress addressed the reboot in deeper detail during an interview with Parade to promote her new Netflix series Insatiable (while ironically urging viewers to give that series a chance and to not make judgments before seeing it):
"None of us from the original cast to the original creators, producers or writers have anything to do with it. The way I feel about it is this, and I'll just be super, super-honest. If the reboot can give the joy that it gave to our generation to a new generation, then I think that's really beautiful. Time after time, I've heard story after story about how that show meant so much to people, because it was a show that they found while they were battling cancer, or it was a show that they watched with their father, and that was the only thing they could connect with. It really resonated with people in a profound way, and if a new generation can find that, then I think that's really beautiful.

I think that there is a certain amount of expectation from the fans of the original Charmed that goes along with that, and I think that that is going to be tough for the reboot, but I think all of that should be celebrated and embraced. They shouldn't try to reinvent the wheel, but really take what was so great about the original and find a way to make it their own.

And I also have to tell you, I'm just glad that it's here finally, because we've been hearing about this reboot for however many years, what has it been, maybe four years now? And I feel like it's either going to succeed or not, and if it succeeds again, a whole new generation will be exposed to the beauty of what Charmed was able to be for people, and if it doesn't succeed, then we don't have to hear about it anymore."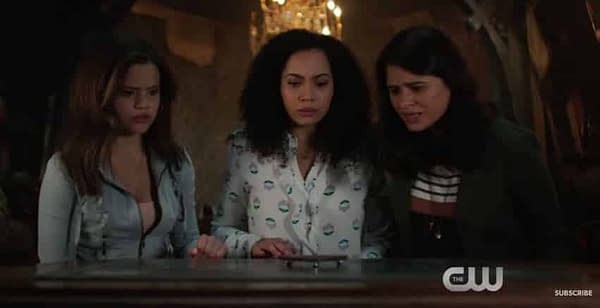 With the series set to premiere on Sunday, October 14th, as part of the network's new Sunday prime time lineup, the cast and crew of The CW's Charmed addressed the backlash — and a number of other topics — during their turn at last week's Television Critics Association (TCA) press event; and here are some of the highlights:
● While the creators of the reboot like the idea of the original series' cast making guest appearances, it's not something that's been worked on yet ("We have not tried yet." – Urman).
● The CW's Charmed will have a number of Easter eggs throughout the season that honor the original; and Urman reassured fans of the original series that the heart of the show was still the same: "This is a love story between three sisters — the core of the show remains the same."
● When asked why The CW chose to go with a reboot as opposed to restarting the original series, executive producer Jessica O'Toole responded: "That show wrapped everything up so wonderfully — they all got their happy endings, and there were even glimpses of their future. We felt like it told a complete story."
● Madeleine Mantock couldn't help but feel the effects of Combs and her pushback to the reboot's initial announcement, but hopes everyone gives the show a chance:
"You can't help but be a little disappointed, because I think the script is fantastic. I think it's going to be incredible. I hope that maybe [Combs] can see it and like it, but on the other hand this was a [big] part of her life, and she's entitled to feel however she wants."
● Fellow castmember Ser'Darius Blain reminded those in attendance that the show appreciates the road paved by the original series: "We have tremendous respect for the foundation they laid. We're not trying to fill anyone's shoes."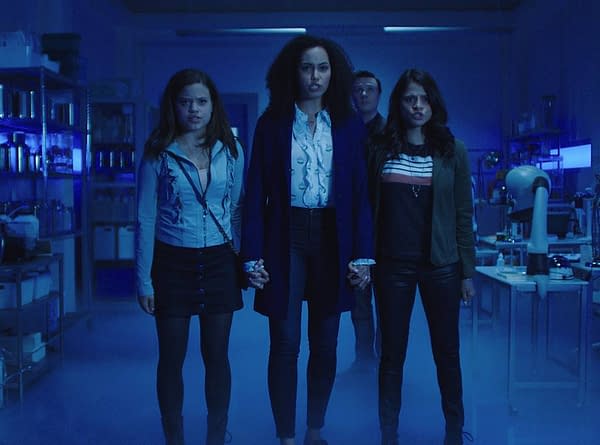 ● During a moment we're hoping both The CW and Rupert Evans would take back if they could, the actor described the reboot as "a completely different show" because 2018 is "a different place, politically, culturally" – following with the head-scratching assertion that the new series "deals with sexuality, which the original obviously didn't." To put icing on his verbal poop cake, Evans continued with "It's a more up-to-date approach to the whole Charmed thing."
● When asked to address the "backlash" to casting non-white leads, Urman was surprised since she hasn't seen any backlash for herself: "I have not felt the non-white backlash."
● Urman revealed that the Vera sisters share the same Latina mother but have different fathers with a different cultural background. The leads' heritages will be explored throughout the series, with Urman explaining, "We want to explore their unique heritage and the way their different cultures intersect with witchcraft." To that end, three of the writers on the series are Latinx.
"Stronger together." That's what Marisol tells her daughters, firebrand social justice warrior Melanie "Mel" Vera, and her sister, fun-loving Maggie, about their family. Mel is a graduate student in the women's studies department her mother heads at Hilltowne University; Maggie is a freshman considering rushing a sorority (to Mel's amused dismay) and going "on" again with her on-again off-again boyfriend Brian. But then, a shocking tragedy shatters their world and threatens their sibling bond: Marisol dies in a horrifying accident. Or was it?

Three months later, we find Mel unable to accept the official explanation of their mother's death, while Maggie accuses her of being morbidly obsessed. And then, another huge shock shows up at their front door: they have an older sister, brilliant geneticist Macy, whom their mother kept a secret all these years! Macy is new in town and doesn't know a soul (except for Galvin, the cute fellow scientist who's been showing her around). Macy is eager to connect with Mel and Maggie, but Mel can't handle another shock, and shuts her out. With the emotions of all three sisters running high, each of the girls suddenly exhibit impossible new abilities: Mel can freeze time, Maggie starts hearing others' thoughts, and Macy has telekinetic powers.

But don't worry, there's a perfectly reasonable explanation…or so says Harry Greenwood (who as far as they know is the officious new chair of the women's studies department), when he gathers the three sisters together to reveal they're actually powerful witches, as was their mother. And he's not really a professor, he's their "Whitelighter," a witch's advisor and guide! Not only that, but Mel was right: their mother's death was no accident – she was murdered by unknown dark forces.

It's a lot to take in, but ultimately the sisters accept their new destiny as The Charmed Ones…and their new duty to protect humankind from the demons that walk among us…one of whom killed their mother. With the Power of Three, they are stronger together… even if they have no idea what they're really up against.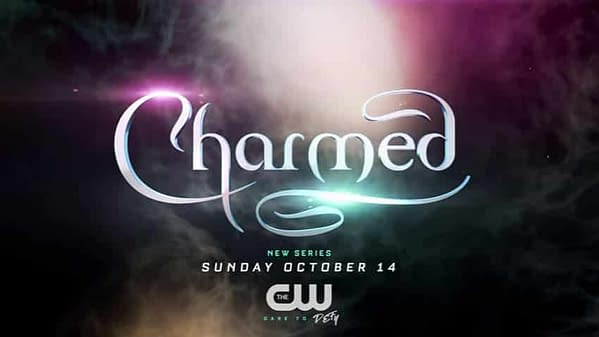 Based on the original series, Charmed stars Mantock, Evans, and Blaine are joined by Melonie Diaz, Sarah Jeffery, Charlie Gillespie, and Ellen Tamaki; and is from CBS Television Studios in association with Propagate Content. The Jane The Virgin team of Urman, O'Toole, Amy Rardin, and Brad Silberling serve as executive prodcuers alongside Ben Silverman (The Office) and Carter Covington (Faking It).