A three-woman team of Royal College of Art post-graduates has launched a Kickstarter for an ambitious new project set to combine comics journalism and photography to make a new kind of social statement and present the true potential for comics-medium journalism. It's called Modern Times: A Graphic Commentary. They are aiming to present "stories from everyday people, stories of everyday people told by today's most exciting artists, designers, writers and journalists". Each issue of the magazine is slated to focus on a different social theme, and the first issue, currently crowd-funding, will focus on housing issues in 20th century history up to the present day. The first issue will contain contributions by cartoonists Isabel Greenberg, Tom Humberstone, and Olivier Kugler and graphic designer Peter Kennard as well as the work of cartoonists studying at the RCA.
Fionnuala Doran, one of the Modern Times team-members speaks with us here at Bleeding Cool about the scope of the project and its origins:
Hannah Means-Shannon: Why pick the graphic medium to convey journalism right now in our society? What is it that you feel that the comics medium can bring to journalism that other forms can't?
Fionnuala Doran: Journalism through comics has a surprisingly long history that isn't that well known about. If you wanted to be picky about terms, illustration and journalism have a long history- but publications like the Illustrated London News-launched in 1842- are a direct precursor to modern comics. Then of course you've got creators like Joe Sacco. Palestine is a unique take on the Isreali/Palestinian conflict, and I'm sure I'm not the only person who connected to the stories in that more than what I'd seen on TV for the last twenty years. The illustrator/reporter provides a unique perspective: there is an intimacy to Sacco's interviews that cannot be translated into photography and text. His drawings make his subjects relatable to in a way that I think is difficult to achieve with a photograph.
I passionately argue that comics are their own, unique storytelling medium, and what better stories are there than the ones happening all around us every day?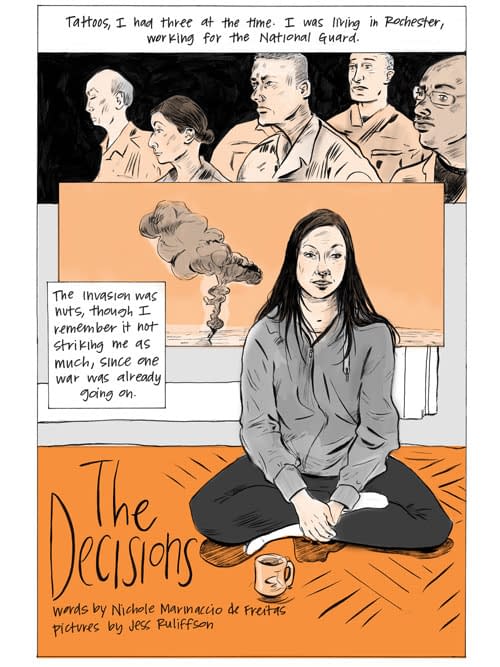 [Art by Jess Ruliffson, courtesy of Symbolia magazine and callingthedog.blogspot.com]
HMS: How did you all find each other to work on this project? How did the three of you realize that you had similar goals and ideas?
FD: Katherine [Hearst] and I are both studying for an MA in Visual Communication at the Royal College of Art- the first time we talked about comics journalism was when we both turned up to Joe Sacco's talk last October.
HMS: Do you think that comics are historically a good medium for representing social issues? Do you see yourselves as part of a tradition by launching this project?
FD: With the advent of photography, the practice of illustrated journalism was seen as obsolete. With this project we intend to promote graphic journalism as an important vehicle for social commentary. Joe Sacco, Olivier Kugler and publications such as La Revue Dessinee have been real inspirations for us.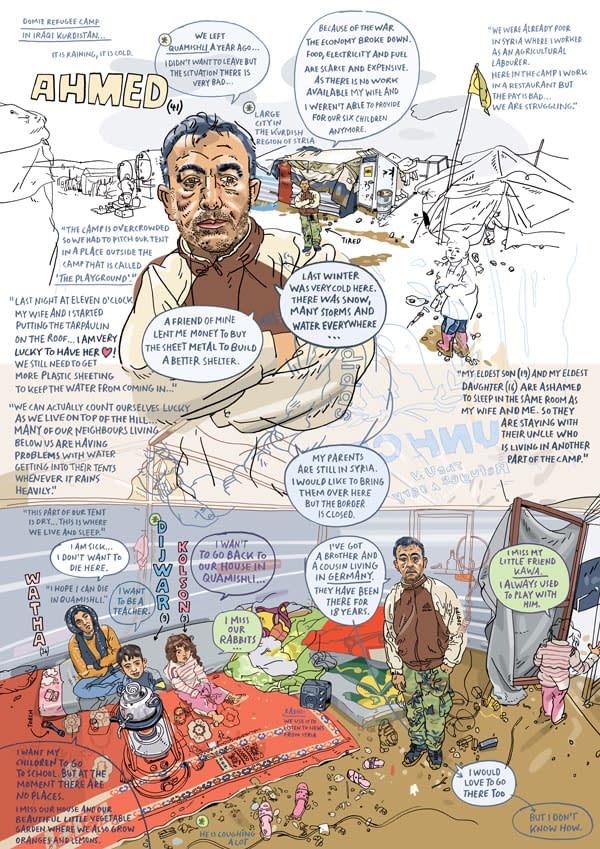 [Art by French artist/journalist Olivier Kugler]
HMS: How did you decide on addressing "housing" issues and discrimination in the first issue? What other possible topics might you choose as themes in future issues if this first Kickstarter is a success?
FD: All three of us are based in London and commute into Kensington every day for College. You'd have to be pretty oblivious not to notice that there's a huge problem with housing in London. The many regeneration schemes, in particular the recent demolition of the Heygate Estate in Elephant and Castle are stories that are not being discussed sufficiently in the mainstream press.
Our themes are intentionally broad- while we view Modern Times as a political publication we are striving to feature a range of material- from hard-hitting social commentary to memories of a childhood home.
We haven't decided on the next theme yet, we're focused on getting the first issue distributed and then will begin brainstorming. The theme normally springs from the kinds of stories that catch our eye.
HMS: Do you hope to distribute Modern Times widely, for instance, in comic shops or newsagents if things go well? How do you think you'll reach the socially-conscious who would be particularly interested in a call for change?
FD: We're looking into distribution at the minute. My hope is that Modern Times can get into comic-shops, independent book chains, galleries, art stores and record shops across the UK and Ireland. We also hope to eventually have a digital version, so we're not limited to UK readers. We are not particularly focused on targeting activists- our aim is to encourage political engagement within the existing comics audience and to bridge the gap between artists and journalists.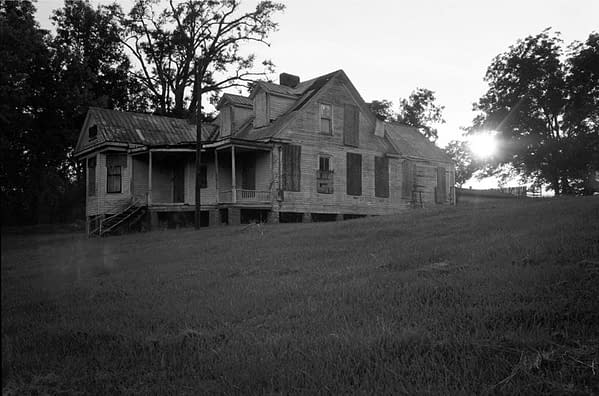 [Photograph by filmmaker/photographer Jacob Perlmutter]
HMS: You mention on your Tumblr that part of your argument in creating Modern Times is to show that graphic journalism is a "valid form of journalism". What sort of stigmas do you think that comics-medium journalism faces right now and how do you think we can work to change those perceptions?
FD: Comics have really raised their profile recently, but it's still quite common in both art and literary institutions to find it being run down, or discussed as an inferior or failing medium.
Hopefully the quality of the work in issue one of Modern Times will speak for itself. I don't think you can read Jess Ruliffson's comics or Olivier Kugler's work and come out doubting the potential of the comics medium.
HMS: You all are currently a three-woman team creating this project. Do you feel like you are also an under-represented minority in the comics medium? Do you hope to address imbalances in representation through showing diversity among your contributors?
FD: Funnily enough, I'm currently writing my MA dissertation of the amount of women creating comics. From Marvel through to Jonathan Cape, women are severely under-represented, in a way that I don't think corresponds with the amount of women reading comics. So, part of Modern Times is taking comics AND journalism into our own hands as women.
Modern Times is currently funding on Kickstarter until June 13th and is over half-way toward reaching its goal of 1,000 pounds for its first issue.
Enjoyed this article? Share it!