DC Relaunch Roundup: Don't Call It A Comeback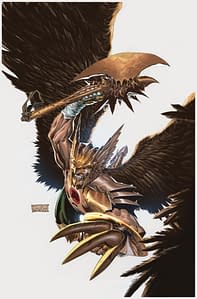 They've been here for years. And… well, you can make up the rest yourself. Here's an updated list of Bleeding Cool's (Don't Call It A) Reboot Stories:
DC Relaunch "Not A Reboot" – Holding The Line, Variants, 72% Discounts
He promises a retailer tour from DC Comics across the US. That DC will after all hold the line at $2.99 on print and digital, dropping to $1.99 digital after four weeks, with $3.99/$2.99 on oversized issues. And that from September to November there will be variant covers on five iconic titles a month , at least one a week, including Justice League #1 and Flash #1, up to 72% retailer discount on six specifically chosen titles a month, including Wonder Woman #1 with full returnability on all the rest – 41 titles a month, giving retailers the ability to order more with less risk. And… oh I don't know why I'm saying all this, I'll let Bob do it. Bob?
DC Announces Justice League #1 Print Or Digital For $3.99 – $4.99 For Both
DC Comics has announced that the oversized Justice League #1 by Geoff Johns and Jim Lee will be available as a print-and-digital edition for $4.99, as well as separately in digital and print for $3.99 respectively.
DC Relaunch: The Look Of Firestorm
BLEEDING COOL HAS BEEN ASKED TO REMOVE THE CHARACTER DESIGN IMAGE OF FIRESTORM. HOPE YOU ENJOYED IT WHILE YOU HAD IT.
DC Relaunch: Duane Swierczynski And Batman
Bleeding Cool understands that novelist Duane Swierczynski will be writing a Batman ongoing comic for DC, with issue 1 starting in September. Whether that's with Greg Capullo or not, I don't know.
Ten Issue Ones Announced For DC Relaunch
And so it begins.
Thanks to this post and this art tease, we know that Brett Booth is the artist on DC's Teen Titans #1, relaunching in September. And as we'd said – and Kiel Phegley, News Editor of CBR appears to have got wrong – Fabian Nicieza is not the writer.
Well that makes a little more sense now, I guess. Batwoman #1 in September by JH Williams III?
DC Relaunch: Detective Comics #1 and Batman #1
Would it be too much to suggest that one is for Detective Comics #1 and the other is for Batman #1?
Bleeding Cool understands that the DC Relaunch will also bring back a number of Wildstorm titles, as part of the new DC Universe.
Well now we know where the remaining six chapters will appear. In the last issue of Weird Worlds, out today, it states that two strips, the aforementioned Tanga and Aaron Lopresti's Garbageman will appear in… My Greatest Adventure #1.
In yesterday's Flashposts, Bleeding Cool posted a piece about a new OMAC #1, noting that there was a piece of art by Scott Kolins floating about to that effect. Well it turns out that's true. But the creative team on the book? Co-publisher Dan DiDio and Keith Giffen.
I understand that there is an editorial edict for the DC Comics superlaunch that their female superheroes wear more… practical clothing. So Wonder Woman gets to keep her trousers. But the likes of Supergirl will be redesigned so they aren't running around in a little skirt flashing their panties at every available opportunity either. Female superhero characters will have their legs covered.
What will be different this time is that the book will star Barbara Gordon as Batgirl.
UPDATE: We've been told that Teen Titans #1 is not written by Fabian Nicieza. By someone who seems to know…
Flashpost: The Issue One Renumbering Of The DC Universe
Every comic continuing from September will be relaunched with a shiny #1. Every. Single. One. With no current plan for the renumbering to reverse to any so-called "legacy" numbering.

And with those issue one renumberings, will come a new rejigged status quo. And yes, characters will be changed. Some may no longer exist. There will be new books, new creators, new teams, new characters and new… new. With no current plan for the new status quo to be undone or reversed.
Flashpost: Geoff Johns And Jim Lee's Justice League #1
It will feature Superman, Batman, Wonder Woman, Green Lantern and several other characters following the current Flashpoint crossover. It's the return of the World's Greatest Superheroes to the book for the first time in years.
Bleeding Cool has already talked about the Dark coming to the DC Universe after Flashpoint, including something called Justice League Dark. But Bleeding Cool hasn't, until now, said anything about the Edge.
Flashpost: Deadman To Star In Adventure Comics #1
In September, along with everything else, Bleeding Cool has been told to expect a new Adventure Comics #1. And a new lead, namely the recent star of Brightest Day, Deadman. Alive, dead, somewhere in between, a new status quo for Boston Brand or something very different, I have no idea. Yet. Though I'm hearing of Ryan Sook involvement in some fashion…
Flashpost: DC Confirms Full Reboot: September Brings 52 First Issues and Day and Date Digital
On Wednesday, August 31st, DC Comics will launch a historic renumbering of the entire DC Universe line of comic books with 52 first issues, including the release of JUSTICE LEAGUE by NEW YORK TIMES bestselling writer and DC Entertainment Chief Creative Officer Geoff Johns and bestselling artist and DC Comics Co-Publisher Jim Lee. The publication of JUSTICE LEAGUE issue 1 will launch day-and-date digital publishing for all these ongoing titles, making DC Comics the first of the two major American publishers to release all of its superhero comic book titles digitally the same day as in print.
Flashpost: Bob Wayne Talks To Retailers About Day-And-Date Digital
To our comics retail partners, In the time I've worked at DC Comics, I've witnessed any number of industry defining moments. But today, I bring you what is perhaps the biggest news to date.
Flashpost: The New Superman #1
In Superman #1, launching in September, we will see what appears to be a new uniform for Superman. Based on the usual style, but more segmented with scores, seams or raised lines running across and around his arms, legs and torso. Kneepads as part of a segmented bulky boot. And a belt that reflects the Superman shield shape. And involvement in some form by George Perez. I'm also told Rags Morales may be involved with Action Comics #1.
Flashpost: A New Multi-Colour Lantern Team Book
In September, Bleeding Cool has been told to expect a new Green Lantern team book, made up of one member from each of the differing Lantern emotional colour spectrum. Green, Yellow, Red, Blue, Indigo, Violet, Orange…. and Black?
Flashpast: Brian Clevinger Dropped From Firestorm Before You Even Knew He Was On It
Amongst the new books and new creators for September, was to have been 8-Bit Theater, Atomic Robo and Marvel Adventures writer Brian Clevinger, working on a new Firestorm comic for DC Comics. And I was going to tell you about it today.
In September, along with all the new issue one relaunches, Bleeding Cool has been told to expect a new Legion Of Superheroes series, Legion Lost.
I'm told that one of them may well be OMAC #1, with some involvement by big OMAC fan, Scott Kolins.
Flashpost: The Hooking Up Of Superman And Wonder Woman Bleeding Cool Comic Book, Movies and TV News and Rumors
Okay, out of all the post-Flashpoint stories I'm running, this is the one on the least firm foundations. But, if true, will have the biggest multi-media implications. I'm told that Superman and Wonder Woman will be getting together. In a very media friendly fashion, indeed.
Flashpost: Full JLA Art including Flash & Batman Designs, Hawkman #1 With Robinson & Tan, Birds Of Prey #1 Without Gail Simone?
Still not done quite yet. The full version of that Jim Lee JLA art has emerged over the past couple hours. I first saw it from the sharp-eyed DC Women Kicking Ass, it may have first surfaced in this IGN story. CBR's Kiel Phegley has a good article that starts to fill out some emerging details of the story, and is reporting that the new Birds of Prey series will not be written by Gail Simone. He has some other excellent info about possible creator lineups as well so go check that out. Also of note, the new Hawkman series by James Robinson and Philip Tan, and Aquaman series by Geoff Johns and Ivan Reis that we've reported on here recently are part of the September reboot.