By Julz Hendricks There is not much I love more in this world than a Comic-con. Each one is unique and different in its own way. I have had the opportunity to attend many cons and no matter which one it is, I walk away wondering when the next one will be. This past Sunday I attended Pittsburgh Comicon. It's a much more intimate con, but with an impressive guest list. There was Bryan J. L. Glass who is one of the nicest creators I have had the pleasure to meet, Ron Frenz, who is friendly, funny and does amazing sketches, Mike Grell, Katie Cook, Andy Price, Neil Vokes, George Perez, Tom Richmond and many more. Also attending was the Toonseum, Pittsburgh's Comic and Cartoon museum. There were vendors of all kinds of neat trinkets and merchandise. As I only attended on Sunday, I had to scurry along to get the most out of the experience.
With every con, I come up with a better strategy to figure out what tables I want to go to in order of importance to me…This time my plan was to get a mini-painting from the wonderful Katie Cook. I was successful, and she did a perfect Matt Smith for me. Katie had the best table set up, I thought. She had mini-paintings lying at the front of her table that were so cute you really wish you could buy all of them and THEN more! They are also very affordable, so it's very easy to get as many as you would like. She had some Gronk books for sale as well. If you haven't read it, you must. Cook was as nice as can be and I was really so happy to be able to meet her.
[Cook's perfect Matt Smith]
Doctor Who totally stole this Con. Not just the awesome guests they had, but the Cosplay and the merchandise as well. They even had Dalek drinking cups that I wanted but had to sadly refrain from buying them. Almost every artist had incorporated Doctor Who in between the superheroes and pop culture art. The absolute highlight of the con, though was meeting the wonderful Paul McGann who was the 8th incarnation of The Doctor. When asking if I could take his picture, he said "Let's do it" just as the Doctor would. I asked him a few questions like what was it like to play The Doctor, as one would. He was so humble, and just the best. I thought if nothing else happened at this con, I would be really incredibly happy to leave with just that small encounter with McGann. [The 8th Doctor striking a pose with the Tardis of course!]
No Comic-con would be complete without COMICS! With this being a more intimate con where you actually have time to look at everything, it's really a great con to pick up a plethora of comics. As I was walking around, I saw a massive, superb comic set up. It was like the one comic set up to rule them all. The top row had Skottie Young variants. Ones I hadn't even seen before. There were no boxes to dig through, just comics all neatly laid out. I was impressed. With a lot of talk recently about how comic cons are not as focused on comics, the opposite was true about Pittsburgh Comicon. It's not so packed that you have to wait in line for much and I think that makes all the difference.
[The most amazing comic set up ever. Rupps Comics! Can you find Chris?]
DC and Marvel were not at this con, but Action Lab was. They didn't have all of their books, but they had a nice little set up, and it was very all-ages friendly. Aspen Comics also attended. Pittsburgh Comicon is headed to the David L Convention center Downtown next year, so I think that this is their opportunity to have more big comic companies come since the DL Convention center is not only massive, but it's really beautiful. It's in the heart of Downtown with lots of restaurants and hotels, so this could be the next big comic con if they play their magic cards right.
Pittsburgh Comicon also hosted a charity quick sketch event. It was the very first one that I had ever attended. You buy raffle tickets to take part and a panel of artists sketch awesome things super-fast. They even take some requests from the audience. At the very end they pull tickets, and various people win the quick sketches. It's a fun, unique way to raise money, in this instance, for the Pittsburgh Food Bank. I didn't win anything, sadly, but I was more than happy to contribute to a good cause and I will definitely go to more in the future. There were some super great artists on the panel including: Pat Block, Sean Forney, Robert Hack, Dan Nokes, Gavin Smith, just to name a few.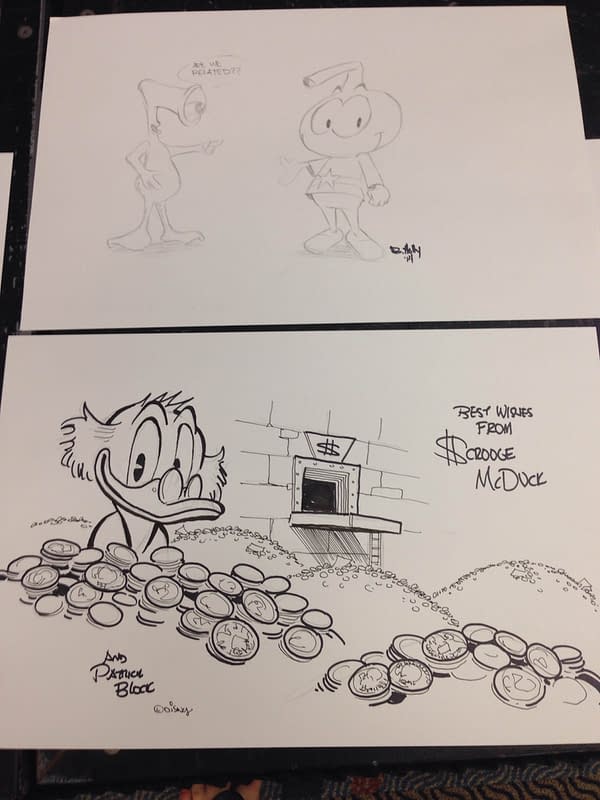 [Block's quick sketches. I was hoping to win!]
Next was the Cosplay. There was so much of it that I wanted to take pictures of everyone. I decided to narrow it down to one, but that was hard as well. All of the cosplayers were kind and courteous and would pose with young kids. There were a lot of Harley Quinns and a ton of different incarnations of the Doctor. Those were the most popular ones that I saw The Deadpools were the most popular with adults and kids alike. They were very funny and took endless photos with fans. I will always love cosplay and maybe even one day attempt to make my own costume. I like the joy it brings to the little ones as their favorite hero strikes a pose with them.
[Mad Hatter Cosplayer Crystal Junk]
Will Pittsburgh Comicon be the next big Con? We shall wait and see.
Julz Hendricks is a co-host of the all female podcast Chickcast. She is a huge advocate of kids' comics but reads a lot of different titles. You can find her on Twitter as @JulzHendricks.
Enjoyed this article? Share it!