From Dean Haspiel's Desk – Insider Images of The Fox #3 And ?
The Fox, featuring an updated Silver Age hero from Archie's Red Circle comics, has garnered some rave reviews and sold out in its first issue. Mark Waid and Dean Haspiel have put together a trippy story about a jaunt through the psychedelic world of magic spells and alien influences undertaken by a beleaguered hero who wishes he wasn't. It'll run for five issues in the current miniseries and links up to related title The Shield by J.M. DeMatteis and Mike Cavallaro.
Dean Haspiel is wishing us all a Merry Christmas and Happy Holidays by gifting this sneak-peek image from The Fox #3, on sale January 1st just in time to ring in the New Year. Enjoy.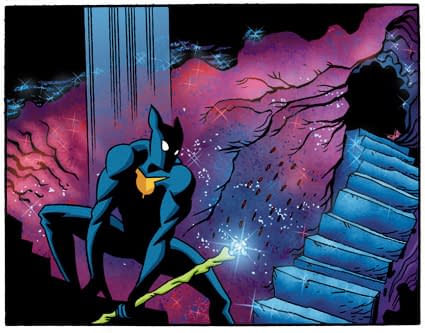 And this? Haspiel is remaining mysterioso about where this image will appear, but it's a graphic novel project that you'll see in 2014.

The Fox #3: The newly released trailer for The Fox #3 from Red Circle Comics:
[youtube]http://www.youtube.com/watch?v=8z5MoUYvrdk[/youtube]