By Tim Hanley
DC rose and Marvel fell, but ultimately Marvel had the higher percentage of female creators for the second straight month. We also take a look a female characters, both in terms of general representation and female-led books.
DC COMICS
There were more ups than downs across the board and DC rose somewhat after a poor June showing. In July 2014, DC Comics released 86 new comic books featuring 788 credited creators, 702 men and 86 women. Let's look at the numbers: DC gained 0.8% overall, not a massive increase but a decent step in a positive direction nonetheless. Cover artists, writers, pencillers, and inkers all rose slightly, while colorists fell a couple percentage points and letterers were down as well. Both editorial categories improved, with a 5% gain for editors and a 4% gain for assistant editors. All told, DC did slightly better in a majority of categories and it added up to an overall gain.
Compared To A Year Ago: DC was at 11.7% last July, so they're down 0.8% since then.
MARVEL COMICS
Marvel was all over the place in July, and cumulatively the numbers pulled them down from their June total. In July 2013, Marvel put out 91 new comics with 730 credited creators, 649 men and 81 women. Here are their stats: While a drop of 0.9% isn't overly precipitous, it's certainly noticeable. Cover artists fell several points, and while writers, pencillers, inkers, and colorists were up, it was by small amounts. Marvel's female editors rose 3%, but assistant editors fell over 4%. In the end, the losses outweighed the gains but Marvel was still able to keep the top spot.
Compared To A Year Ago: Marvel hit 14.9% last July, the highest percentage of female creators either of the Big Two has reached. They're down a substantial 3.8% since then.
FEMALE CHARACTERS AT DC AND MARVEL

Six months ago, we looked at female character representation at the Big Two and found it sorely lacking. Despite accounting for half of the population, women made up barely a quarter of the characters featured on the covers of either publishers books. Knowing that more female-led books were on the way, I proposed another check-in six months later, and here we are.
The methodology here is pretty simple: I look at the covers and count all of the characters. It's not rocket science. While the cover may not exactly represent the characters inside the books, a) they usually give a good sampling of what's going on inside, and b) they offer us a look at how the publisher is marketing their wares, which is significant. Plus, using the same methodology means we can chart change over time, which is very informative regardless of the raw totals.
So let's take a look at how things have changed over the past six months: DC Comics has improved their female character representation by 3.5%, taking it over 30%. While it's definitely good to see growth, 31.3% still isn't a lot. It's not even a third. But at least it's better than it was and things seem to be moving in a positive direction.
Marvel, however, stayed exactly the same. We'll see momentarily that Marvel has improved in terms of female-starring series, but that resulted in no change whatsoever in terms of female characters on their covers. The number is stagnant, stuck at just under a quarter of all characters. Marvel's made a lot of news about female characters over the past while, but it's not showing up on comic shop shelves.
When we did these numbers in January, there were a lot of comments inquiring about female-led series, and so I've gone back and ran the January numbers along with the July numbers. The methodology here is simple as well. I listed every series each publisher put out that month, counting ongoings and minis, and put each book into one of three categories based on its titular character(s): male, female, or mixed. For example, Batman is a male-led book, Wonder Woman is a female-led book, and Justice League is a mixed book.
These are DC Comics' numbers, changed to a percentage so as to make them directly comparable (because, for example, 10 female led books out of 20 is a lot different than 10 female led books out of 100; percentages let us compare different months and publishers regardless of their overall output):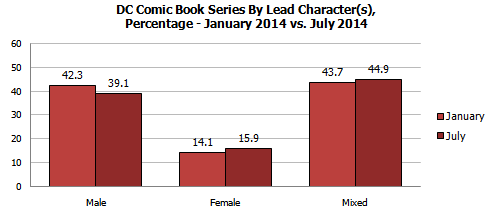 From January to July, we see a decrease in male-led series and a subsequent rise in both female-led and mixed books. While the changes are small, the numbers are nonetheless moving towards a more representative line of books, which is good to see. By both counts, characters on the cover and series, DC has improved it's female representation slightly over the past six month, though there's still a lot of room yet for further improvement.
Marvel's series breakdown is more of a mixed bag: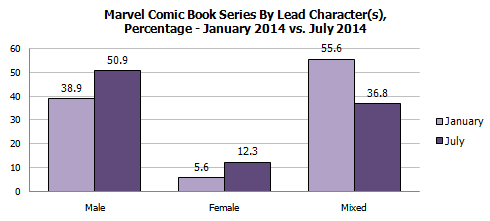 The number of female-led series is definitely up, doubling where Marvel was at in January. This only brings them 12.3%, which is not a lot, but it's much better than it was. However, male-led series are up as well, and substantially so. They now count for just over half of all of Marvel's series. At the same time, team books combined male and female leads have dropped massively.
So it's no wonder that we didn't see much change in overall female representation based on July's covers. There are more female-led books, sure, but there are also way more male-led books AND fewer mixed team books. Frankly, Marvel did well to stay even given how many more male-led books they're publishing now. They've been talking a big game about female characters lately, but proportionally Marvel is clearly far more interested in male characters at this point in time. A new female-led series every other month doesn't change a whole lot when it's accompanied by 4 or 5 male-led series.
I'm curious to see where both publishers go from here with female characters, so I think we'll check in on this again in another six months. DC's got some big changes ahead in October and beyond, while Marvel's got a new female Thor and some events shaking things up. Hopefully we'll see both publishers moving toward more representative output.
To learn more about this statistics project and its methodology click here, and to see the previous stats click here. You can visit Tim at Straitened Circumstances and follow him on Twitter @timhanley01. His book Wonder Woman Unbound: The Curious History of the World's Most Famous Heroine is available now.
Enjoyed this article? Share it!