Harry Potter is an icon inside the world of wizards and witches. From the books to the movies, Harry Potter has definitely been a pop culture icon in the world of magic. Nothing says it's the holiday season like a Harry Potter movie marathon! Or better yet you can enjoy this new Nendoroid doll that was recently announced from Good Smile Company. Harry Potter isn't quite new to the Nendoroid family but this version of him is. With the same iconic Nendoroid style head he is updated with the new doll body that is super-poseable and includes interchangeable clothing. Harry's doll does have new fabric style clothing based on his iconic look from his time in the Gryffindor house. Harry Potter does come with a nice set of interchangeable hands as well as magnets in his loafers so he can be attached to his base with ease. From the sound of it, they could be releasing other outfits to go with Harry Potter and his friends at a later date. This adorable hand size doll is perfect for any Harry Potter fan and it would make any birthday or holiday magical.
The Harry Potter Nendoroid Doll from a Good Smile Company will be priced at roughly $55. The boy who lives is set to release in September 2020. Pre-order links for Harry Potter are already live and located here. Don't forget to check out the other Nendoroid figures from Good Smile Company as well as the two Hogwarts students Hermione Granger and Ron Weasley will also be getting their very own dolls too!
"You're the one who is weak. You will never know love or friendship. And I feel sorry for you."
Harry Potter, now in Nendoroid Doll form!
From the internationally popular "Harry Potter" film series comes a Nendoroid Doll!
Nendoroid Dolls feature the same Nendoroid heads, but an alternate doll-like body that is highly articulated and can easily be dressed up into different outfits while still remaining a palm-sized action figure! Be sure to add Harry in his carefully recreated school uniform to your collection!
*Skin tone of this Nendoroid Doll is a special color to match that of the original character.
Set Contents:
Figure
Wand
Scarf
Robe
Shirt with Sweater Attached
Slacks
Socks
Loafers (with Magnets in Soles)
Interchangeable Hand Parts (Closed Hands (Right & Left), Hand Part for Holding Wand (Right), Pointing Hand Part (Left))
Magnetic Base (For Magnetic Soled Shoes)
Articulated Stand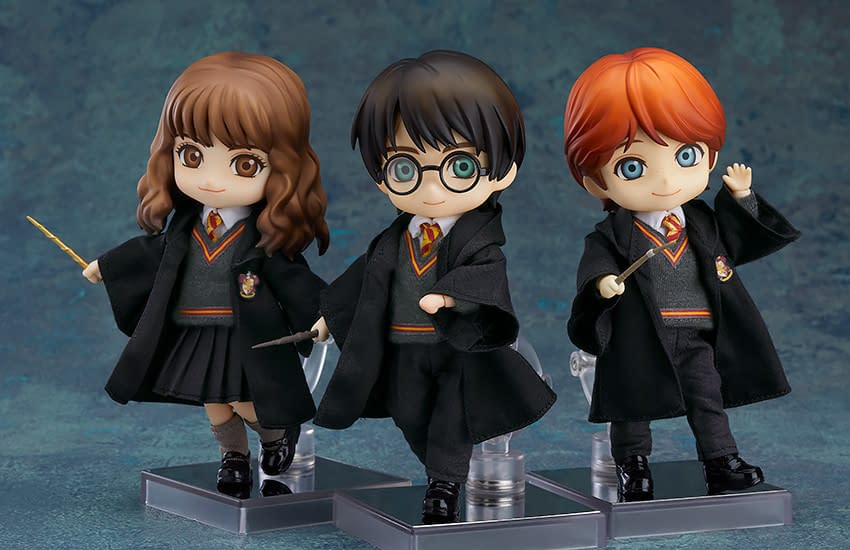 Enjoyed this article? Share it!