By Abdulkareem Baba Aminu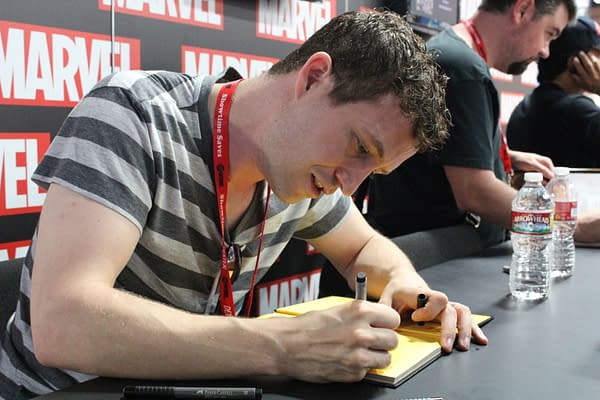 Like we all don't know, Kaare Andrews is a Canadian comic book writer and artist known for jaw-droppingly gorgeous cover work, mainly for Marvel Comics. He was the first recipient of The Shuster Award for Outstanding Artist in 2005 for his work on the now-classic Spider-Man: Doctor Octopus. He's also directed movies, with the latest being Cabin Fever: Patient Zero (with a Bleeding Cool review coming soon). Still working on another movie, he's taken on Iron Fist as a bloody martial arts epic comic book coming from Marvel in April. We cornered him for an interview and here are some choice excerpts:
Abdulkareem Baba Aminu: For a triple-threat comic book artist, writer, movie director like yourself, it would seem a natural transition would be to helm a superhero movie. Why hasn't that happened yet?
Kaare Andrews: I've always worked hard to keep my comic book and film work very separate. It can be a bit of a creative trap to think of them as the same medium. I would always cringe when I saw a talented comic creator get trapped in chasing film options, or trying to trade in comic book skills to direct a movie with no working knowledge of how a set is run. While related, they use totally different muscles.
I broke in first as a comic creator and have been working at very high levels for many years but I'm only now growing as a director. Given the right circumstances, I would tackle a comic book movie, but it would have to be the kind of situation where I could approach it with the same level of control and freedom that I have with my comic books.
My next film, while not a comic book film per se, will be the closest to something that allows me to flex some of my comic book muscles. It's my own script and I'll have much more control than I've had with my previous films.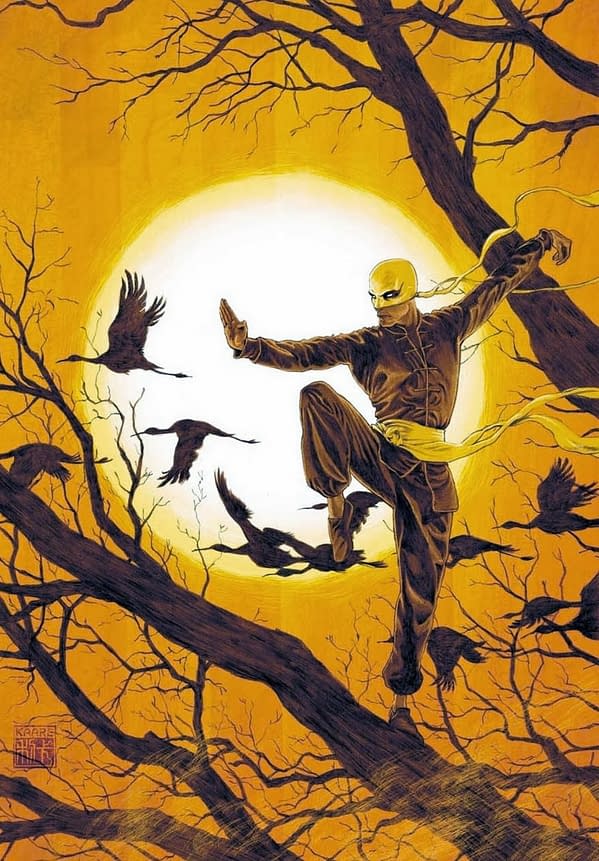 ABA: What can you spill on your highly anticipated Iron Fist: The Living Weapon series for Marvel?
KA: Iron Fist is a character that's sort of drifted in and out of the spotlight at Marvel. I think he's the kind of character everyone wants to appreciate but there hasn't been a good solid core to hold on (besides of course, the short run of Fraction/Aja). For me, that core always comes from the first stories. And if you look at the first story of Iron Fist, he is a character who after watching his parents killed in the Himalayas, trains for 10 years with secret monks in Shangri-La, to return to earth and take his bloody revenge against the man that murdered them. That is a bold, clear, core concept. One that's been forgotten. And I am firmly embracing that concept, but in a new way.
For a new reader, it will help introduce them to this vital story, and for the current fan it will re-explore areas that haven't been touched on for a long time. I am the son of two counselors, and I know that a lot of our issues come from ignoring past trauma. The way talk therapy works, is by finally confronting and exploring those things you'd rather forget. Because, when you don't deal with your stuff, it will find a way to deal with you. And I haven't seen Daniel Rand deal with these dark origins in a long time. But it's coming for him. All of it. ABA: Rumor has it that it might, even if in a small way, form the basis of the Netflix series. True?
KA: I can neither confirm nor deny that this book will influence the Netflix series. I can say that there are things that will happen in this book that will be beyond what the budget of a Netflix series can do. If anything, my intention is that this will be the "feature film" companion piece to the Netflix series. I've been given no marching orders, no restraints and no conditions to this book. This series is not the result of Group Think. This is a hand crafted tale and, hopefully, one that is written from a very specific point of view.
ABA: Writing, penciling, inking, coloring and doing the covers means at least a couple of issues are ready to go, right?
KA: There should be almost 6 issues completed before the first issue hits the stands. We've worked really hard to get ahead, and to keep the experience of the book a monthly one, just like the books I grew up reading. I don't want the readers to lose any momentum with a late issue. This is one of the things I am most focused on, and have developed a specific approach to address.
ABA: Why did you choose to do Iron Fist: The Living Weapon completely digitally?
KA: This was one of the decisions that ultimately had to do with making a monthly deadline. I remember Todd McFarlane talking about how he used to draw with blue pencils because it saved time erasing pages, and it helped him make those deadlines. This is the same kind of idea, but to the Nth degree. I'm saving time by not scanning, by not erasing, not looking for paper or sharpening pencils and cleaning brushes. I'm making changes on the fly, I have an "undo" button… the whole pipeline speeds up.
The only drawback is that there is no original art to sell—but you know, I don't create comic books to sell original art. I create stories to be read by as many people as I can lure in. The whole original art market can help pay some extra bills, but it has nothing to do with why I chose this profession.
ABA: Even though you've done a lot of acclaimed comics work for a variety of publishers, you seem to be more of a 'Marvel guy'. Why haven't you done anything for DC?
KA: I've actually never done anything for DC, only Wildstorm (who was later bought by DC). I almost wrote and drew a Batman story for them after Spider-Man: Reign, but the story I wanted to tell scared them too much. You realize pretty quick in this business, that in order to do good work you have to work with fearless people. And that's why I've had such a great relationship with Axel Alonso. Talk about fearless! When a creator is empowered, as opposed to controlled, that's when you have a chance at making the work exceptional. And that is all I strive for. ABA: Your famous MJ/Peter Kissing cover for Peter Parker #29 was brought to cinematic life in the first Sam Raimi Spider-Man movie. How do you feel about that?
KA: It was so early in my career that it kind of caught me off-guard. I love being one of those hands that push these iconic characters into a place that affects them in the zeitgeist of pop culture, to add them to canon. It's very rewarding on a "I did that!" kind of level. The little kid in me smiles at those moments. ABA: Your movie Altitude was stark, smart and genuinely scary. What can you tell us about the soon-to-be released Cabin Fever: Patient Zero?
KA: Cabin Fever: Patient Zero is not a movie for the faint of heart. It is about a virus that melts your flesh—and that's what we do. I really tried to be fearless; to not back down, and to just go for broke. Because again, you have to be fearless to create art. It was a crazy experience shooting in the Caribbean. We didn't have enough crew or money and we overcame a lot of things to put this movie together. It was a crazy ride. Have you ever watched Heart of Darkness? The making of Apocalypse Now? I lived my own version of that documentary. ABA: How did it feel following Eli Roth's scare-fest first installment of Cabin Fever?
KA: I was always a big fan of that first movie. So for me, I just wanted to embrace some of those aspects of that movie I connected with—in a way that respected what it was, but allowed myself to do my own thing.
ABA: Generally, who/what are your artistic influences?
KA: There are so many influences in my work. In comics it will always be Steranko, Miller, McFarlane and many more. In film, the first names that come to mind are Cameron, Fincher and Ridley Scott. But in actuality I get inspired by any little image I see on the internet or any random film I find on Netflix.
Inspiration is the fuel of artmaking and it can and should come from anywhere. One thing that always inspires me is trying to advance the medium itself. I was one of the first digital painters with my cover work, one of the first to 'cel shade' comics, one of the first to integrate 3D models into hand drawn line art… all these little things that no one will know or remember.
If I feel like I am tangibly changing the medium itself or how it is made – to feel your hands push against the fabric of it all – that is always very inspiring. And all of my heroes have not only done great work but changed the way work is made.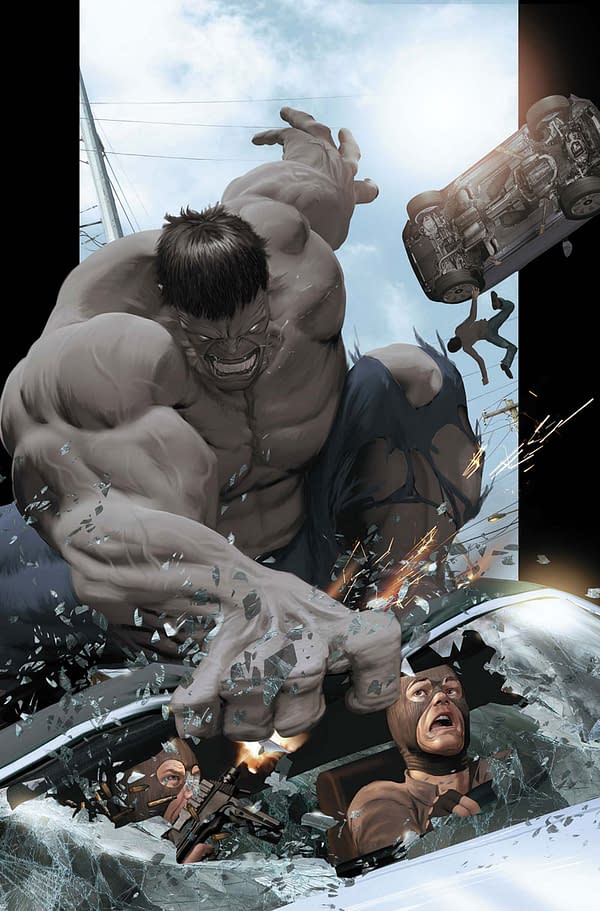 ABA: How about TV, is that a medium you'll try someday?
KA: I actually directed a live action TV pilot for Cartoon Network and Tommy Lynch a few years ago. It was a little superhero show for kids but it never got picked up and has never been screened. It was actually my first professional directing gig. I'd love to get involved in more television at some point. It's just more of a time-management thing.
In comics I'm doing the work of four people right now and I'm continually working on film projects. But I've been approached to turn some of my ideas into television very recently. So, we'll see.
ABA: Finally, and back to comics, what's your 'Breaking into Comics' story?
KA: Oh, man. That's a long story. Let's just say that I decided to break into the industry at the lowest point in the history of comics. Right after the largest boom and fully into the largest bust. I would have editors look at my work and tell me that they liked it but I needed to find something else to do, because they didn't think comics would be around in another 5 years.
But when you love something, when you are passionate enough about something, you don't let anyone or anything stop you. And I wasn't chasing the money, I was chasing the dream. And I just ran fast and hard enough to grab onto that dream and there ain't nothing that can pull my fingers off of it.
Abdulkareem Baba Aminu is an award-winning journalist, cartoonist, comic book creator, painter and poet. The Nigeria-based writer has reviewed comics, novels, movies and music for a variety of platforms, including Komikwerks.com, where he worked as Special Features Editor. He is currently the Creative Editor of Daily Trust, the most influential newspaper in his country. You can follow him on Twitter @KareemReal
Enjoyed this article? Share it!