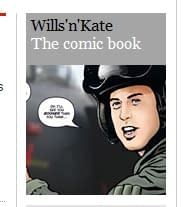 So, yes, this is the comic book I spend the Christmas holidays writing. A biographical comic book telling the lives of Prince William and Kate Middleton before their upcoming wedding.
And it's being drawn by two artists whose autographs I got twenty years ago when I was teenager. Mike Collins, curent Doctor Who comic artist and Gary Erskine. So that's a Welsh artist, a Scottish and an English writer. And published by British graphic novel publisher Markosia, who put out my previous comic, Flying Friar.
And it's being done as an actual comic book, with dramatic scenes with dialogue and stuff, rather than a series of photo-traced stills with captions dropped on the top. There's a storytelling device that does away with traitional captions all together. And Mike and Gary are two experienced comic artists, who make the characters bounce off the page.
I have to say, I didn't expect to be writing this comic last year. But sometimes an idea and an execution come together so neatly that it would have been rude of myself not to at least suggest it to Markosia, at which point they all but bit my hand off. Adi Tantimedh is interviewing me all about that right now, so watch for his column later, I guess.
The Guardian newspaper has just written a nice little piece on the book. And me, a bit.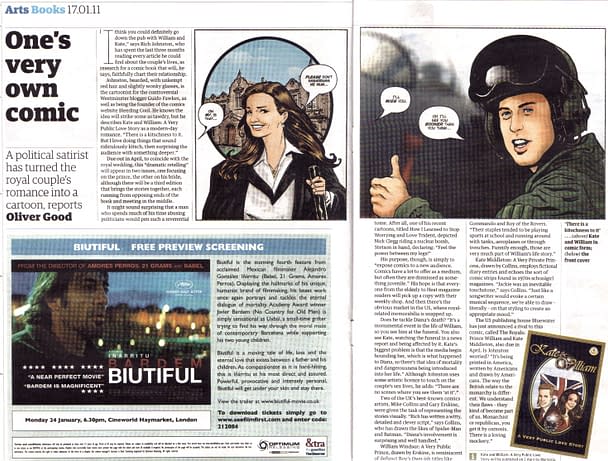 It's a commemorative plate for geeks. The book will be available in three editions, two standard size comic books telling the respective stories of Kate and William and a collected bound edition with extra material, presenting their story as an intelligent flip book, two stories heading towards the same ending.
I hope you enjoy. The comic will be published on April 2nd.
Enjoyed this article? Share it!