Posted in: Comics, Recent Updates | Tagged: Blambot, brain boy, Brian Joines, C.P. Wilson, Caitlin Kittredge, Charles Pritchett, Coffin Hill, Comics, Daniel Indro, dark horse, david liss, dead body road, Dean Kotz, dynamite, ego, entertainment, Eva de la Cruz, Francesco Francavilla, fred van lente, freddie williams ii, image, Inaki Miranda, jay fotos, joe hill, Josan Gonzales, Joshua Cozine, Justin Jordan, krampus, Matteo Scalera, Moreno Dinisio, Nate Piekos, Pat Brosseau, Robbie Robbins, Ron Riley, Sherlock Holmes: Moriarty Lives, Travis Lanham, vertigo, Wraith
---
Live From The Comic Shop – Dead Body Road, Krampus, Sherlock Holmes: Moriarty Lives, Wraith, Coffin Hill, Brain Boy
Welcome to another massive week for comics, and I'm writing live from my local comic shop, Conquest Comics in New Jersey. I may have been elevated to the dizzying heights of EIC here at Bleeding Cool, but very little can keep me out of my local shop on a Wednesday, particularly when I saw the list of titles coming out this week. We've got plenty from Image, Dynamite, IDW, Vertigo, and Dark Horse this time around.
New Titles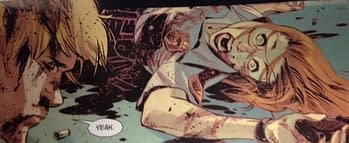 Skybound from Image released Dead Body Road by Justin Jordan (writer), Matteo Scalera (pencils and inks), Moreno Dinisio (colors), Pat Brosseau (letters). To be fair, any book by Justin Jordan is one I'm going to check out and see what craziness he is getting up to, but once I got a gander of Scalera's lines and Dinisio's colors, I had that moment of blank staring and being very glad I picked up the new book. I love the messy, sketchy lines and angles that Scalera is producing here, and the colors are in that vein of new noir that uses milky pastels as a backdrop for heavy inking and more sinister popping hues. Here things alternate between a sea green and an orangey sepia for the baseline and go for orange, heavy black inking, and enervating sky-blues to set the tone. And the tone is that things are unpredictable, a little dangerous, and very grounded in physical friction for the characters. We open with some kind of heist that went "wrong", resulting in the gory death of a number of cops, flip to a police officer whose wife Anna was a victim of that fallout, and launch into a world of southwestern crime and the pursuit of vengeance. You might have suspected there would be some of that from the title.
Our cop, Orson Gage (great name), is "planning" dark things to avenge Anna, but he's not starting from a point of madness. We get to witness the relative normality of the beginning of that descent, with the steadying, or rather attempted steadying influence of friends. But the complications make the story, and the believable ease with which things get complicated as criminals target eachother and keep Gage from getting the answers he's looking for without plenty of moxy. Jimmy, Stowe, a computer hacker on the failed job, is the key for Gage, and that wary team-up is going to set up the rest of the story. There's a cinematic quality to this book, a sense of a wide cast of characters already, and some basic principles that help you get a handle on the book even as it becomes more complicated. It's a solid start with some compelling artwork that gets under your skin for Dead Body Road. Krampus. Wow. This is a crazy enough idea for a book that it just might work, and of course it's timed for the holidays. From Image, by Brian Joines (writer), Dean Kotz (illustrator), Ron Riley (colors), and Charles Pritchett (letters), Krampus has a great premise from the start: that in the 17th century Santa (Sinterklaas) calls forth a magical being to bring pain and punishment on the bad children of the world, of which there are many, to offset and balance the gifts that good children receive. Yes, it's Santa mythology and it's fairly untrodden territory for comics that harks back to Scandinavian roots for our Christmas traditions. We have a badass Belsnikel, who serves Santa, nasty sugar-plum fairies, an aging Father Christmas, and actually plenty of historical and social context for Christmas traditions in Europe that have moved up to the present day. The premise is that the Krampus, who has been kept under wraps in chains for erratic behavior is being let loose on the world again as the definitive loose canon. In a sleigh of bones drawn by a savage wolf, he's ready to confront those who have been very, very bad indeed, in stealing a significant religious relic. This is a very odd comic and a very odd world, but the artwork is easy on the eyes and the strange action-adventure mash-up with historical elements works fairly well. It's entertaining, and even funny, and that means Krampus hits the spot for a Christmas read. Sherlock Holmes: Moriarty Lives delivers something that Sherlockians are bound to find appealing, the life and times of Moriarty after the famous events of Reichenbach Falls, where both he and Holmes were presumed dead in Conan Doyle's stories. Dynamite brings us a cover by Francesco Francavilla (and the comic world says "thank you"), and the books is by David Liss (writer), Daniel Indro (illustrator), Josan Gonzales (colors), and Joshua Cozine (letters). The book, touchingly, is dedicated to Sir Arthur Conan Doyle. Fan fiction based on Sherlock Holmes stories has been around almost as long as the original stories, but when you get a bunch of pros together in comics and set them loose on a world they love, that's a great thing. What this book does is really highlight a salient fact about pulp literary tradition: Moriarty really is one of our first supervillains. Ancient mythologies aside, where there are plenty of supervillains, Moriarty is one of our first Modern villains who seems to always be one step ahead of Holmes (who's a bit of a superhero himself and initiates the era of the super detective), and for that reason he's mysterious in his seemingly vast intellectual abilities. The narrator on the comic, delightfully, is Moriarty himself so far, and let's hope it continues in that vein. He starts the narrative with Reichenbach and fills in what happened to him after his plunge down the waterfall, locked in combat with Holmes. "Cold, penniless" and a "wanted man", there is no little sympathy that he's trying to generate for himself.
Check one for the supervillain, who usually seems him or herself as the victim of the world. He wants to "recast" himself post-rumored-death, and that, of course, is a dangerous thing. Then we get the real lofty sentiments of domination. Check two for supervillain status. People are "sheep" he's going to lead. He preys upon the kind hearted to help him out. A master manipulator in keeping with Holmes tradition. Things get more fanfic and intriguing when a master of alchemy throws some supernatural elements into the works and Moriarty ends up with a peculiarly sentimental role. Things are, indeed, getting interesting in this new book. The artwork is detailed enough for a historical setting, does well for creating characters with a kind of period resonance, and certainly casts Moriarty as a bear of a man who is both dangerous and powerful. It's afoot in all the wrong ways, and that's a selling point. This is likely to be a fan favorite if the storylines generate their own momentum around this already superstar character in our public imaginations.
Ongoing Titles Let's start with the return of Wraith: "Welcome to Christmasland", from IDW, by the masterful Joe Hill (writer), C.P. Wilson III (art), Jay Fotos (colors), and Robbie Robbins (letters). Issue 1 was a pretty stellar start in creepiness, with an origin story for our lead in the macabre, and issue 2 is dubbed "Chapter 1" in the storyline. It opens with an interesting conversation about how crimes should be punished, and whether confinement is more appropriate than a literal "eye for an eye" in the Hammurabi code. Some ex-cons, including a jokeresque intellectual psycho straight from the "carney" are gearing up to intersect with Charlie Manx and Christmasland, but there's no rush here. The issue takes its time setting up several characters across a wide range of locations, and this smacks of some of the interesting, decompressed storytelling in Locke & Key for me. There's a clear idea at work of what needs to be contained in each "chapter" and a sense that each character has a part to play in a bigger scope that's spinning into careful alignment.
This is refreshing because as gripping as a tale focused on a central, ambiguous villain can be, some of Hill's most celebrated work has turned on bringing equal emphasis to several characters, antagonists and protagonists alike. We're getting more of an episodic novel here, with cutting between characters that leads to a wider flow. And, of course, the escaped convict angle may remind you of Locke & Key's early days also. Wilson's artwork has that chunkiness and solidity that establishes a world for you, a tense, edgy world where people can behave like animals and yet have their emotional, vulnerable side. It all makes for a predatory universe where anything can happen. The mysteries about Max and Christmasland, and exactly where both stand in the shifting scale of "sinister" versus "evil" remain for future exploration after issue 2. It's issue 2, so I'm calling it. I'm hooked. And you probably will be too. That's not a bad thing at all. If that fact makes you a little uncomfortable, it's supposed to.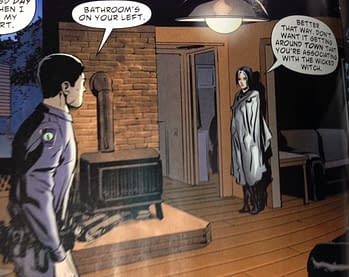 Coffin Hill, from Vertigo, has a stand out cover this week, among its already striking covers, with a witchy Eve burying her hand in the earth turning into bloody tree-root veins. It's a bold comic in many ways, and it's gaining momentum. Is is wrong of me to be thinking of what a great trade this arc is going to make? I'm a single issue as well as a graphic novel reader, and there's something very satisfying about seeing a story arc collected, particularly for the combined visual impact of artwork, and Inaki Miranda's art has a lot to recommend it, as well as Eva de la Cruz's colors, and Travis Lanham's letters. Strange dream-like or nightmare like visions/memories for Eve, like the one that kicks off this issue, are the rule of the day and help create that tension in the book between the occult and the "real world". Finn is beginning to come around to the idea that there's "something in the woods" and become less skeptical of Eve's "craziness", and that's going to draw you in as you see a skeptic confronted with things they can't explain or understand. It adds to the psychological depth of the story, however much you are willing to go along with the assumptions of unusual characters like Eve Coffin. Things are heating up between "Chief" Nate Finn and Eve, and that friction keeps the story moving, essentially a confrontation between opposites, the "wicked witch" and the good cop grounded in the rational. Eve is confronting her mother in this issue, as well as the legacy of insanity spread to her friends through their teen conjuring experience, and that's more psychological impact.
As established in previous issues, we're also jumping around in time, back to 2003 again, as we explore the experiences that have shaped Eve. The book is unrelenting in setting its own pace and tone, often sliding a little out of reach in allowing the reader to piece things together, but each vignette is stitched together with a great deal of vision by writer Caitlin Kittredge and there's a gradual sense of taking steps toward bigger revelations of character and plot. It begs for more episodes, more explication, and that's coming down the road, but for now, we get striking moments in time and a central character who can certainly hold the orbit of the story together. Brain Boy takes an unusual turn this week as we receive an issue 0, taking us right back to the origins of Matt Price and the formative experiences of his first mission. The series has been thought-provoking and very fast-paced until now, and this is a welcome piece of the puzzle that helps us get a clearer picture of the factors influencing the frenetic pace of Price's life in the first mini-series. The creative team, comprised of Fred Van Lente (writer), Freddie Williams II (art), Ego (colors), and Nate Piekos of Blambot (letters) have always seemed to have a pretty clear picture of what they wanted to achieve in establishing this new character and his psy-driven world, so their take on his origins only cements things a little more firmly for readers. We get Matt, cocky, confident, and bright, knowing he's the best of the best in terms of "product development" in psy ops, taking on a situation in Ireland that quickly deteriorates and shakes his confidence to the core. It's the classic new kid taking on the world, initially, and getting a rude awakening, but the way that Van Lente does this, chock full of raw emotions and intra-mind experiences for Matt, cuts through tropes and really humanizes him.
In earlier issues his acerbic dialogue and overbearing confidence may have made him interesting, but not entirely accessible. This issue 0 helps to rectify that, putting him in situations he doesn't know enough about, and exposing him to painful experiences that get past his self-protective posturing. Some very strong panels and full-page spreads from Williams also set the stage for revelations about just how Matt's mind works, how he receives information that are more full than the sharp short-hand necessary in the previous arc. He's learning how to be a "reader" picking up minds, and a "writer", controlling them, and that's an explosive combination that's going to leave scars that shape the character. We begin to understand Matt much better in this issue, and it's clear that some pretty brutal and stressful experiences have made him the slightly bastardy guy he is in the present day. But the biggest revelation in terms of character is probably how little control he had over his own fate in the early days, and that explains a lot about his act first, don't think later attitude in the series arc prior.
There really is quite a flood, or maybe even a blizzard of new comics this week, so stock up for holiday reading if you can. The other titles I'll be check out are Alex + Ada #2 (Image), Twelve Reasons to Die #5 (Black Mask Studios), Drumhellar #2 (Image), FBP #6 (Vertigo), The Memory Collectors #2 (IDW), Manifest Destiny #2 (Image), and maybe even Steampunk Cinderella #1 (Antartic Press).
That's all from me, Live from the Comic Shop this time around. Happy reading this week; there are enough comics to double-up as entertainment and personal insulation as this cold weather sets in. Bonus.
Special thanks to Conquest Comics in New Jersey. You can find their Facebook page here. They are currently dominating POP vinyl collectibles with their White Phoenix exclusive and now have their Metallic Harley Quinn exclusive in stock.
Hannah Means-Shannon is the newly appointed Editor-in-chief at Bleeding Cool, and is currently working on books about Neil Gaiman and Alan Moore for Sequart. She is @hannahmenzies on Twitter and hannahmenziesblog on WordPress. You can reach her at: hannah@bleedingcool.com.
---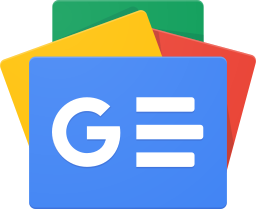 Stay up-to-date and support the site by following Bleeding Cool on Google News today!