Marvel Subpoened For CEO Isaac Perlmutter's E-Mails Over Bitter Tennis Court Dispute (UPDATE)
No sooner have we named him the most powerful person in the comics industry for 2015, then we learn how Isaac Perlmutter, CEO of Marvel Entertainment, has become further embroiled in a dispute with his neighbour. Not Fox Studios, not Kevin Feige, but his actual neighbour, going back to 2011.
Florida businessman Harold Peerenboom has subpoenaed records from Marvel he believes will show that the head of Marvel, and one of the largest shareholders of Disney, launched a vicious hate-mail campaign falsely accusing Peerenboom of child molestation and murder.
The allegations revolve around a supposed neighbourhood dispute that got out of hand between him and Perlmutter, around who should run the Sloan's Curve tennis center. Peerenboom claims that the contract wasn't officially tendered as was the law, was controlled by Perlmutter which gave him privileged access to the center, something Peerenboom challenged.
It is said that this led to savage letters about Peerenboom being circulated around the community of Sloan's Curve in Palm Beach where they both live, as well as being sent to Peerenboom's friends, business associates and teachers at a school Peerenboom founded.
The letters are reported as stating that Peerenboom sexually molested a child from Sloan's Curve, and murdered two people, one a former director at the school, as well stating Peerenboom believed in Hitler's Final Solution and wanted to attack his Jewish neighbours, including Perlmutter.
Other insulting letters, it is reported, were made to look as it Peerenboom had written them himself and were sent to prisoners and their families at random, including Peerenboom's address.
Peerenboom also received messages delighting in a car crash Peerenboom had been involved with, and telling him to get out of the area.
It is alleged that because Perlmutter wouldn't comply with his demand to produce work e-mails relating to the tennis court, that Peerenboom has had to serve Marvel directly and that Marvel are demanding $250,000 to comply.
Perlmutter's lawyers have called this an attempt to harass Perlmutter through his place of work…

They are also stating that there may be other more likely suspects for the letters and that Peerenboom engaged in illegal attempts to get the DNA of Perlmutter and other residents in a way to frame him…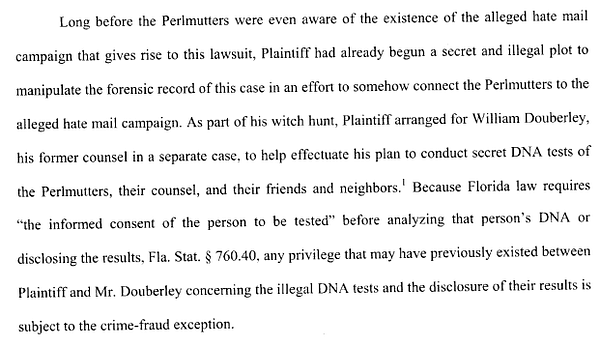 And arranged a deposition for the Perlmutters with the intent of gathering DNA evidence.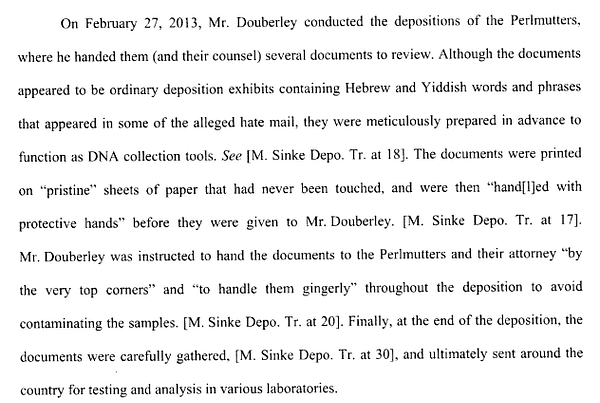 The current complaint against Isaac Perlmutter and his wife Laura Perlmutter sees Peerenboom make these allegations, with a list of circumstantial evidence.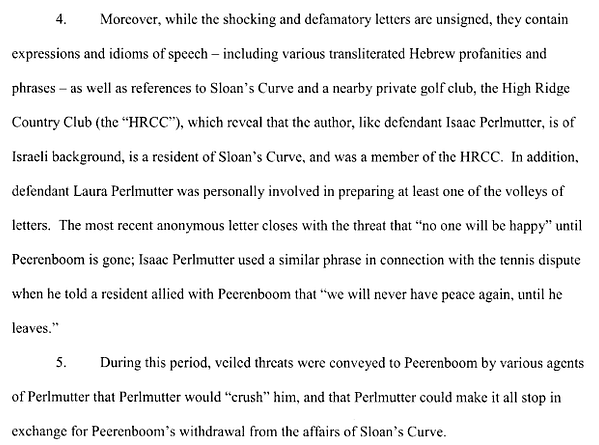 Peerenboom's lawyers are pushing for a civil trial in the summer. The letters are part of a criminal investigation by the police.
Marvel declined to make comment when initially approached. But this morning, a legal representative of both Marvel Entertainment and the Perlmutters, told me,
Harold Peerenboom is from Toronto​, Canada where he is known for being both litigious and filing frivolous lawsuits. Despite being unfairly targeted, the Perlmutters also condemn such hateful and vicious letters.
The documentation can be read in full below.