Marvel's Death Of X Panel At San Diego Comic Con – "Don't Listen To Bleeding Cool"
By Joe Glass
Possibly one of the most worryingly titled X-Men events is the focus of Marvel's panel, as they reveal more of Death of X.
Hosted by Rickey Purdin, with Axel Alonso, Cullen Bunn, Tom Taylor and Scott Koblish.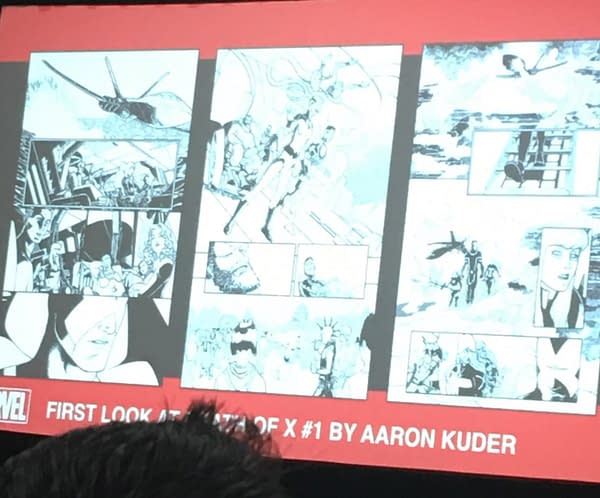 Alonso tells us Death of X fills in the gaps between the end of Secret Wars and where the mutants are now, including where Cyclops is, where Emma Frost is, and exploring the conflict with the Inhumans and the effects of the Terrigen Mists.
Some gorgeous interior pages by Aaron Kuder are revealed, and we then go on to discuss the new arc of Uncanny X-Men, and this will focus on the Hellfire Club more, revealing a whole new version. Bunn says the way it's connected and opposed to Magneto's X-Men is going to be very interesting.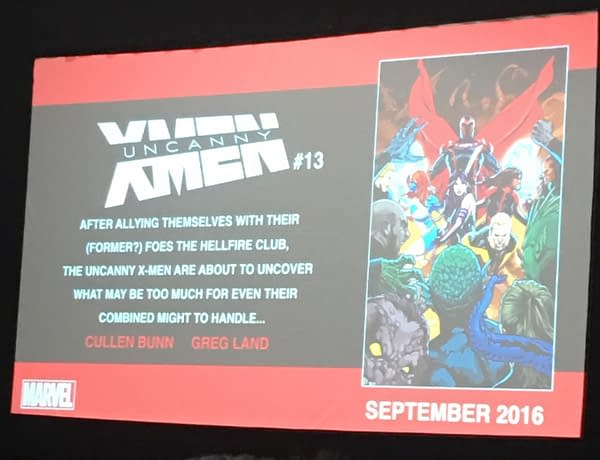 They will be working together against a new threat with a link to Magneto.
On to X-Men: Civil War II, and Bunn talks about Magneto's interest in Ulysses, and the only way to make sure he benefits mutantkind is to secure Ulysses for himself. Issue 3 in particular sees the team go through some changes. Another fan favorite character will turn up and side with Magneto.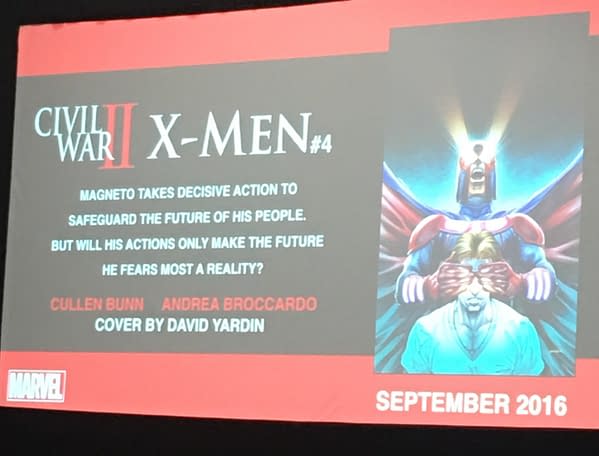 Sh-t hits the fan in issue 4, with the first confrontation between the Uncanny and Extraordinary X-Men teams.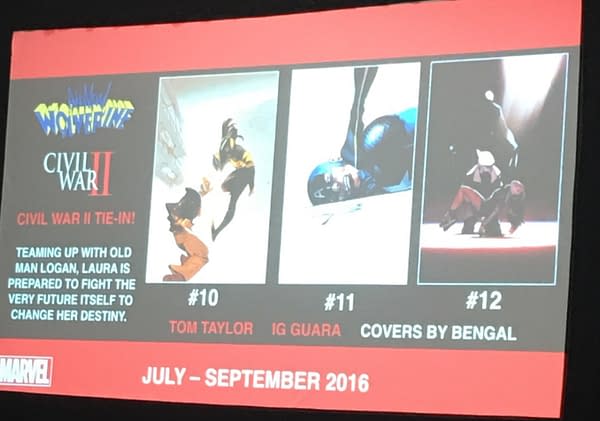 Taylor takes over to talk about All New Wolverine, there is a prediction in Civil War about Old Man Logan that will put the two Wolverines (Laura Kinney and Logan) at odds.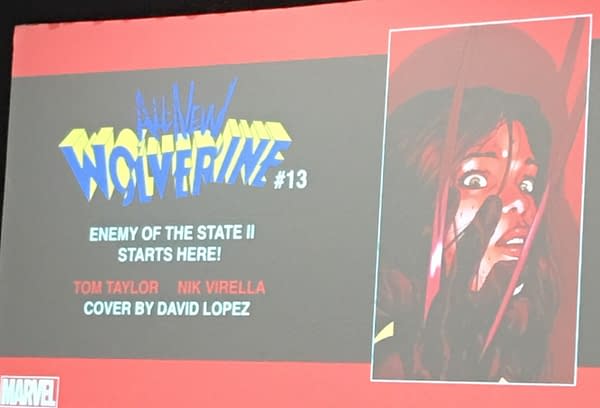 The next arc is….Enemy of the State II. This is the spiritual successor to the classic Millar arc, and it will not be pretty. Laura will murder a bunch of people, and she'll go out to find who made her do this while being chased by the likes of Nick Fury.
Deadpool Annual up next, with Deadpool crashing the party of Spider-Man and his Amazing Friends. Koblish even modifies his art to make it feel like that classic animated series. He talked about purposefully drawing things wrong and not changing line weights to make it feel like that classic style.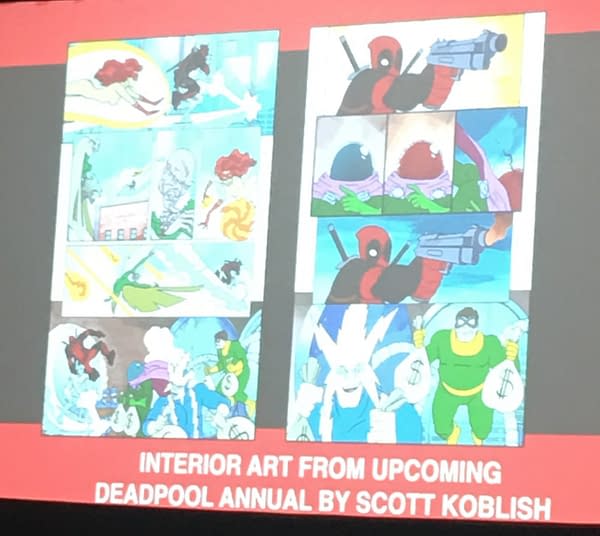 Deadpool #19, which will be a return to Deadpool 2099. Ties in heavily with the current storyline, Koblish talked about the design and creation of the Deadpool 2099 character.
Extraordinary X-Men#13, will see the fallout of Apocalypse Wars, and follows up on Sapna, as well as a second story arc following on Colossus still infected by Apocalypse. Flying through that into All New X-Men, and will see the characters having a lot of side adventures.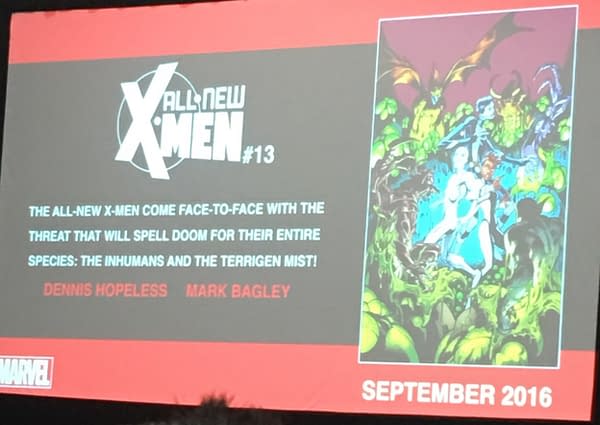 There will be an issue with Cyclops and following up with a Rear Window style adventure, as he's healing after his encounter with Toad.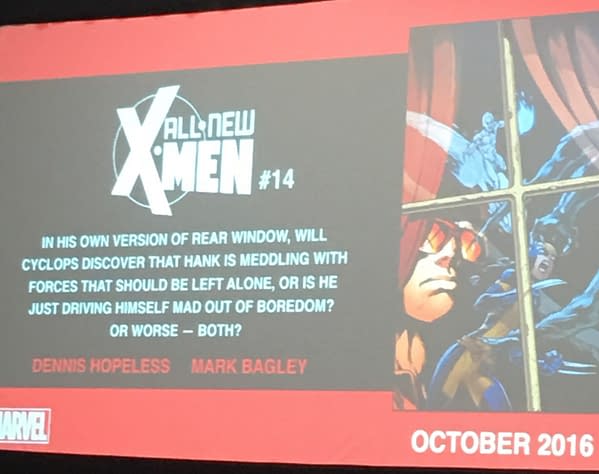 Now we go into Uncanny Inhumans #13 – at an X-Men panel. Where we're to hear more of Death of X, but they haven't really told us anything we didn't know at all as of yet.
Mosaic is up next, Alonso discusses about him being a new character with a strange power, and how he can absorb the memories and skills of the host as he jumps body to body. He's a flawed character, his power is more of a curse than a gift, and Mosaic has a huge role to play in an upcoming story they're doing. Though he did at first say Civil War II.
There'll be a big announcement as Saturday's Cup o'Joe panel, which will apparently be of particular interest to anyone who came here to this panel. Well, maybe there'll actually be some Death of X news, huh?
After Q&A begins, Alonso admits they are playing with everyone's paranoia and the rumors of the end of the X-Men series.
Why is Cyclops so difficult to write, to the point it seems like Marvel hates him? Alonso says Cyke is actually his favorite X-Man, and he thinks his arc is challenging and controversial, but that's what makes him interesting: he's shouldering an incredible burden for his people. Just saying to watch and see where they're going with it.
Will we follow up on the characters at the end of Bendis' run before returning Secret Wars that were living on what was left of Utopia? Alonso says he doesn't know the answer (though Elixir is dead).
What's up with Havok? Bunn says Havok's absence is purposeful, but you will definitely see Alex Summers soon.
When will we see Magneto fight Black Bolt? Bunn says he's been asking Alonso the same. The growing tensions between the mutants and Inhumans, Alonso says he wouldn't be surprised if we see that soon.
Question about the new characters Bendis created? Alonso says as the X-Men group editor isn't there, he's not sure, but promises there are future announcements to give us an idea. Bunn says it's all about finding the right story for them so it's not just a cameo appearance.
How far ahead are X-Men plans? Alonso says roughly a year in advance for the big overarching stuff, so they've been building to Death of X for some time.
They planned 18 months to two years ago what happened to the mutants, Scott and Emma in the 8 month gap after Secret Wars.
The Original Five will factor into their plans for sure, though Alonso didn't specify long term or short term.
Which X-characters need a focus? Alonso says both Icemen, his recent realization of his sexuality, there's more to be told. Rachel Grey says Bunn. Taylor says Jonothan the Wolverine. Koblish jokes Thunderbird. Alonso's runner up would be Warpath.
Alonso says that there are definite plans for both the Icemen, and he wouldn't be surprised if you saw him doing bigger and better things in the near future.
Alonso does seem to admit that they are purposefully playing up to the fears and rumors of the cancellation of the X-Men line, even suggesting that fear has become so meta now, and why wouldn't they play with that. And he assures us that he definitely knows who Goldballs is, despite joking at first he doesn't, and not to listen to Bleeding Cool if we say he doesn't.
Polaris will pop up again according to Bunn.
Anything from the cutting room floor they couldn't continue with when making plans for the X-Men's future? Alonso discusses a recent retreat with a specific X-focused day, and how much of the cutting room stuff is sorted out on the day. Nothing comes to mind as something they had to drop as a plot.
Alonso does talk about needing to be prepared to roll with the changes as plansand characters become bigger.
Alonso says the best way to support series is to buy the comics, the waiting for trade mentality is essentially you contributing to the cancellation of that series. He mentions if there were an Iceman solo series, you have to buy the issues to keep it going: waiting for trade will see it die.
He also went on to discuss the comments on social media as being very shrill, and they have to ignore them otherwise that could ruin the industry. He talks about the Riri Williams controversy, and the particular controversy of the character not being written by an African American woman. He points out that that character will be written by someone else at some point, but right now, the important thing is that there is that character in that position now.
Taylor and Bunn as well talk about how on social media you can see a lot of negativity.
Fave story arcs? Bunn says how he collected X-Men comics for many years, and mentions Dark Phoenix Saga, God Loves, Man Kills and Days of Future Past. Taylor says the Frank Miller Wolverine arc.
Joe Glass is a Bleeding Cool contributor and comic creator. He's the writer of The Pride, about a team of LGBTQ Superheroes, and co-writes Welsh horror comedy series, Stiffs.