Marvel's New Nomad, Old Moon Knight And More… The just-announced Marvel solicitations for September missed out quite a few chunks. Some Marvel Zombies here, some Amazing Spider-Man there… but what else?
Well, David Baldeon is drawing Rikki Barnes from Heroes Reborn a new world in her own four issue mini-series, Nomad: Girl Without A World #1 . After playing a part in the return of Steve Rogers, it looks like the Capless Bucky is looking to find a new role… and Marvel have quite a surprising writer on board. I'll let them tell you tomorrow, this site has got really Marvel crazy tonight.
Vengeance Of The Moon Knight #1 by Gregg Hurwitz and Jermoe Opena sees our man in white fighting… Norman Osborn! Yay! And featuring a whole host of weapons…
War Of Kings: Who Will Rule by Dan Abnett, Andy Lanning and Paul Pettier concludes the Inhuman/Kree/Shi'Ar faceoff, a $3.99 worthy 40 pages epilogue.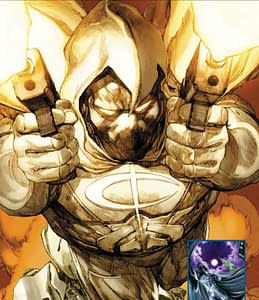 While in X-Men Legacy Annual #1 by Mike Carey and Daniel Acuna, is a big old Rogue-focussed special that launches a new direction for the series. And a, ready for it… Classic! X-Men! Villain!
I previously mentioned that Rick Remender and Mahmud A. Asrar were on Thunderbolts from #136. But I didn't know that Power Man and Iron Fist were members. Looks like the deal Luke Cage made with Norman Osborn is coming home to roost as Osborn's personal assassins…
I should write these solicitations, they're really fun. And at least the French can't have all the fun doing it…
Oh and naturally, like the juiciest sausage on the plate, I've saved the big one for last. Sadly I've gone and dropped that sausage onto the floor where it's rolled under the couch, picking up dust. I'll try and get it in the morning. Damn, I'll have The Mikado going through my head all night now.