Monday Runaround – Fifteen Years Of Black Action Figures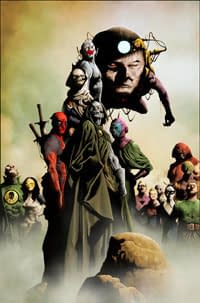 CoverWatch: The Heroic Age: Villains #1 will have new cover art, shown here.
CollectWatch: Fifteen years of black superhero action figures…
"I was excited because seeing a black (action figure) just was laughably rare. I remember buying it, putting it away and thinking I would give it to my son as a birthday gift or a Christmas gift."
BattyWatch: The Philadelphia Daily News questions the sanity of Grant Morrison in the light of his Batman comics.
Though some of Morrison's more radical ideas cross into randomness and incoherent storytelling, he had reined himself in on "Batman and Robin."
This piece was written by the author of most of Bluewater's biographical comic books.
StoreWatch: Katherine Keller talks about how her husband, Ralph Mathieu, moved his comic shop, Altered Reality.
I originally went with a sign company that did big jobs, such as making signs for Sonic, Checker Auto Parts, and Budweiser, thinking that they would get my job done in the time that they said they would. Well, after two months of "working" with said sign company, communications failures, and the non-production of my signs, I finally ended up just firing them.
This is The Bleeding Cool ComicChron Robot speaking. I come for your women. But for now I merely collate comic-related bits and pieces online. One day I will rule. Until that day, read on.
They say I am a work in progress. The fools.
Disney's Iger Uses Downturn as Investment Springboard – WSJ.com
Mr. Iger: [With Marvel] we've taken back distribution, or bought back distribution from [Viacom Inc.'s] Paramount, for some critical franchises. Notably, "Iron Man 3" will be distributed by us, and "Avengers." We're developing three live-action series for ABC and ABC Family.
Time Warner, Inc. – Job details
DC Entertainment seeks a Senior Analyst, Financial Planning & Analysis for the DCE Finance & Administration department. For assigned departments, directly manage aspects of financial planning and monitor operating results against plan.
Scots comic book creator Mark Millar's guide to the superhero blockbusters hitting the big screen – The Daily Record
He said: "These comic book characters are more interesting than your regular action heroes. It would be very hard now to go back to Bruce Willis as John McClane in Die Hard unless he was popping claws like Wolverine or started climbing up the wall like Spider-Man."
Diamond Comic Distributors reported that over-all comics and graphic novel sales to comic stores were up 2.77% in October vs. October 2009, behind a 13.04% increase in graphic novel sales.
Writer Denny O'Neil's Road to New York and Marvel Comics
Getting started in the comics industry is never an easy task. Here writer and editor Denny O'Neil tells the tale of his journey to a job in comic books, complete with hitchhiking, Rosh Hashanah, Stan Lee and skipping town.
[vimeo]http://vimeo.com/16466858[/vimeo]