Owlman watches you sleep, he vanishes just before you can see him but when you do see him you'll never forget it. Popularized from the supernatural horror film Lord of Tears, when a substitute teacher is haunted by night terrors of a reoccurring a mysterious owl figure. He searches for answers after returning home only to find the truth. He finds more than he bargained for as he finds out Owlman. Mezco Toyz has announced Owlman will be there next figure to release in the Living Dead Dolls collection. This figure is quite supernatural with the owl head in a three-piece suit with claws coming out of the sleeves. I figure itself is quite detailed and there's definitely something perfect to be now it's for this Halloween season. Any horror fans, paranormal fans, or fans of the Lord of Tears film should definitely own this Living Dead Doll.
The Living Dead Doll Lord of Tears Owlman Figure from Mezco Toyz is priced at $46.99. This harvester of souls is set to ship between May and July 2020. If you want to lock down yours pre-order links are already live and located here. Don't forget to check out all the other Living Dead Dolls from a Mezco Toyz to build up your collection. I'd sleep with when I open with this one, sweet dreams.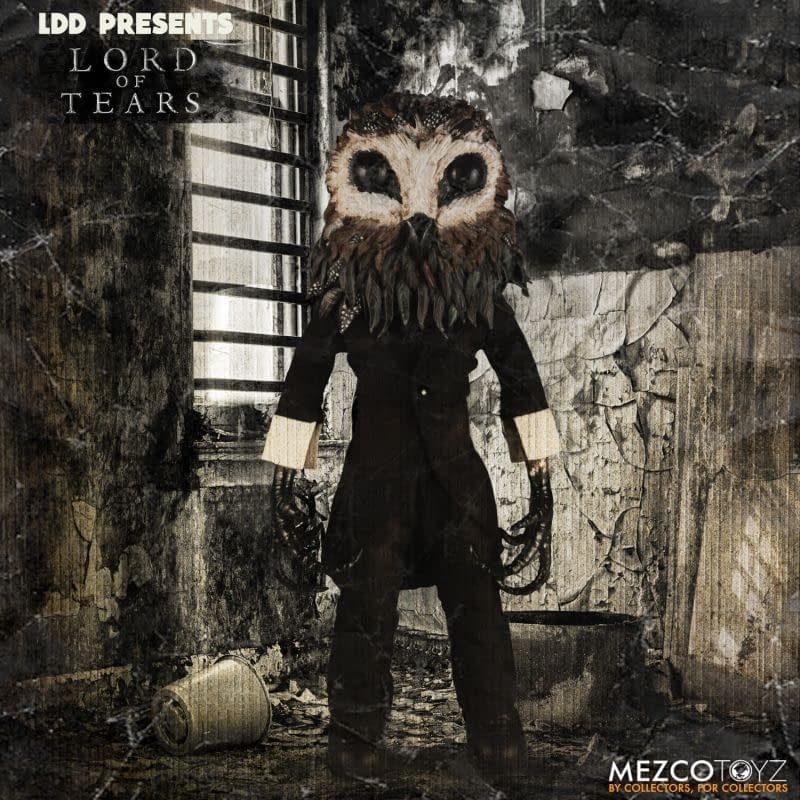 LDD PRESENTS
Lord of Tears: The Owlman
From the award-winning film 'Lord of Tears', LDD presents The Owlman!
In Lawrie Brewster's supernatural horror film, 'Lord of Tears', a school teacher is plagued by recurring nightmares and suspects his visions are linked to a dark incident from his past. Returning to his childhood home, he uncovers the disturbing truth.
According to Cornish folklore, The Owlman is described as a human-sized owl with pointed ears, glowing eyes, and black pincer-like claws.
LDD Presents Lord of Tears: The Owlman features an all-new head sculpt depicting the unnerving creature. Dressed in a three-piece suit with his claws bursting from his sleeves, The Owlman is a nightmare that you'll spend your whole life trying to forget.
LDD Presents Lord of Tears: The Owlman stands 10" tall and features 5 points of articulation. He is packaged in a window box, perfect for display.
Enjoyed this article? Share it!