Well, how do you follow that?
I made a big deal in my advance review of The Walking Dead #100 that tried to be as unspoilery as this review, that what I expected to happen didn't. Based on issue 99, I was expecting Negan's gang to storm the complex when Rick and his crew were out, and for Rick to return to the Hilltop to find everyone massacred.
Instead we got a far more personal and more horrific story focused on one individual and the repercussions to his group. And yes, despite selling over 380,000 copies I'm still trying not to spoil too much for people reading in trade. Seriously though folks, you shouldn't be reading this. Anyway.
So what I expected was that for that event to be delayed. For Rick to return with his debilitated crew to find disaster. And we don't get that. In fact, that possibility has been negated.
This comic is expert at delivering, not the despair and the lack of hope that it is often labelled as bogged down in. And indeed, the beginning of this issue, after the encounter with Lucille last issue, you get page after page of depressing events, reaction and pain. Here's a few examples.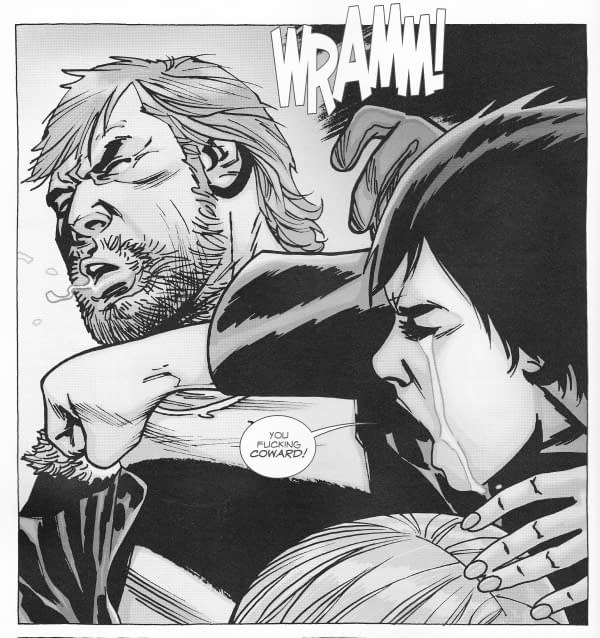 Like that.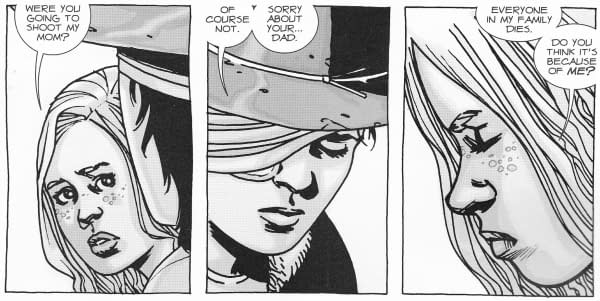 And that. But in the morass of all that doom and gloom, a glimmer of hope. Which every now and then bursts into flame.
And at the end of this issue, that ember is blown upon, burns bright and then on the final page ignites.
You know how long a gap it felt between issue #100 and #101? #102 will feel longer…
And yes, there are still zombies. Obviously.
The Walking Dead #101 is published this Wednesday by Image Comics, B&W, $2.99 for 22 pages of story.
Enjoyed this article? Share it!