Saturday Trending Topics: O.M.A.C. Fights Back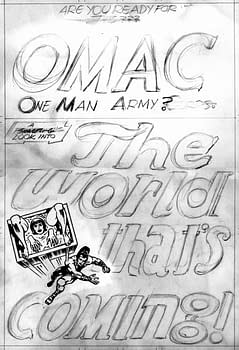 THE WORLD THAT'S COMING includes more O.M.A.C., according to both inker Scott Koblish and writer (and DC Co-Publisher) Dan DiDio. That's good, because I've been intrigued by the cross-section of titles that the New 52 (and post-New 52 now, I guess) represents, and if DC and the comic market supports that range over time, that bodes well for everyone.
Most-Read Comic Stories Today:
DC Relaunch Month Two Checklist
Here's the lineup for the month… note Justice League #2 is shipping seven weeks after the first…
Scott Koblish On The Future Of O.M.A.C. (Now With Added Dan DiDio)
Scott Koblish, inker on O.M.A.C., has posted on the Bleeding Cool boards, regarding a post earlier this week, Will O.M.A.C. Be First For The Chop? He writes;
Further Numbercrunching DC Comics And Marvel In September 2011
But it's not quite as easy as that.
Most-Read TV/Film Stories Today:
The Simpsons Renewed For Two Seasons – Who Buckled?
Fox have officially announced their renewal of The Simpsons for two more seasons – numbers 24 and 25.
One Toddler, Eleven Doctors, One Cosplay Montage
Yeah, it's Saturday. And there's no Who on – though Sarah Jane Adventures is just kicking off on CBBC.
Knight Rider, The Mr Men, Yogi Bear, Muttley And More In New TV Ad For Yogurt
The ad is called Wünderful Stuff, it's for Müller yoghurt, and it aired in the middle of X-Factor on ITV1 tonight. Ninety seconds of mashup, starting with KITT from Knight Rider, segueing into a Transformer type thing and then on to the Mr Men and Catch The Pigeon.
Most-Clicked Pics Today: