Bleeding Cool already shared some of the amazing experiences that the "FX Fearless Arena" here at SDCC 2015 provided, but your fateful writer also had the pleasure in taking part of this outside convention activity. Along with Fargo, The Strain, and American Horror Story experiences, there was also a good time to be had in The Bastard Executioner "Escape the Forest Duel."
The Bastard Executioner is the new FX show from Sons of Anarchy creator Kurt Sutter, and it will begin airing in October 2015. The show will be about s 14th century knight who put down his sword to then return to being a warrior
Now the duel was made up of three different tests – strength, dexterity, and the mind. The strength test was the carnval bell striker, which I won by completing with one hammer strike. The second test was firing a crossbow and I failed to hit the target, however the test of the mind was a puzzle, a jigsaw puzzle specifically, and thankfully I completed that test before my competition and I raced through corridor after corridor to claim my prize, a The Bastard Executioner branded t-shirt hoodie.
Additionally, FX provided a giant bag with buttons and an American Horror Story room key in the bag, and collector cards for each of their shows when you visited that shows area.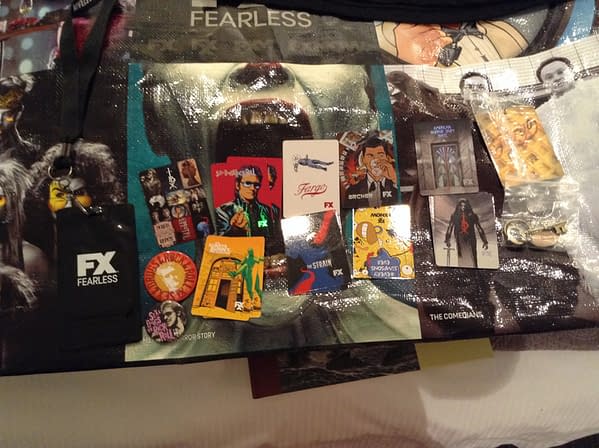 So FX did what they could to make sure any visitors who dared visit the FX Fearless Arena had a good time and walked away with a little bit of swag in their pockets.
Further musings of Joshua Stone can be read on the Twitter @1NerdyOne
Enjoyed this article? Share it!