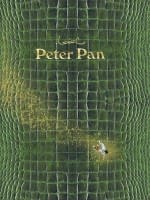 Soaring Penguin Press, stalwart of unusual and high-quality titles in the small press sphere, has had a big week for announcements. First up, they've acquired the rights to bring Loisel's Peter Pan to the US market, in contract with with Glénat Editions. The graphic novel will be an English collection of Loisel's six-volume bande dessinée. The original series sold over a million copies worldwide so the English edition is set to make a big splash with its release this coming Autumn.
Soaring Penguin's second big announcement is the return of Ellen Lindner's The Black Feather Falls for its second volume. Lindner's Black Feather Falls series originally debuted on the webcomics platform ActivateComix, and its first collected print volume was released by Soaring Penguin in time for last year's Small Press Expo. We'll see this volume earlier in the year this time, in May. The internationally-set murder mystery series drawing on the 1920's jumps from London to Scotland this time around. You may be familiar with Lindner's work from the international anthology The Strumpet, which she co-edits and successfully brought to a third volume via Kickstarter last autumn. Here's a sneak peek inside The Black Feather Falls: Book 2:
Enjoyed this article? Share it!