Spotlight On Indie Comics – Thomas Alsop, Horsemen, Eplis, Sherwood Texas, Drawn Away, Broken Legacy
By Shawn Perry
As discussed in my last spotlight, I recently began ingesting a steady diet of indie comics and have been continually impressed by the passion and creativity of these creators. It takes a lot of dedication to put out a comic book and while the quality of the work will always speak for itself, it does not hurt to have someone speak on its behalf or to quote Saga: "The reader is always the final collaborator." With that in mind, it is a pleasure to celebrate the achievements of these talented artists who pursued their dreams to the end.
In an age when the term 'artist' gets convoluted by its association with self-absorbed celebrities, published-by-committee authorship and a gross never-ending cycle of studio system vehicular cash grabs, it is a breath of fresh air to engage with the creative output of artists whose only goal is telling the story they want to tell…and if you're not buying all that jingoistic marmalade than perhaps you will appreciate some of the radical new ideas being explored in this frontier by the Boom Studios mini-series Thomas Alsop which was recently reviewed here by Nikolai Fomich. Thomas Alsop is an 8-issue mini-series by Chris Miskiewicz and Palle Schmidt and is published by Boom! Studios. The book follows Thomas Alsop, who succinctly explains his back-story in the first issue, with begrudging guidance from his branding-obsessed publicist: "You see, I am the current hand of the island, Manhattan's magical caretaker, which is a title that's been passed through my family since 1699 when Richard Alsop got cursed by Mespeatches Indians. Basically, this means that I have to take care of all of the spooky who-ha that happens on the island." Who-ha aside, the book features subdued-yet-mesmerizing artwork to go along with sharp dialogue and a great hook only a hater would hate.
This book is not a John Constantine/Dr. Strange rip-off and a big twist is that the hero foregoes the whole secret identity ragamuffin by sharing his exploits with the world on his own television series. Well, first on Youtube but thanks to viral sharing and his media team now he gets all the fun of being an unmasked Spider-Man without any of the responsibility, which incidentally, is a very good thing because he can scarcely deal with what he already has on his plate.
Seriously, the passion these creators have for the their pill-popping media sensation exudes from each page with a potency that rivals the myriad of substances he constantly abuses in an attempt to escape the reality of his life. Thomas Alsop is a tragic anti-hero who, appropriately, resides in the famous Chelsea Hotel with his girlfriend and absolutely no appreciation for what he has going for him nor any real self-respect beyond an alcohol-fueled brash charade. Oh and did I mention that an ancient evil has been awoken in Lower Manhattan that goes back hundreds of years? For more information on this series I highly recommend Fomich's fascinating interview with Schmidt and picking up both issues stat. Horsemen is the product of Wayward Raven Studios, by Mark C. Frankel and Joshua L.A. Jones. The story is a supernatural sci-fi thriller with a deep mythology that spans time, space and reality. The themes of freedom, judgment, war and morality are explored as the book centers on anthropomorphic personifications of ideas, similar to the Endless but uniquely their own. The protagonist is a Hiroshima survivor named Gemna who wrestles with the notion of becoming Death…and if that's not metal enough for you wait until you meet Destruction. The artwork by Christopher Hanchey is smooth and eye-catching with strong contributions by Rich Cardoso and Cara Kelley. In my opinion, the first issue did a great job introducing a complex and fascinating new universe while leaving me ready and waiting for the next story.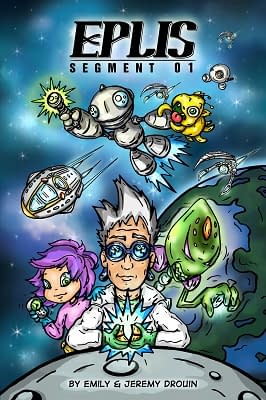 Eplis is a self-published series by Emily and Jeremy Drouin. The book packs a highly entertaining and imaginative sci-fi adventure that is a great fit for readers of all ages. The first two issues introduce readers to a universe filled with aliens, robotic pets and sentient droids. The story follows the crew of the Luna as they attempt to stop the universe-devouring Krios from eating everything and everybody. Thankfully they've got a genius in Dr. Archimedes who has been developing an elixir that will fix everything if only he could just get the chance to use it. Things don't go as planned but the strong cast of characters, fast-paced action and vibrant art make Eplis an engaging story bursting with energy that young readers will not want to down. The story also has really funny humor peppered in and some great characters with Dex being my personal favorite. There is also a bold quality to the artwork that makes the book distinctive and memorable. It is not a dull read for adults either so I would really recommend this as bedtime reading for all families looking for an appropriate and fun gateway to comics.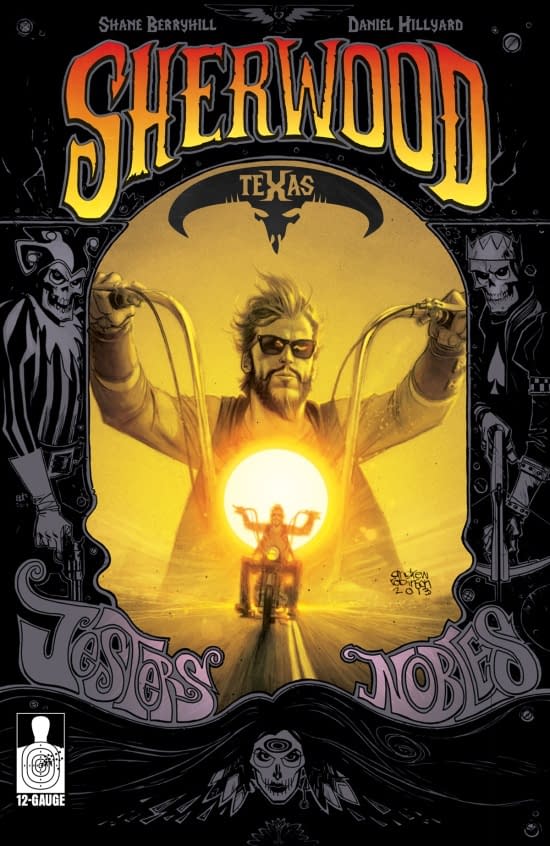 Sherwood, Texas is the work of Shane Berryhill and Daniel Hillyard. The first issue of this five-part mini-series from 12-Gauge Comics packs a punch from the first panel and does not take a breath. It follows war hero Rob Hood whom we encounter as he buries his farther. Rob has a strained relationship with his brother-in-law Will, who in addition to being a drinker is a member of a biker gang called the Jesters, but the two are going to have to come together because a rival gang is responsible for their father's death. This first issue gave me the sense that Barryhill knows story pacing while Hillyard's detailed pencils gives it all a wonderful new-school western feel. There are some clichés strewn about but I get the vibe that they are only there to be turned on their head or blown up which either way should be a lot of fun. In my opinion, the book did not have one boring moment and some of the spreads are really impressive with great coloring by Charlie Kirchoff. My two cents: definitely worth a shot and the buck.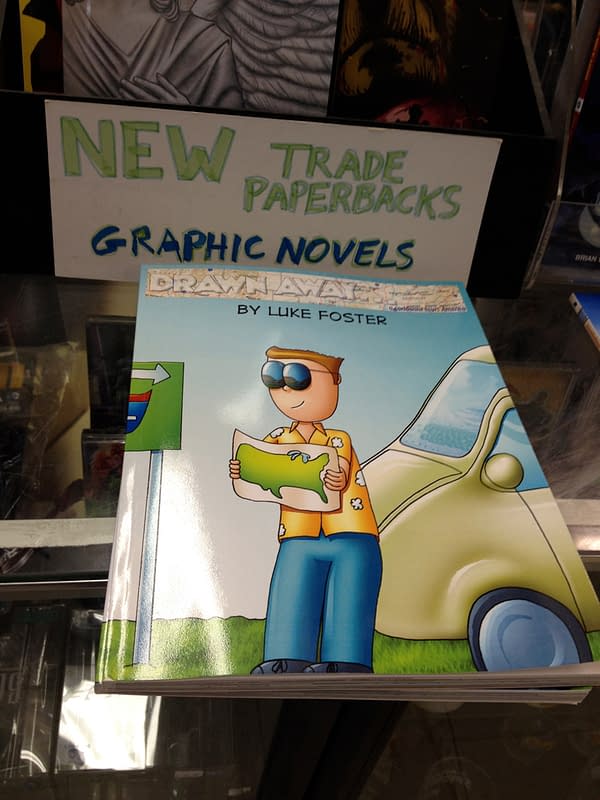 Drawn Away is the self-published product of Luke Foster. Based on his own experiences traveling across country, Drawn Away is an insightful travelogue by a talented and passionate young artist. Throughout the book, he spends time doing many of the things you would expect in a travelogue, such as exploring tourist attractions and visiting old friends, but also includes well-researched facts and figures. In addition, I really liked the artwork and thought it complemented his style of humor. At its core, Drawn Away is a story that encompasses the unmistakable excitement of a young man on a journey with a timeless message about pursuing adventure. If you would like more information about Drawn Away check out my recent interview with the author. Broken Legacy is the product of Rian Miller and Jesse Munoz of Stockpile Comics. The two collaborated on Joel Lolar's Forever Winter, which I discussed in my last spotlight, and Lolar returns the favor here alongside Jacob Rhodes. Once again I am so impressed by the output of Stockpile Comics as Broken Legacy is just as exceptional as Forever Winter was in its own ways. The story follows two brothers, Tobias and Gabriel, as they traverse adulthood in a wild world filled with sorcery, swords, mutant-lizards, a lot more swords, tyrannical rulers and swords. The dialogue is sharp, the story is strong and the action sequences really made me stand up and take notice…before I sat back down and kept reading because it was a lot more comfortable. In particular, the big fight between Tobias and the massive Gollic at the end of the issue is a clinic in art storytelling – I'm a sucker for the David and Goliath thing – but I don't want to give too much away, so I will end this by saying Broken Legacy #1 an extremely well-crafted book that you can and should purchase here for whatever price you choose. That being said, if you should happen across a copy of it in the real world I would recommend picking it up because you just never know where talent like this could end up and books like these could become valuable collectors' items down the line.
Shawn Perry is a comic book and film enthusiast striving to be here now. He currently resides in East Hartford, Connecticut. Tweet him @thesperry or email him your ideas and suggestions for the next indie spotlight at Shawn.Perry88@gmail.com.