By Jared Cornelius
Welcome back to Sweet Release! Bleeding Cool's look at the week's new video game releases. I told you last time that the calendar was looking slim and boy is it. With no retail games out this week and nothing amazing grabbing my eye on Steam, I had to dig into the depths of the new release calendar to find the two games that were actually out this week. So since the calendar is so small, let's start out with small plastic figures and talk about video game toys. I'm sure you already have enough plastic figures lying around your house, but Disney Infinity 2.0 has a new set of characters hitting retail shelves this week. It's mostly a Guardians of The Galaxy themed party with Ronan The Accuser, Yondu, and Green Goblin are being released in single character packs for popular "Toys-To-Life" series. The three figures are all compatible with the game's Toy-box mode with Ronan and Yondu sharing compatibility with the Guardians of The Galaxy playset and Green Goblin being compatible with the Spider-Man playset. If you're new to the concept of "Toys-To-Life" maybe go check out a feature I did about the companies making them and see which one might be right for you. Disney Infinity 2.0 Marvel Superheroes is available for PlayStation 4, PlayStation 3, Xbox One, Xbox 360, Wii U, and Steam. The three single pack figures released Tuesday.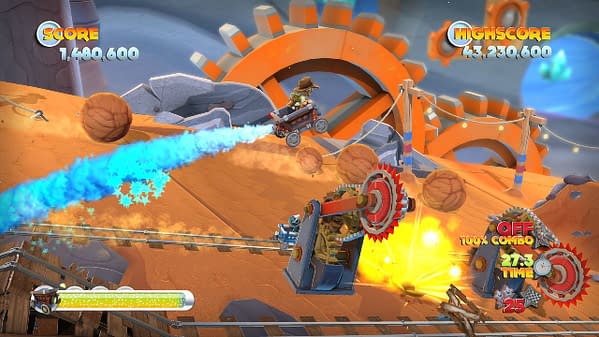 What happens when a big chinned action hero gets mashed up with Sonic The Hedgehog style speed and Trials stunt jumps? You get the crazy cartoon styled Joe Danger 2: The Movie from developer Hello Games. The sequel to 2010's original Joe Danger you play as the titular stunt man as he must perform a series of increasingly dangerous stunts for a Hollywood movie. Joe Danger offers players of bit of risk reward gameplay for fast stylized runs through levels, with optional stars and challenges to complete. With a cheeky sense of humor, you'll play through levels like, "Temple of Boom!" and "Joe vs. The Volcano". You may also recognized developer Hello Games from the hype surrounding their new highly anticipated game, No Man's Sky. Joe Danger 2 The Movie released on PlayStation Vita Tuesday, but is also currently available on Xbox 360, PlayStation 3, and Steam. I'll wager that if you were born after 1992 you won't care one bit about the next game, but it's a slow week and I'm running low on material as it is. Afterburner II 3D is an upgraded port of Sega's classic arcade fighter pilot series and has you controlling a fighter jet dodging and shooting down other jets against an ever scrolling landscape of shrubbery. Mostly well remembered as a great arcade cabinet, Afterburner II is primarily a score chase game that plays faster than you'd think a 1987 release would. The game's 3DS port is also emphasizing the systems almost forgotten 3D settings which is nice for those of us who bought it for the promise of futuristic eye popping visuals. Afterburner II 3D is available Thursday on Nintendo 3DS.
Well it was a struggle, but we did it. I assure you we've got better games coming out in the following weeks so January won't be a total wash. You can check out my other regular column, Typing on The Dead, where I recap the latest issue of The Walking Dead, which gets a brand new installment this week. I mistakenly told you it would come out last week so my bad. Why not also go read, Live From The Comic Shop, written by our own Christine Marie every Wednesday live from Conquest Comics in Bayville New Jersey.
Jared Cornelius is some guy from New Jersey's coast who's entertaining a cat in between keystrokes. If you'd like to take the world's sickest cat off my hands, contact me @John_Laryngitis on Twitter.
Enjoyed this article? Share it!