Ten For Ten From Aspen In 2013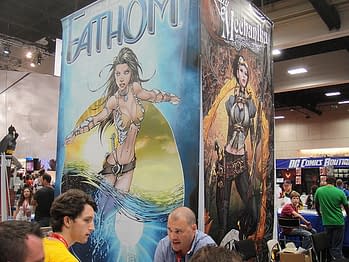 Next year is Aspen's tenth anniversary. As a result, from February, they are planning to launch five new books and relaunch five books, Ten For Ten, once each month in 2013.
It's a bit like DC's New 52, just New 10, and over ten months instead of one…
Alex Wilson reported the following Aspen Wrap Up from San Diego for Bleeding Cool;
There are many new things coming out of Aspen Comics in the coming months. The new Soulfire series, Search for Light, explores the masters of the Soulfire universe and will eventually lead into the Soulfire Volume 4. Look for Search For Light in August.
There is a new Executive Assistant series out called Executive Assistant: Assassins. For fans this is a new turn in the series, as the title doesn't contain the main character, Executive Assistant: Iris. The new EA will stem from a minor character in the Iris comic in a ten-part storyline.
Idolized issue 1 is coming on August 8th and it follows a young super powered girl on a quest for revenge and she is attempting to get her revenge by winning, you guessed it, a super hero idol show. Art Adams is doing the cover for the first issue – this is the first time that Adams has worked with Aspen.
Fathom Kiani is coming back with the return of the Kiani who died in the past book. Aspen promises that they are setting up for what they think is the largest story in the Fathom universe to date.
Charismagic Death Princess is going to be a spin off of the original Charismagic, exploring minor characters. There was also a promise of many dinosaurs.
Haunted City is currently on hold as the writer, Chap Taylor, works on the screenplay. Aspen announced their intention to turn Haunted City into a feature film.
Frank Mastromauro is planning on creating a Fathom necklace based on that worn in the seires, out soon with more versions to follow. Mastromauro said they were trying to branch out into more merchandise such as t-shirts along with the bottle openers, skateboards, and Fathom surf board they brought with them to Comic-Con this year. February 2013 will officially mark 10 years of Aspen and for this event they will be having one new book a month for 10 months. There was also a hint that the next summer event would center around the Fathom universe.