The Batman's Grave But Alfred Pennyworth Is Hilarious (#4 Spoilers)
We have collectively been enjoying Alfred Pennyworth's mouthing off at Bruce Wayne and hi activities as Batman in The Batman's Grave, from Warren Ellis and Bryan Hitch, a comic of which Warren said in his last newsletter "I don't think DC are completely aware they're even publishing this book. So please do join us for more horrible extended beatings and more of Alfred being shitty." And yes, many will enjoy the ectended fight scenes in this comic, with Bryan Hitch filling space with some very plotted punchups…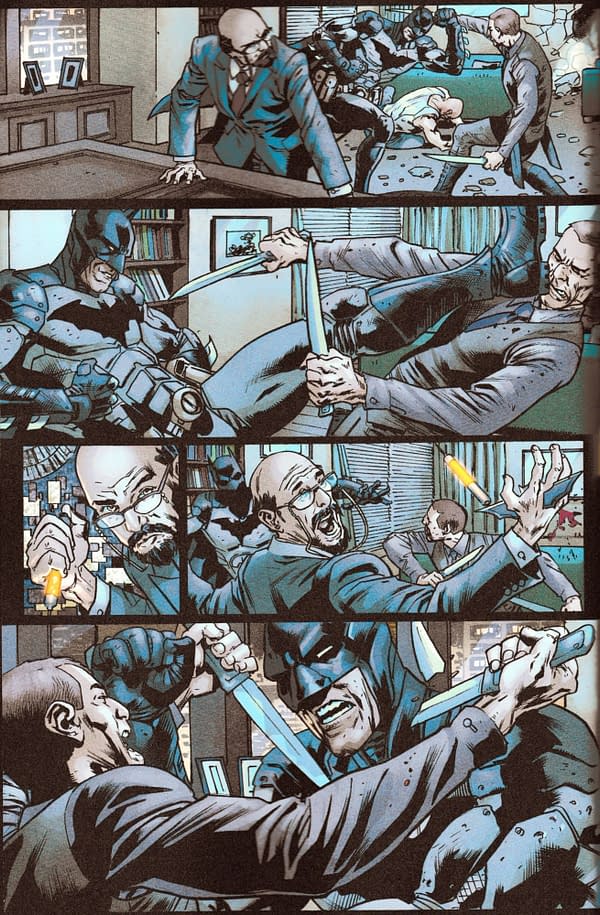 Or even a knife fight. Yeah, never bring a fist to a knife fight, Batman. But for my money, it's all about Alfred Pennyworth denigrating his employer and weirdly being closer to the TV series Pennyworth as a result. But also still very possibly a figment of Bruce's imagination, and Alfred is as dead in this as he is in the regular DC Comics universe. And if so, it's just some literal projection. As he challenges Bruce Wayne to see any difference between what he does and what a well-equipped street gang gets up to.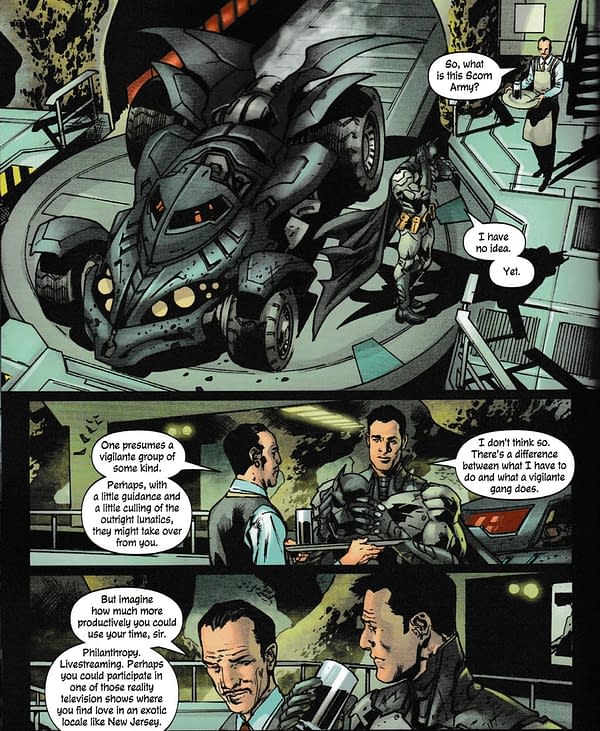 After all, there's a lunatic that could be culled right there…
The Batman's Grave #4 is out today from DC Comics… I bought mine from Piranha Comics in Kingston-Upon-Thames. Piranha Comics is a small south London comic store chain with a small south-east store in Kingston-Upon Thames's market centre, which runs Magic The Gathering nights on Fridays, and a larger south-west store in Bromley, which also runs Magic nights and has an extensive back issue collection and online store. If you are in the neighbourhood, check them out.

BATMANS GRAVE #4 (OF 12)
(W) Warren Ellis (A/CA) Bryan Hitch
Why did a blackmailer become a murderer? How does the Batman survive an opponent who can kill him with his own mind? Find out all this and more in the latest chapter of the 12-issue series from writer Warren Ellis and artist Bryan Hitch!In Shops: Jan 15, 2020
SRP: $3.99