The Big Two Vs. Creator Owned Comics – Brian Wood at Baltimore Comic Con
In a panel Spotlight at Baltimore Comic Con hosted by Deputy Director of the Comic Book Legal Defense Fund Alex Cox, Brian Wood had a lot to say about the pros and cons of working for the Big Two versus working in creator owned comics in his career including the stability the first offers and the elements of freedom attractive in the latter. His wide-ranging career made for an excellent vantage on both, and he spoke in direct terms about what has made him such a versatile creator. When working on Supermarket and The Tourist Wood found himself in a situation where, without a "day job" anymore, he very much needed to "make things stick" professionally simply to support himself. Working with Vertigo on DMZ provided him with the possibility of taking some of the uncertainties out of his life, and he opted for an exclusive contract to "lay the foundations of a career". It was a difficult choice and "not something he'd ever sign again", but it gave him a "regular life" at the time, something he craved from a practical standpoint. He began DMZ as a "destitute single guy", he said, and "ended it married, with kids and a house", something he may not have been able to accomplish otherwise.
Northlanders, also with Vertigo, however, he feels is his "best writing". It was an unorthodox series for Vertigo for a number of reasons, particularly in its structuring, which didn't lend itself to numbered, collected trades. Vertigo insisted on a numbering system for the anthology series, even though it was non-sequential in format. The numbering question resulted in a "tug of war" which Wood ultimately lost, though he fought it for some time. The series was eventually cancelled due to sales, but lasted into 7 trade volumes over 50 issues. Wood immersed himself in research for the series, taking advantage of a convention in Norway to visit museums with reconstructed Viking villages and homes, and took photos which resulted in direct reference for the artist. Wood's interest in Vikings became more "adult oriented" after conceiving of the series, "looking past the stereotypes" behind Viking life. When Wood started work on The Massive, an ongoing series from Dark Horse, he left DC, and the "comforts of exclusive deal". This caused him a lot of anxiety because it was a "sudden departure" and he feels that he "possibly overcompensated" by taking on "too much work". It left him doing what he described as "real work for hire in meaningful way for the first time in my career" and the shift made him "a smarter writer", "flexing different muscles", he told Cox. He's currently very happy to be working on "iconic books" in a more liberated vein, he said.
Cox pointed out that Wood has crossed a wide field of genres so far, including Science Fiction (mixed with Horror), Fantasy, like his work on Conan, and now Star Wars. Wood commented: "I've tried to do work on a lot of different things. It keeps me on my toes, and keeps me from getting bored". The life of a comic book writer, he said, is "not the most exciting thing in the world", spending "99 percent of the time sitting alone in a room", so a variety of genres keeps the mind engaged.
Wood has actually been self-publishing for over 15 years now, though many of his early self-published works "no one will ever see", he said. These range from anthology contributions as a college student, created to use as a sample portfolio for pitches, to early concept work on Channel Zero. That forms quite a contrast to Wood's current career where he's been working heavily on licensed properties, as Cox noted. But Wood, surprisingly, said that the current run on licensed work isn't representative, and doesn't mean that he's moved away from creator-owned work. He says the imbalance is only "temporary" and as he wraps up his work on Conan, for instance, he hopes to tackle a vast "backlog of material" that will draw him back into creator-owned work.
When Cox questioned Wood about his origins in comics, Wood suggested that he wasn't exactly a stereotypical comic book fan who eventually reached pro status. A chance gifting of several bags of comics from an older cousin when he was 17 introduced him to Watchmen and books like The Dark Knight Returns, but that didn't immediately prompt the art student to consider a career in comics.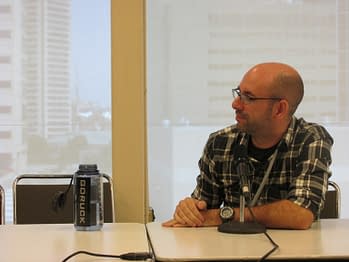 As a fine artist, he thought of comics as a very different medium from the one he studied in art school. Encountering some shelves of Vertigo books around 1995, however, was a big turning point for him. Seeing Dave McKean covers, he couldn't resist their appeal, even as a "semi-snobby art student". Over the course of a year, Wood explained, he educated self on comic "in general". He read books from Fantagraphics, and titles like Hate, Minumum Wage, and 8 Ball, as a "late learner" in comics. He does feel that because he doesn't "have that childhood instilled love of superheroes like so many of my peers do" he's at "a disadvantage" as a professional. That has made him into a constant researcher, playing "catch up" on comics.
Working for the Big Two now means working as an independent agent for Wood, and creates a different dynamic where there's both more risk and more freedom to work on multiple projects, but he seemed to indicate that even within his non-exclusive state, he's headed firmly toward creator-owned work after tying up current projects. Wood is quick to point out just how unorthodox his career has been so far, but his drive to work in multiple genres may be just the thing that continues to make him an icon for creator-owned comics with their boom in genre successes right now.
Hannah Means-Shannon is senior New York Correspondent at Bleeding Cool, writes and blogs about comics for TRIP CITY and Sequart.org, and is currently working on books about Neil Gaiman and Alan Moore for Sequart. She is @hannahmenzies on Twitter and hannahmenziesblog on WordPress. Find her bio here.